Threadgill's
Introduction
Opened by Kenneth Threadgill in 1933 as a gas and oil station , Threadgill's was and continues to be a symbol of Austin's unique music history. Fueled by universal love of music, the patrons of Threadgill's became a diverse crowd by the turn of the 60s, and the environment allowed for the growth and development of the folk music scene.
Images
Threadgill's after it's revival and rebirth by Eddie Wilson PICA_34359, Austin History Center, Austin Public Library.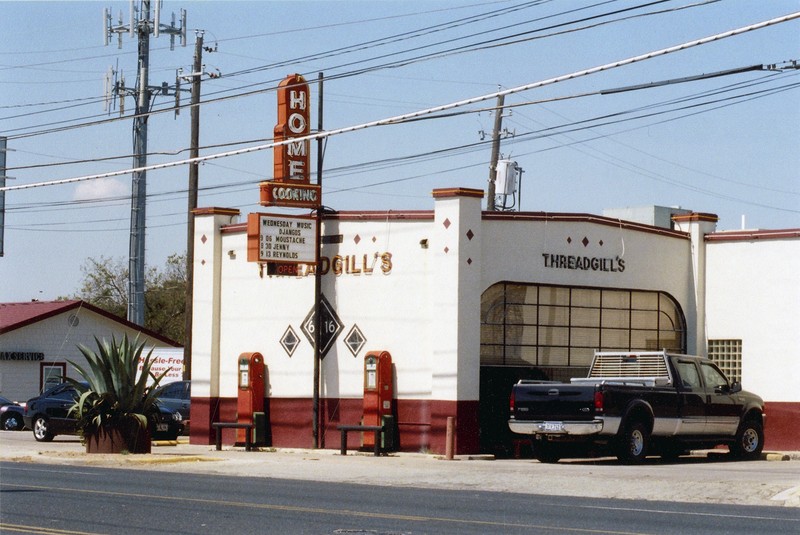 Backstory and Context
What started as a small filling station in the early 1930's, which doubled as a bootlegging front during the hard years of Prohibition, had blossomed into the headquarters responsible for Austin's folksinging movement by the early 1960's. Owned and operated by the great yodeling Kenneth Threadgill, the filling station located at 6416 North Lamar Blvd decided to give up pumping gas and only sell beer in the year 1948, an action which had been legal since Threadgill's obtained Travis County's very first beer license in 1933. Due to Kenneth's love for country/folk music and hospitality, the beer and music hall generated a loyal following in its early years comprised of old country music fans as well as pickers and singers who took a shining to afterhours drinking and playing for booze. The music played at the bar was described as honky-tonk country, having a very unique Southern twang with a touch of Bluegrass.
This classic sound is what drew in graduate students from the University of Texas at Austin, who at the time were looking for local, authentic musical influences to help them develop their folk music style. With Threadgill's, they were able, according to scholar Travis Stimeling, "to learn a variety of country music at the feet of many knowledgeable old-timers who passed through the club." Word spread slowly from graduate students to undergraduate students throughout the university, reaching the younger generation who was also interested in discovering the local, authentic honky-tonk country for their own music experience. This group did not immediately migrate to Threadgill's, starting off first within the University. They were driven off campus when their normal hangout spot, the Texas Union, banned alcohol in 1963 with hopes of it stopping their rowdy get-togethers. It was extremely effective, and pretty soon the group traveled to other locations around Austin to drink and play music. This move of university students from campus north to Threadgill's helped expand Austin's emerging folk scene from local communities to a whole city movement.
Threadgill's became the heart of the early Austin music scene, although younger students were wary at first as they were unsure if they unkempt, hippie style would be welcome in what was thought to be a more hillbilly oriented bar. As the current owner and future founder of the Armadillo World Headquarters Eddie Wilson remembered. though, such fears were unfounded. Kenneth Threadgill "welcomed them with open arms and gave them free beer," being always happy to see and hear more local musicians playing in his bar. This friendly, open atmosphere allowed for a unique blend of people - from old-style hillbilly country folk to eccentric hippy university kids - to come together and play music for one another. The layout for playing music was simple, with a single microphone being passed around a room full of people while others sat by and played their instruments. As the place became more popular and more crowded, singers and musicians who wanted to play for the night were forced to wait in the back of the bar simply due to space limitations, being brought out later to the microphone in the center of the swarm of patrons listening on. Here, future stars like Janis Joplin developed their talents, drawing in larger and larger crowds with her unique voice and being pulled under the wing of Mr. and Mrs. Threadgill, who helped her through tough times as she started her singing career.
By 1964, the massive crowds became too difficult for Kenneth Threadgill to handle. Their sheer size within such a small space created a serious fire safety hazard, which the fire department was keen of reminding Kenneth whenever possible. Additionally, the mobs of students made it impossible to check IDs properly, making the establishment rife with underage drinking. The stress of keeping the bar under code made Wednesday music nights "lose their charm" for Threadgill, and so before 1964 was through he decided to shut them down. He did not, however, lose his passion for music, and continued to yodel and support local musicians during his own time outside of the bar.
Sources
"History." Threadgill's. http://www.threadgills.com/history/. "Kenneth Threadgill Interview." Interview by Claude Mathews. Singin' the Yodeling Blues. 1983. http://vimeo.com/6717749 Jackson, Jack. "A Short History of Kenneth Threadgill." Comic Strip Stimeling, Travis D. Cosmic Cowboys and New Hicks: The Countercultural Sounds of Austin's Progressive Country Music Scene. New York: Oxford University Press, 2011. Echols, Alice. Scars of Sweet Paradise: The Life and Times of Janis Joplin. New York: Metropolitan Books, 1999. Wilson, Edwin O., and Jack Jackson. Threadgill's: The Cookbook. Atlanta, GA: Longstreet Press, 1996.
Additional Information