Ganondagan State Historic Site
Introduction
A National Historic Landmark, Ganondagan State Historic Site is the location of the largest and fully interpreted and developed Seneca Indian village of the 17th century. The word ganondagan means "town of peace." Among the notable features of the village was its palisaded granary, which was located on top of a mesa. Today, the site consists of a 17th-century reconstructed longhouse, burial grounds and hiking trails along which are interpretive signs providing information about Seneca customs and beliefs, what crops they grew, the granary, and important events that took place here. In 2015, the Seneca Art and Culture Center opened, affording the site exhibit space for permanent and rotating exhibits.
Images
Ganondagan State Historic Site was once the location of the largest Seneca village of the 17th century. This reconstructed longhouse gives visitors an idea of what longhouses used to look like.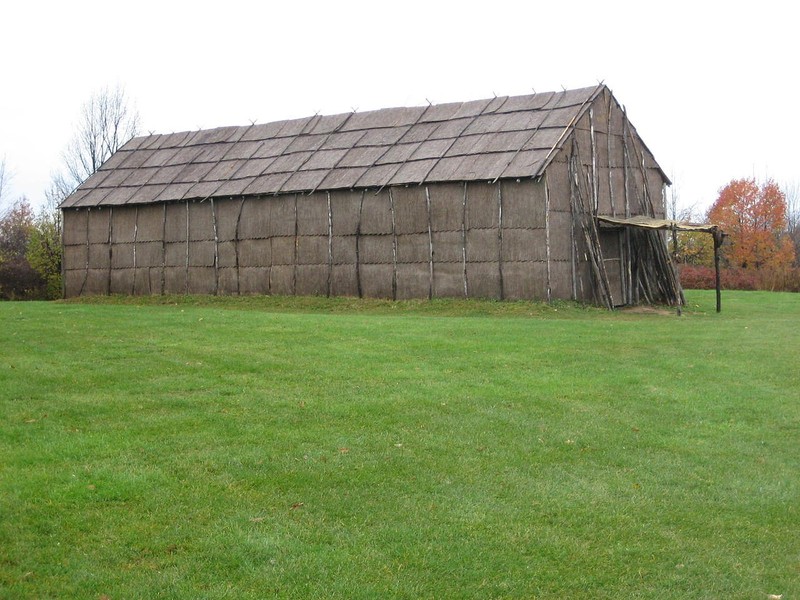 Backstory and Context
The Seneca were one of the six Indian nations that comprised the Iroquois Confederacy, a formidable political entity that controlled what is today the state of New York since its establishment in 1200 AD. It was comprised of the Cayuga, Onondaga, Oneida, Mohawk, and Tuscarora Indian nations (the Tuscarora joined in 1720). They agreed to not wage war against each other and live in peace.

The Seneca would inspire the drafters of the U.S. Constitution. They espoused democratic ideals and, notably, were a matriarchal society. This latter characteristic would inspire those women who began to call for women's suffrage in 1848 at the Seneca Falls Convention.
Sources
"Ganondagan State Historic Site." New York State Parks, Recreation and Historic Preservation. Accessed November 18, 2017. https://parks.ny.gov/historic-sites/26/details.aspx.

Homepage. Friends of Ganondagan. Accessed November 18, 2017. http://ganondagan.org.

State of New York. "Governor Cuomo Announces Opening of Seneca Art & Culture Center at Ganondagan State Historic Site." October 22, 2015. https://www.governor.ny.gov/news/governor-cuomo-announces-opening-seneca-art-culture-center-ganondag...

Photo: Dmadeo, via Wikimedia Commons
https://en.wikipedia.org/wiki/Ganondagan_State_Historic_Site#/media/File:Ganondagan-house.jpg

Additional Information