Great Lakes Shipwreck Museum
Introduction
The town of Whitefish Point, Michigan, is located right at the turning point ships take to enter the main part of Lake Superior. The area eighty miles west of the town along the shore has tragically became known as "Lake Superior's Shipwreck Coast." The Great Lakes Shipwreck Museum is located at the former Whitefish Point Light Station, which has helped vessels navigate the waters and whose crew and keepers saved many lives. The light itself is still an active navigational light and operated by the Coast Guard. There are several structures at the station complex including the iron tower, keeper's quarters, crews quarters, and boat house. The first lighthouse was built in 1848, making this station the oldest active light on Lake Superior. The keeper's quarters and tower were built in 1861, replacing earlier stone structures. The museum, which is operated by the Great Lakes Historical Society, features numerous exhibits, artifacts, scale models of ships, and photographs on display that help visitors learn about Lake Superior's maritime history and that of the U.S. Live Saving Service and its predecessor, the U.S. Coast Guard. A highlight is the bell of the Edmund Fitzgerald, which sank in a severe storm on November 10, 1975. The rooms in the keeper's quarter's building contain period furnishings as well as artifacts from the days of the US Life Saving Service.
Images
Great Lakes Shipwreck Museum, formerly the Whitefish Light Station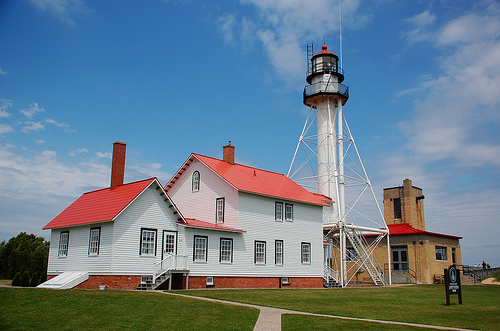 The Edmund Fitzgerald Exhibit, with a model of the ship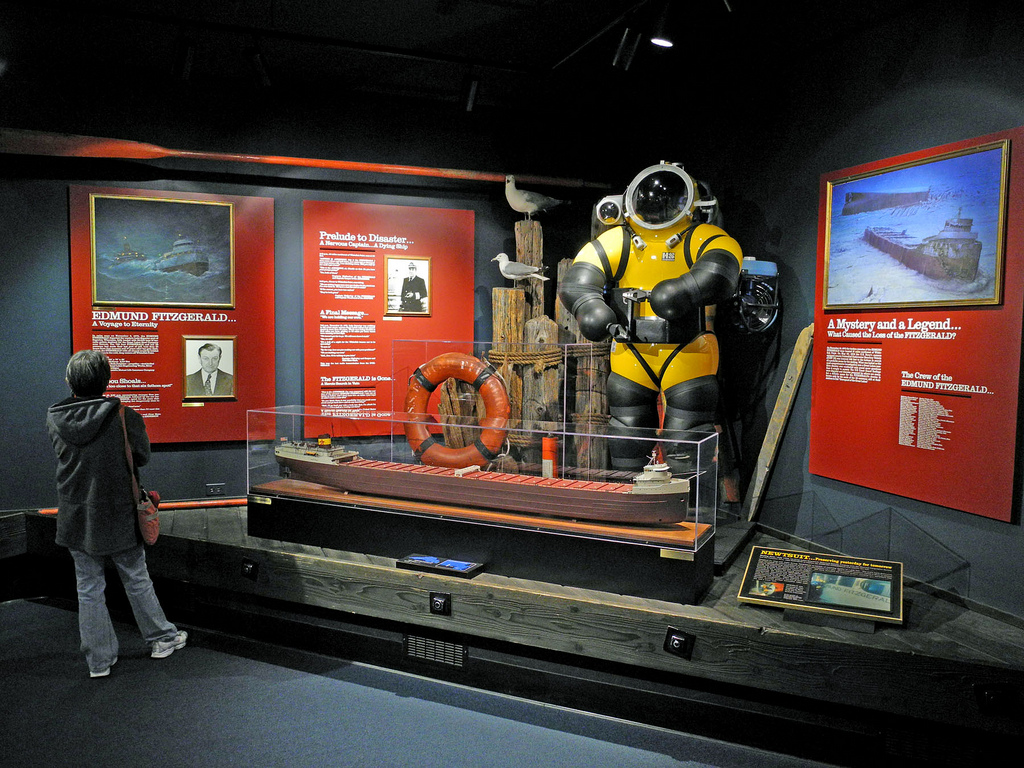 The bell of the Edmund Fitzgerald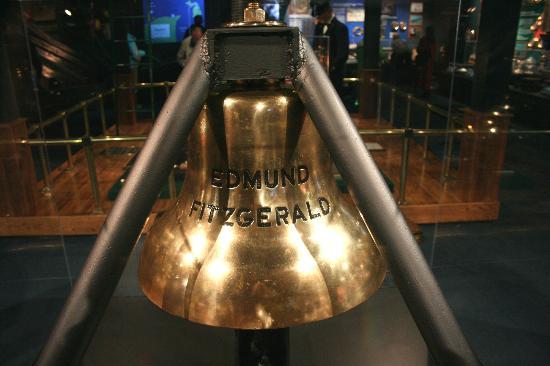 Backstory and Context
The station complex was listed on the National Register of Historic Places in 1973. The current light can be seen 15 nautical miles away. Visitors can climb up inside the tower to the platform but cannot go the very top where the light is.
Sources
https://en.wikipedia.org/wiki/Great_Lakes_Shipwreck_Museum http://www.shipwreckmuseum.com/shipwreck-museum/
Additional Information