Kelly Axe and Tool Company
Introduction
Located in what is now known as Patrick Street Plaza, the former Kelly Axe and Tool Company opened in 1904. This factory was one of the first large industries to locate in the Kanawha Valley, and employed thousands of Charleston area residents during its lifetime. Although the company would officially change its name to True Temper, and eventually move to an out of state location, it is still remembered fondly by area residents as Kelly Axe.
Images
Aerial view of Kelly Axe and Tool Company circa 1930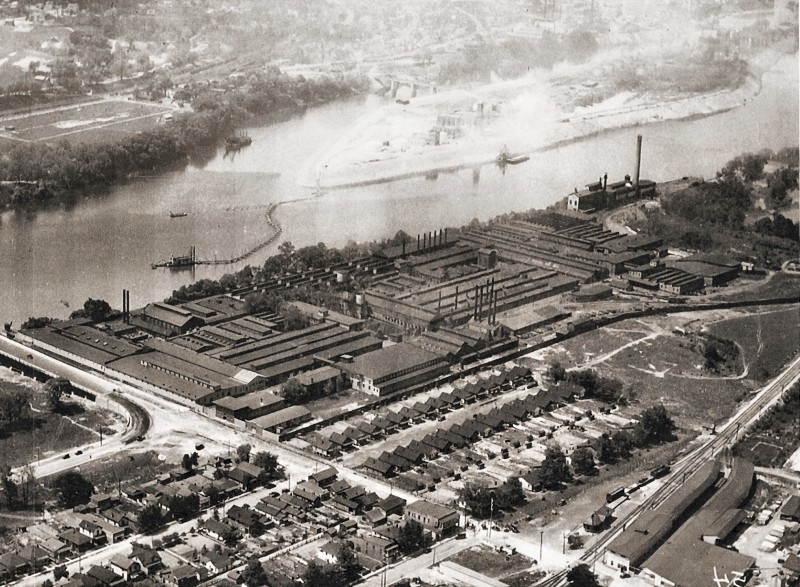 Kelly Axe stamp on head of axe made at the Charleston plant.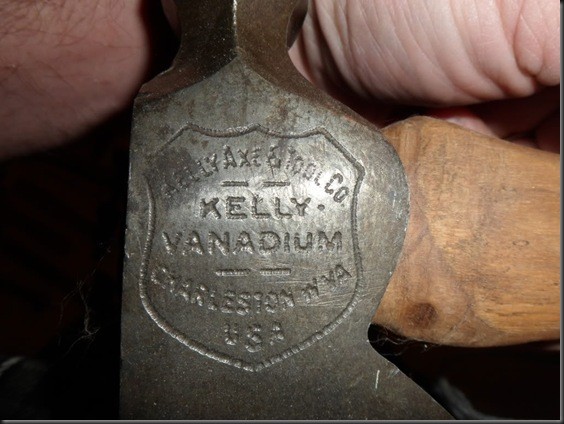 Workers on the job at the Kelly Axe and Tool Company in the early 20th century.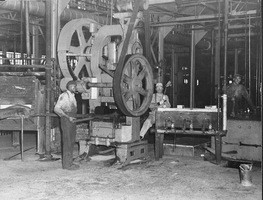 Approximate locations of current commercial buildings that occupy the old Kelly Axe and Tool Company property.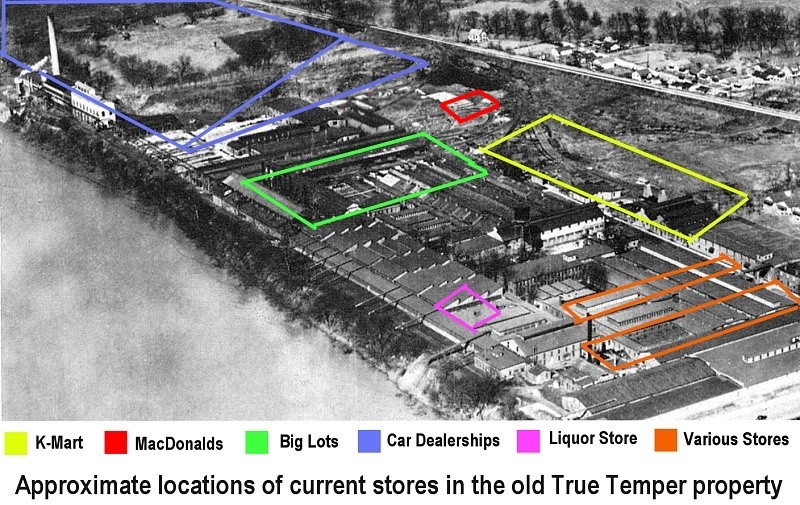 Backstory and Context
At the prompting of the Charleston Chamber of Commerce, William C. Kelly, originally of Pittsburgh, Pa. located his manufacturing plant to the Kanawha Valley from Alexander, Indiana in 1904. Kelly chose the west side of Charleston for his plant.
1
He was attracted to the location do to the nearby river and rail transportation, and abundance of natural gas. The plant officially opened in January 1905 with the production of scythes, the production of axes started soon after.
2
By 1907 the manufacturing plant covered 25 acres and employed approximately 950 people.
In 1930 The American Fork & Hoe Company purchased Kelly Axe & Tool Co. The company remained in Charleston and continued to produce quality tools under the title of the Kelly Axe & Tool Works. In 1948 the company became True Temper, yet remained in the same location. The company once again traded hands in 1960 when Ludlum Corp, purchased the facility. Products were still manufactured under the True Temper and Kelly Axe name brand.
3
By the 1960s production began to decline. The factory was able to stay open until May 28, 1982 when it finally closed its doors for good.
4
At the height of production the plant employed over 1.000 people, covered 41 of the 53 acres of land at the foot of Patrick Street Bridge the with approximately 50 buildings, and ran production 24 hours a day resulting in 40,000 finished tools daily. Among those employed were a substantial population of Polish and Russian immigrants.
Today, no remains of the Kelly Axe and Tool Company exist at Patrick Street Plaza, nor is there a marker to recognize the plant's existence. Businesses such as McDonald's, K-Mart, Big Lots, and car dealerships are currently located on the old property of the Kelly Axe and Tool Company.
Sources
1. Peyton, Billy Joe. Historic Charleston: The First 225 Years. San Antonio, TX, HPN Publishing, 2013. 2.Johnson, Mary "Kelly Axe and Tool Company." e-WV: The West Virginia Encyclopedia. 07 October 2010. Web. 09 May 2016. 3."Barco Industries." Accessed May 1, 2015. http://www.yesteryearstools.com/Yesteryears%20Tools/Barco%20Industries.html. 4. Peyton, History of Charleston 5. Johnson, Mary "Kelly Axe and Tool Company." e-WV: The West Virginia Encyclopedia. 07 October 2010. Web. 09 May 2016. 6. http://www.mywvhome.com/fifties/kelly.html