Dranesville Tavern
Introduction
The Dranesville Tavern was a popular resting spot for travelers throughout the 19th and 20th centuries. Built around 1824, the Dranesville Tavern was one of five taverns built around the Leesburg Pike, and for the next 130 years, travelers going between Georgetown and Leesburg could find food and shelter on longer trips. Following a renovation of the tavern in 1865, the Alexandria Gazette called the tavern "one of the best roadside inns in Virginia." The Dranesville Tavern continued its operations until the mid-1960s when the expansion of Route 7 endangered the structure. To save the tavern, the Fairfax County Park Authority purchased the tavern in May 1968 and moved it 100 feet to the south. The Dranesville Tavern was listed on the National Register of Historic Places in 1978.
Images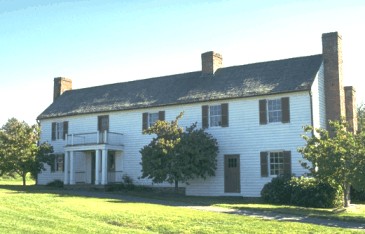 Original site of the Dranesville Tavern (photo taken by the Historic American Buildings Survery)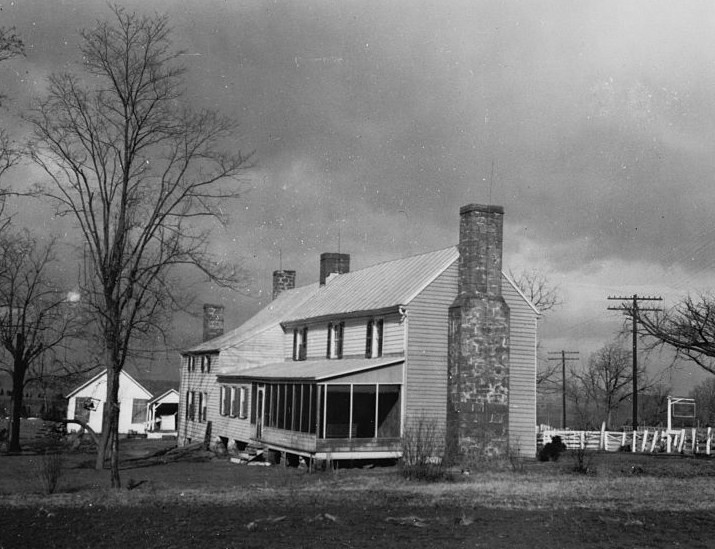 Sketch of inside the Tavern, from the Great Falls Historical Society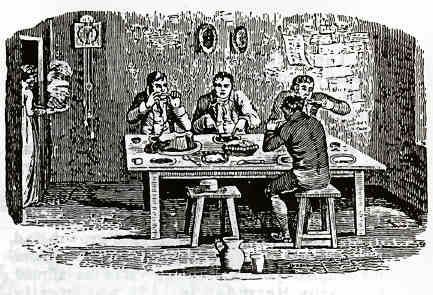 Backstory and Context
History of Dranesville Tavern
The history of the Dranesville Tavern begins in 1818. At this time, Virginia was transitioning from a remote frontier to a settled farmland, and as such, few roads existed in the rural areas. The roads that did exist presented long, multi-day trips for travelers. Even traveling between Georgetown and Leesburg took about two days. Seeing a business opportunity, entrepreneur Washington Drane decided to build a "house of entertainment" near the Georgetown Turnpike and the Leesburg Pike (Route 7 today).
In choosing that site, Drane figured it was about halfway between Georgetown and Leesburg, and, therefore, it would split the two-day trip into two relatively equal sections. The original tavern was widely popular, and soon after its construction, the area included a church, a post office, a doctor's office, residences, a store, and five taverns. Additionally, the Dranesville Tavern, built around 1824, was ideal for farmers in the Shenandoah Valley to better transport their goods and animals to the coastal markets of Alexandria and Georgetown.
The Dranesville Tavern catered largely to teamsters (not the labor union, but people who drove draft animals by wagon and oxen, horses, or mules). During the Civil War, the tavern witnessed and served a large flow of soldiers and military activity passing through to nearby battles. The Tavern changed hands several times for the next 100 hundred years but continued its operations. In 1968, the Fairfax County Park Authority purchased the Tavern to save it from being demolished due to the widening of Route 7. The tavern was moved about 100 feet to the south. It was listed on the National Register of Historic Places in 1978, and it still stands today.1
Sources
Information taken from the Fairfax County website: http://www.fairfaxcounty.gov/parks/hprs/dranesville.htm
Additional Information