Museum of Moab
Introduction
The Museum of Moab is dedicated to the geological, cultural and natural history of Moab and the surrounding region. It first opened in a house in 1959 and eventually moved to its current location in 1965. Many areas in the western part of the country are rich in dinosaur remains and Utah is no exception. The museum houses many real and replica dinosaur bones and skeletons including a complete replica of the Gastonia, an armored dinosaur; a real pelvis and tail of the 40 foot plant eater, Camarasaurus; and other ancient objects including petrified trees and track imprints. In terms of geology, the museum features a 55 square foot 3D topographical (that took 25 years to make) of the region and various rocks on display. Native American history is also well covered, from the early peoples who inhabited the area 12,000 years ago to the 19th century. A highlight is a multi-colored, woven burden basket that was found in 1990 by three teenage boys exploring a cave; it was dated between 855-1020 A.D. Mining history, particularly the years of the uranium boom in the 1950s, and pioneer history are explored as well.
Images
The Gastonia, also known as Ankylosaurus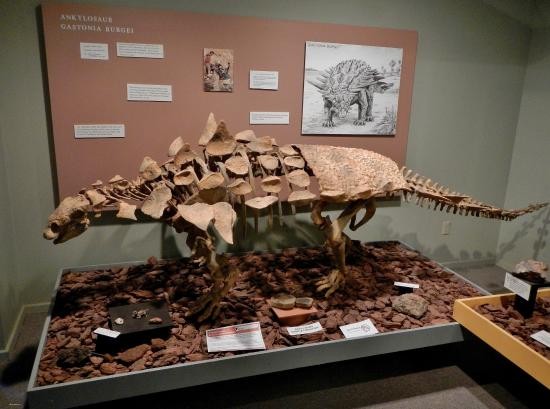 Backstory and Context
The museum was expanded in 1988 to give its current appearance. It was founded by those believed that Moab's history ought to be preserved and promoted.
Sources
http://www.moabmuseum.org/pageview.aspx?id=17577
Additional Information