African American Homesteaders and Pioneers in Custer County and Cherry County, Nebraska
Introduction
This historical marker was dedicated in 2016 and commemorates the African American community of DeWitty. Two years later, the sign was damaged when a driver's car skidded off the road. The marker shares the history of African American pioneers who moved to the state of Nebraska and settled in Custer County and Cherry County. Like many white homesteaders during this period, these early Black settlers came seeking land, opportunity and independence. Unlike their white counterparts, African American migrants were also seeking safety and the opportunity to own land.
Images
Early homesteaders in Cherry County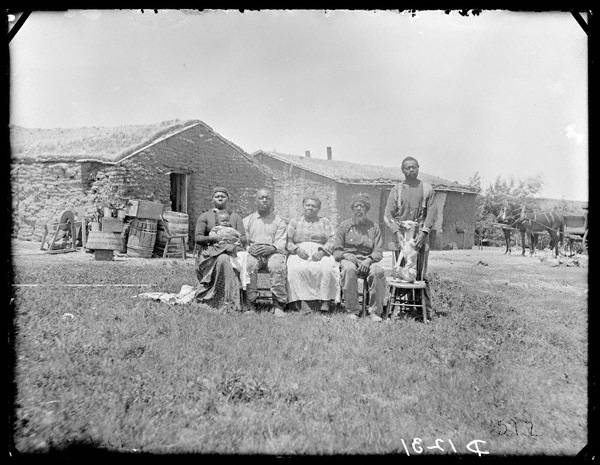 This historical marker on Highway 83 was dedicated in 2016 and damaged in 2018 when a car hit the sign in an ice storm.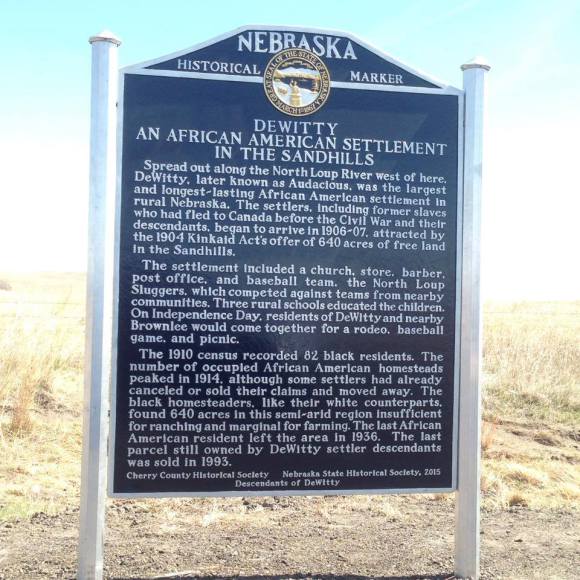 Backstory and Context
Beginning in the late 1870s through the early 1900s, ex-slaves from the Deep South migrated up to Nebraska and Kansas.[1] The term "Exoduster" was coined for the migrants that were moving into the Nebraska and Kansas area. The first free African American arrived in Omaha in 1855. Sally Bayne along with 25 others were the first free Blacks to be accounted for in Nebraska in the 1860 census.[2] Homesteads were eventually established in both Custer as well as later on Cherry County. The climate conditions were difficult for those migrating, but the available land after the Homestead Act of 1882, as well as the reputation Nebraska had for being accepting of African-Americans and mixed marriages, appealed greatly to many homesteaders.[3] In 1886, Chicago, Burlington, and Quincy railroad made the decision to lay a railroad slicing right through the middle of Custer County, which allowed for even greater economic prosperity.
Moses Speese is the most well known African-American homesteader who received his 160 acres and became more prosperous than neighboring white pioneers. His economic prosperity spanned across his family and motivated even more homesteaders to migrate to central Nebraska. Beginning in 1905 colonists began to travel from Dawson to Cherry County to also take claim on the available land. Brownlee was established in 1905, and DeWitty in 1907, becoming two of the most prominent African-American communities in western Nebraska.[4] Just 10 years later, almost 200 African Americans had claimed over 40,000 acres of land around DeWitty. This was the "largest and most permanent" African American town in Nebraska.[5] The community had a church, town band, post office, barber, and a baseball team called the Sluggers.[6]

The total number of African Americans more than doubled from 1870 to 1890. On April 11, 2016, a historical marker celebrating the African American community of DeWitty was dedicated along highway 83.[7]
Sources
[1] Todd Guenther, "The Empire Builders, An African American Odyssey in Nebraska and Wyoming," Nebraska History 89 (2008): 176-200. [2] "NebraskaStudies.Org." NebraskaStudies.Org. Nebraska Studies, n.d. Web. 02 May 2016. [3] Wolf, Melissa. "PROVING UP' ON A CLAIM IN CUSTER COUNTY, NEBRASKA: IDENTITY, POWER, AND HISTORY IN THE SOLOMON D. BUTCHER PHOTOGRAPHIC ARCHIVE." The Ohio State University, 2005. Web. 21 Apr. 2016. [4] Rietsch, Pam. "THE NEGROES OF NEBRASKA." Settlement. Memorial Library, 2003. Web. 21 Apr. 2016. [5] Leighton, Jared. "Early African-American Settlers in Nebraska." Invisible History. Omaha Public Schools, 2010. Web. 2 May 2016. [6] Bergin, Nicholas. "Descendants Recall Nebraska's Once Booming African-American Town of DeWitty." Lincoln Journal Star. Lincoln Journal Star, 15 June 2015. Web. 2 May 2016. [7] Gray, Joyceann. "J. Gray Researching." J Gray Researching. Wordpress.com, 14 Apr. 2016. Web. 02 May 2016.