Pope-Leighey House
Introduction
The Pope-Leighey House was built in 1941 by iconic architect Frank Lloyd Wright. Originally, the home was commissioned and designed for journalist Loren Pope, who wrote a three-page letter to the architect asking Wright to design a house for his family. Around $7,000 later (the original asking price was $5,000), the house was completed according to Wright's Usonian principles and style in Falls Church, Virginia. Now listed on the National Register of Historic Places, the Pope-Leighey House was moved twice since it was first completed, and it currently sits on the grounds of the Woodlawn Plantation in Alexandria. As one of the three Frank Lloyd Wright homes in Virginia, the Pope-Leighey House was the first example of Wright's legacy and vision of affordable living for the family of moderate income.
Images
Pope-Leighey House (reproduced under Fair Use).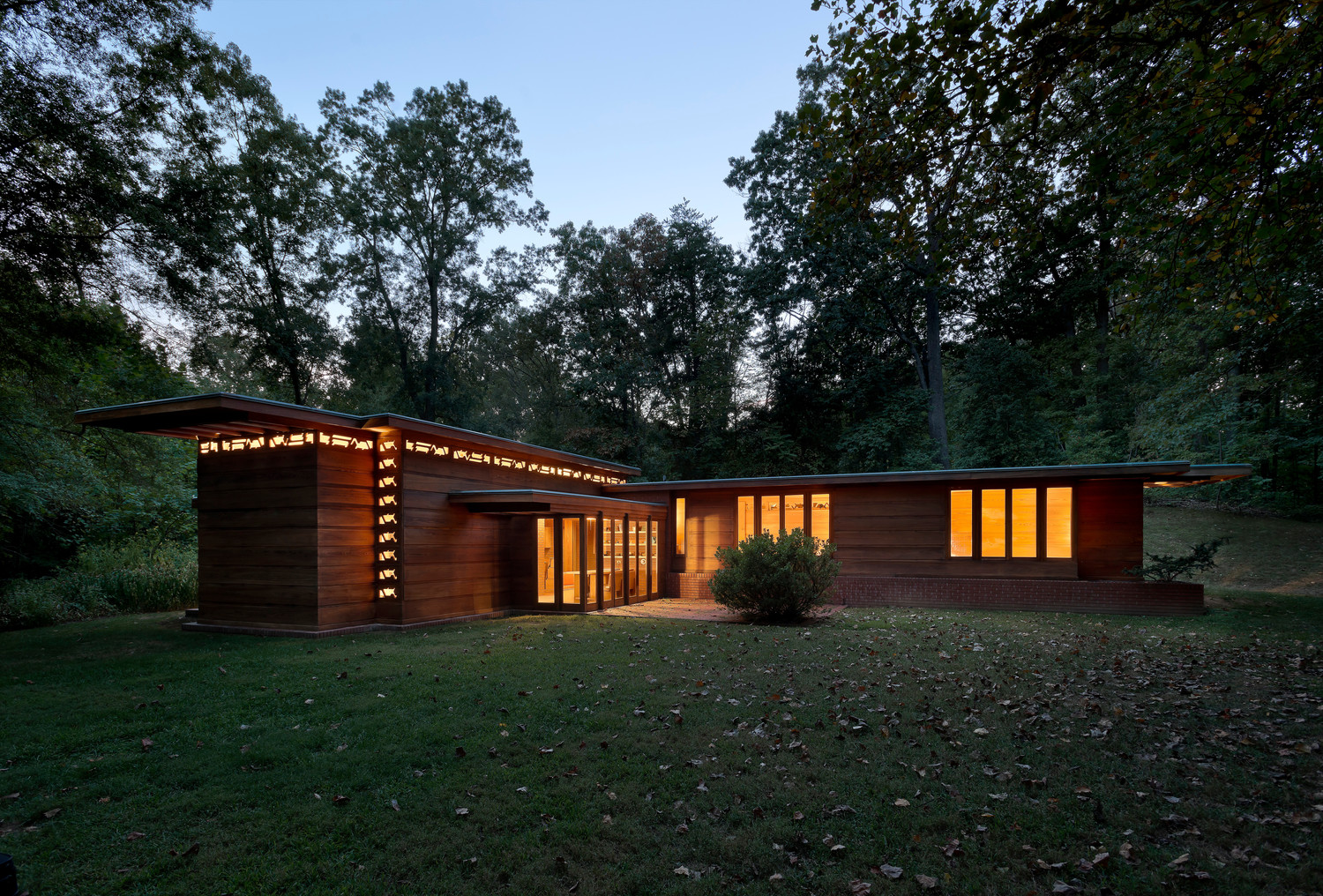 East and north facades, Historic American Buildings Survey (no known copyright restrictions)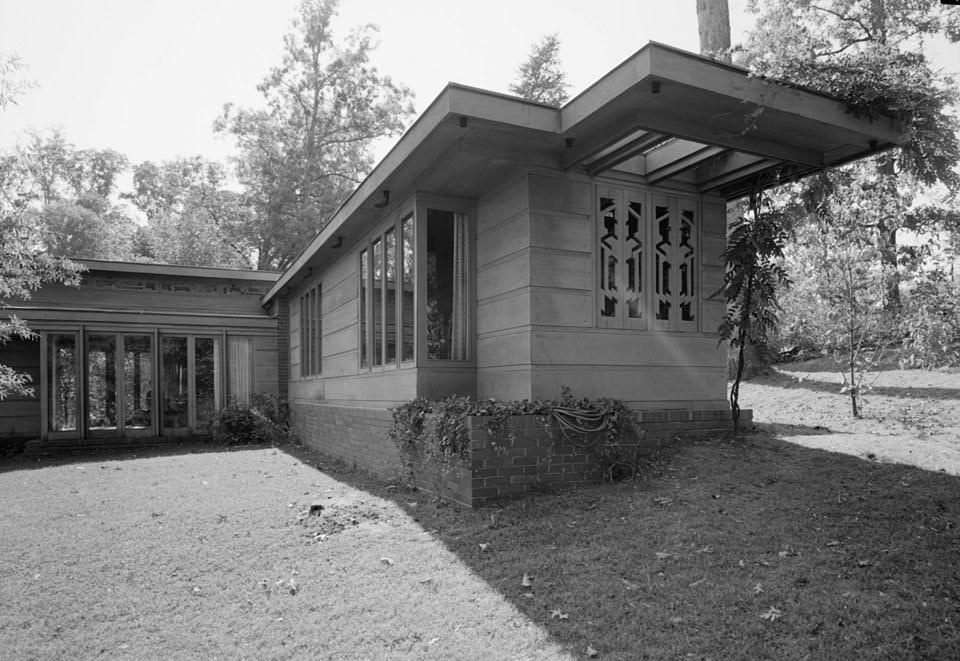 Interior of the Pope-Leighey House by Paul Buck for National Trust for Historic Preservation (reproduced under Fair Use)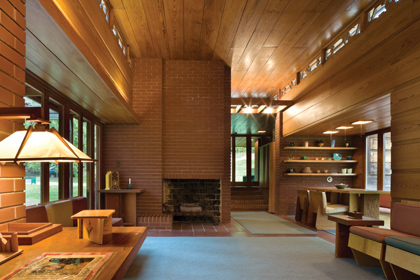 General view of the interior, Historic American Buildings Survey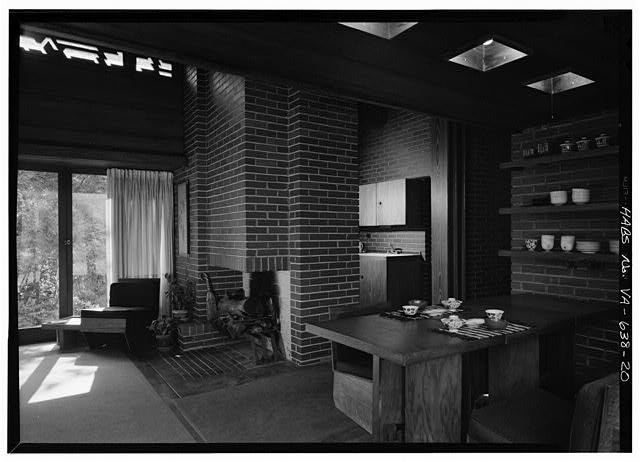 Design of the Pope-Leighey House, Historic American Buildings Survey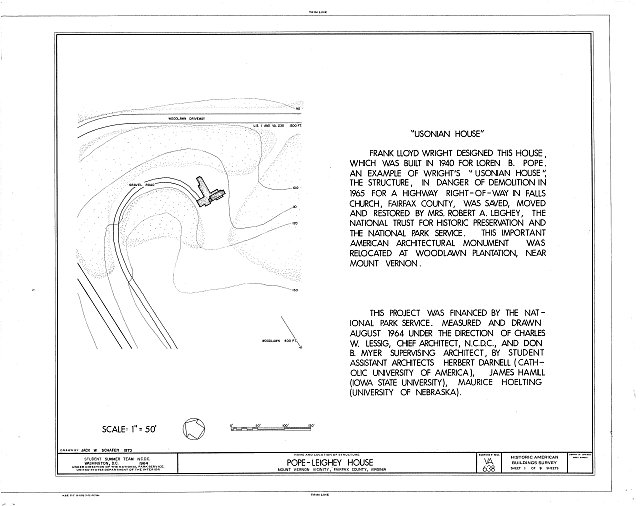 Backstory and Context
The history of the Pope-Leighey House dates back to 1937-38, when Loren Pope was a journalist for the Washington Evening Star making $50 a week. Loren knew that he didn't want to give him and his wife a convention home to live in, and so Loren's boss suggested the works of Frank Floyd Wright. After looking through Wright's Wasmuth papers, reading Wright's autobiography, and stumbling upon a 1938 article in Time magazine, Loren Pope was thoroughly convinced. Inspired, partly out of fear because of his meager income, Pope decided he would write a letter to the architect, simultaneously praising Wright and asking to design his future home. After several drafts, Pope's 1939 letter read:
"Dear Mr. Wright, There are certain things a man wants during life, and of life. Material things and things of the spirit. The writer has one fervent wish that includes both. It is a house created by you."
To which Wright responded:
"Dear Loren Pope, Of course I'm ready to give you a house."
However, when paying for the house, Pope encountered numerous difficulties because banks were afraid to loan money for a house with such an unconventional design. In the end, the Evening Star lent Pope the money, and by 1941, the house was completed. Pope and his family only lived there until 1946, when they sold it to Robert and Marjorie Leighy. In 1961, the State of Virginia informed the homeowners that their iconic home was in the way of Interstate 66, and, therefore, condemned for demolition. Robert Leighy died in 1963, but his wife took the cause to heart, donating the house to the National Trust for Historic Preservation. The Trust moved the house to its property on the grounds of Woodlawn Plantation in Mount Vernon in 1964. Then in the mid-1990s, due to structural damage from unstable soils, the house was relocated once again, though only for a short distance.1
Sources
1.) Steven M. Reiss, AIA, "The Pope-Leighey House: An Interview with Loren Pope." Blueprints, Summer 2006, Volume XXIV, NO. 3. Accessed April 16, 2016.
Image Sources
http://www.woodlawnpopeleighey.org/corporate-events

https://www.loc.gov/pictures/item/va0437.photos.161406p/resource/

https://savingplaces.org/places/pope-leighey

https://www.loc.gov/pictures/item/va0437.photos.161416p/resource/

https://www.loc.gov/pictures/item/va0437.sheet.00001a/resource/

Additional Information