Fort Churchill State Monument and Historic Park
Introduction
Fort Churchill was once an active U.S. Army fort. Built in 1861 to provide protection for early settlers, it was abandoned nine years later. Today the ruins are preserved in a state of arrested decay. A visitor center displays information and artifacts of the fort's history. The Pony Express and the Overland Telegraph once passed through this area. Nearby is Buckland Station, a Pony Express stop, supply center, and former hotel built in 1870. Facilities at Fort Churchill State Historic Park include trails, a campground, picnic area, group-use area and access to the Carson River. The park is listed on the National Register of Historic Places National Historic Landmark.
Images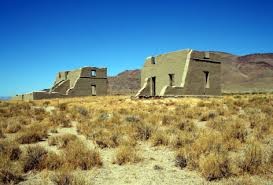 Backstory and Context
The mid-19th century saw increasing numbers of settlers pushing westward in to Native American territories. The people that lived in this part of Nevada, the Paiutes, certainly felt this pressure. When in May, 1860, two Paiute women were held captive and sexually assaulted by three white men at station along the Pony Express (now under the water of Lake Lahotan), the Paiutes rescued the women and killed all of them. Word spread to Carson City and a military force of just over 100 men were sent to retaliate. However the Paiutes led them into a trap and most were killed. A second, larger force defeated the Paiutes in the next battle, thereby securing the surrounding area for settlers passing through on their way westward.
Sources
http://parks.nv.gov/parks/fort-churchill-state-historic-park https://en.wikipedia.org/wiki/Fort_Churchill_State_Historic_Park#Fort_Churchill
Additional Information