Sullivan Dorr House
Introduction
Designed by architect John Holden Greene and completed in 1809, this Georgian mansion appears much as it did in the early republic. The home was built for Sullivan Door, an important business leader and father of father of Thomas Wilson Dorr, the leader of Rhode Island's Dorr Rebellion which led to universal male suffrage in 1842. The mansion is also located at the site of the former home of Providence founder Roger Williams, who was once buried at this site (since moved).
Images
Learn more about the Dorr Rebellion with this book from the University of Kansas Press.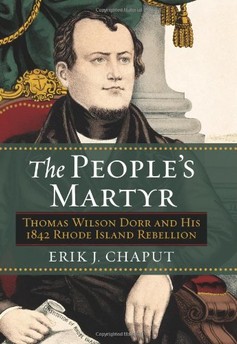 This Georgian mansion was the home of early 19th century shipping magnate Sullivan Door, father of Thomas Wilson Dorr who led the Dorr Rebellion in 1842.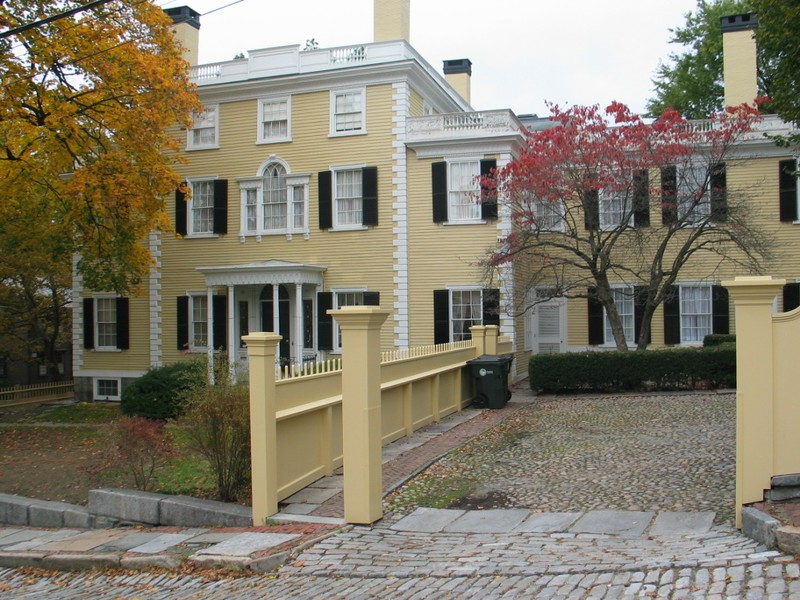 A historic view of the house from Brown University.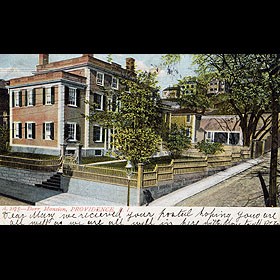 Backstory and Context
The Sullivan Dorr House looks today much as it did when it was completed 1809, just as Jefferson was handing over the White House to James Madison. The striking architecture involves a mixture of Palladian, Georgian, and Gothic details, which speaks to a noticeable trend at the time that saw architects move away from adhering to Colonial styles. But, the house and lot also stand as a monument to several chapters of Providence and Rhode Island history. For instance, the home that lies on land that served as the initial burial site to Providence's founder Roger Williams. As well, Sullivan Dorr's son, who grew up in the house, went on to lead what is now known as "Dorr's Rebellion."
Roger Williams, Rhode Island founder who was laid to rest in the land where the Door house occupies, strongly advocated religious freedoms (including separation of church and state) and disapproved of the practice of seizing land held by Native Americans. His remains were moved before Dorr purchased the lot early in the nineteenth century.
Door, who primarily made his fortune trading with China, and his wife Lydia were the parents of Thomas Wilson Dorr, who led the infamous Dorr's Rebellion in 1842. Dorr had become an integral figure within the "Law and Order" Party, whose platform focused on suffrage reform. The party developed a new Constitution deemed the "People's Constitution," and afterward elected Dorr as governor of Rhode Island. However, the Rhode Island legislature refused to acknowledge the legitimacy of either the Constitution or Dorr's governorship. As a result, Dorr unsuccessfully attempted to take over the State Arsenal, and he also failed in an attempt to assemble a General Assembly. His failures ultimately forced him to flee the state, only to return -- he was convicted of treason and sentenced to life in prison. In 1845, Rhode Island legislatures passed a measure that deemed Dorr and others as wrongly convicted, which resulted in their pardons.
Many historians argue that both Williams' belief in the separation of church and state and Dorr's attempts to reform suffrage strong influenced American polity.
In 1956, Sullivan Door's great-granddaughter, Margarethe Lyman Dwight, deeded the Dorr Mansion to the Providence Preservation Society, who subsequently financed and managed a project to restore the home.

To view the home and lot is to see changed in architectural history and be reminded of Rhode Island's founding, as well as its maturation, which included a small "Civil War."
Sources
Corning, Howard, and Sullivan Dorr. "Letters of Sullivan Dorr."
Proceedings of the Massachusetts Historical Society
67 (1941): 178-364. http://www.jstor.org/stable/25080354.
Dorr Rebellion Project. Providence College: Phillips Memorial Library. . Accessed August 30, 2018. http://library.providence.edu/dps/projects/dorr/index.php.
"Locations: Sullivan Door House."
Brown University: Architecture.org.
Accessed August 30, 2018. https://www.brown.edu/cis/sta/dev/providence_architecture/locations/college_hill/sullivan_dorr_house....
Shatwell, Justin. "Dorr Rebellion | Rhode Island's Very Own, Very Small Civil War."
New England Today Living: New England History.
March 14, 2018. . https://newengland.com/today/living/new-england-history/dorr-rebellion/.
Photo Sources

"The People's Martyr." - University of Kansas Press.
"This Georgian Mansion": Image by Reading Tom on Flickr under Creative Commons License found at https://www.gpsmycity.com/attractions/sullivan-dorr-house-48075.html
Historic View: Brown University. https://www.brown.edu/cis/sta/dev/providence_architecture/locations/college_hill/sullivan_dorr_house...
Additional Information