Stonewall Resort and Stonewall Jackson Lake State Park
Introduction
The first state park in the United States to be entirely funded, built, and operated by a private developer in partnership with a state agency, Stonewall Jackson Resort opened in 2002. The resort is centered around a manmade lake that was created by the Army Corps of Engineers in 1990 for the purpose of flood control. The decision to create the lake was controversial in the 1980s. Several residents challenged the state's authority to acquire their property through eminent domain. In addition, the town of Roanoke which is listed as the park's address now lies at the bottom of the lake. Today, that lake is also the center of recreation and offers amenities ranging from restaurants and golf to campsites and nature trails. The park is centrally located in southern Lewis County. When the state's first attempt to create a resort at the park failed to produce revenue, Senator Robert C. Byrd proposed a legislation that produced federal support and a plan to gradually pay the costs of the park with revenue.
Images
Stonewall Jackson State Park was created through private-public partnerships as part of West Virginia's effort to create more outdoor recreational opportunities for residents and visitors to the state.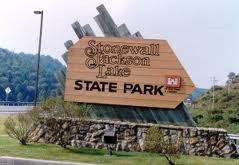 The park centers around Stonewall Jackson Lake which was created for flood control and also serves as the center of outdoor recreation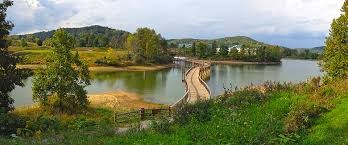 Backstory and Context
The United States Army Corps of Engineers partnered with the state to build the lake and later worked with private developers to create the resort. After years of controversy that included Lewis County residents such as Barbara Heavner challenge eminent domain in an attempt to keep her home, the residents of the land that is now part of the state park were forced to accept payment for their property. In 1990, the original recreational area was completed and included a campground, marina, several multi-purpose buildings, and park offices. This lake is one of thirty lakes created by the Army Corps of Engineers in central Appalachia, most of which included the use of eminent domain to acquire the property from local families.
The resort was named after Confederate General Thomas E. "Stonewall" Jackson, a native of Lewis County. While the former professor was considered to be one of the most gifted tacticians of the 19th century, his support of the Confederacy has led to discussions about choosing a different name that better reflects West Virginia's unique history.
In addition to the lodge and cabins, the park offers primitive campsites as well as campgrounds for recreational vehicles. The resort includes an indoor/outdoor pool while the lake offers activities such as fishing and kayaking and the park offers geocaching, sixteen miles of hiking trails, and the Arnold Palmer Signature Golf Course.
The park also includes a compelling archaeological history and over 150 cairns believed to have been built by Native peoples have been discovered within the grounds of Stonewall State Park.
Sources
1. Bear, David. "New Stonewall Resort Offers Luxury in W.Va. State Park Setting." The Traveler's Journal. 29 May 2005. Web. 8 Apr. 2016. http://www.travelersjournal.com/articles2.php?ID=129 2. Stonewall Resort.com. Accessed 8 Apr. 2016. http://www.stonewallresort.com/resort_in_west_Virginia/property_history/
Additional Information