Charlesfort-Santa Elena Site
Introduction
Designated a National Historic Landmark in 2001, the Charlesfort-Santa Elena Site is significant because it was here that Spain and France attempted to establish permanent settlements in the mid-16th century. French Huguenots fleeing persecution arrived here in 1562 and established a settlement/fort called Charlesfort. They abandoned it a year later. In 1566, the Spanish arrived and founded their first capital of Florida, Santa Elena. They built right on top of the French fort and were eventually able to build a small village that included a plaza. The Spanish were here for 21 years, until threats from Native Americans, the French, English, disease and other factors forced them to abandon the site. In 1915, the Marines established the Marine Corps Recruit Depot on Parris Island. It is possible to reach the site by going to The Legends at Parris Island Pro Shop. The site features historical markers and monuments.
Images
Monument commemorating Charlesfort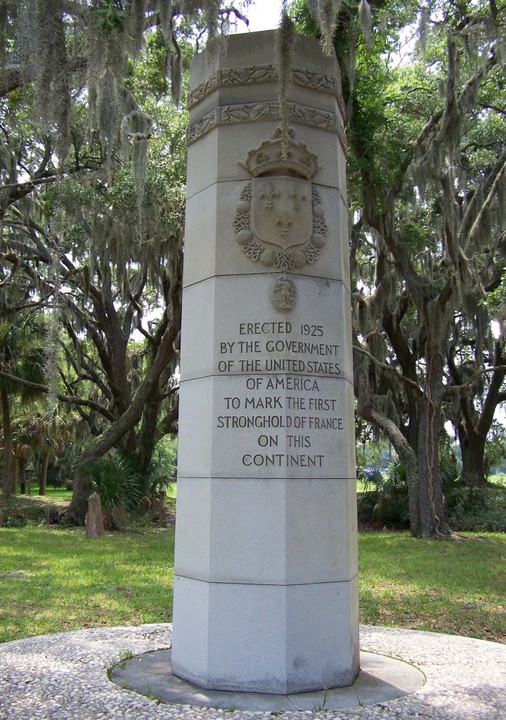 National Historic Landmark historical marker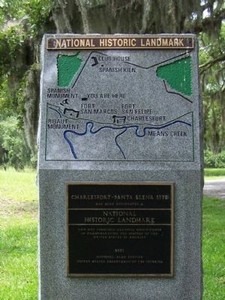 Backstory and Context
By mid-6th century the competition for control of the New World was well underway, primarily by France, Spain and Britain. The French and Spanish settlements at this site were part of the attempt to challenge the other. The French arrived with 150 men under the leadership of Jean Ribaut. Ribaut left for France to recruit more men and to obtain supplies, but he never returned. The remaining men killed the captain and sailed back to France, leaving a boy who wanted to stay with the Natives in the area. The Spaniards were led by Pedro Merendez de Aviles, who would found St. Augustine in what is today Florida.
Sources
https://www.nps.gov/nr/travel/american_latino_heritage/Charlesfort_Santa_Elena.html https://en.wikipedia.org/wiki/Charlesfort-Santa_Elena_Site http://www.hmdb.org/Marker.asp?Marker=20287 http://www.nytimes.com/1996/06/06/us/a-french-fort-long-lost-is-found-in-south-carolina.html
Additional Information