Robert H. Treman State Park
Introduction
Robert H. Treman State Park is a nature preserve whose highlight is a gorge called Enfield Glen. Hiking trails follow the gorge and go past 12 waterfalls. One of the most impressive of these waterfalls is the 115-foot Lucifer Falls. Here visitors experience an amazing view as they are able to see a mile and a half down the gorge. There are nine miles of hiking trails in total.
Images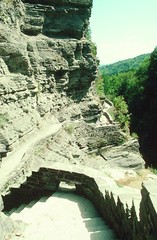 Swimming area in the park

Backstory and Context
Another of the major waterfalls in the park is Lower Falls, also known as Enfield Falls. It is located at the foot of Enfield Glen. It has an unusual shape, which may be more common in the are due to the soft rock that makes up the glens and gorges of the Finger Lakes. The Finger Lakes are a group of lakes in the Ithaca area.

Robert H. Treman, the park's namesake, donated the land that now makes up the park to New York State for the purpose of creating a state park. Born in 1858, Treman came from a prominent Ithaca family. He attended Cornell University and began working for his family's hardware business in 1878. During his time there, the small business grew into a corporation. His family also owned an iron foundry and had interests in the Ithaca Gas Light Company, Ithaca Water Works, and the Tompkins County Bank. Treman became the director of a local bank in 1891, became the Chairman of what eventually became the Tompkins Country Trust Company in 1932, and served as a director of the Federal Reserve Bank of New York from 1913 to 1931. He became a trustee of Cornell in 1891 and served in this position for 45 years.

He began buying property in the Enfield Gorge area around the year 1915. On a visit to Enfield Gorge around this time, he noticed the area's decline. He bought the area's mill and the miller's housed and officially closed the mill. By 1920, Robert and his wife Laura had acquired most of the land surrounding Enfield Falls. It was at this time that the Tremans donated the land to the State. Robert severed as the chairman of the Enfield Falls Preservation Commission from 1920 to 1924.


Sources
"Lower Falls (Enfield Falls)." World of Waterfalls. Accessed April 7, 2016. http://www.world-of-waterfalls.com/eastern-us-lower-falls-enfield.html

"Who Was Robert H. Treman." Friends of Robert H. Treman State Park. https://friendsoftreman.wordpress.com/who-was-robert-h-treman.
Additional Information