The Rosenwald Coinjock Colored School #7
Introduction
This Rosenwald School is one of three located in Currituck County North Carolina, but also part of many across the southern half of the United States. From Texas to North Carolina you can find these old schools that were built for African American children. There are over 5,300 Rosenwald buildings in fifteen southern states. Many have been demolished and others are still standing today. Some may have been restored, but there are also many more that no one really knows the real history of what these building really are. In my hopes of doing this Clio, on one Rosenwald house, people will discover more and try to help and save them from being destroyed. Without historical building to look back on there is no more history to learn if all the buildings disappear.
Images
This is the old location site of the school house before it was moved on April 12, 2016.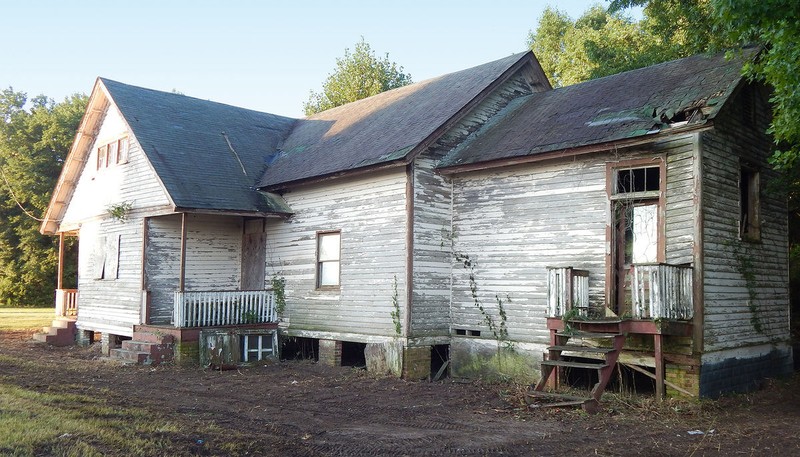 The Rosenwald School house sits perfectly today in its new location next to Currituck BBQ Restaurant. The school will be restored back to its original glory and will be a African-American History Museum as well as a Old Country Store.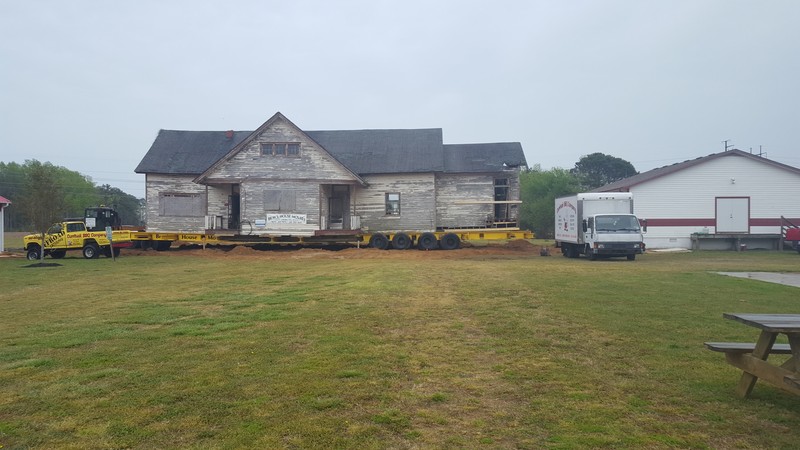 This is a map of the schools all across the southern half of the United States. The shaded areas is locations of Rosenwald School houses. Credit: Russell Brooker, PhD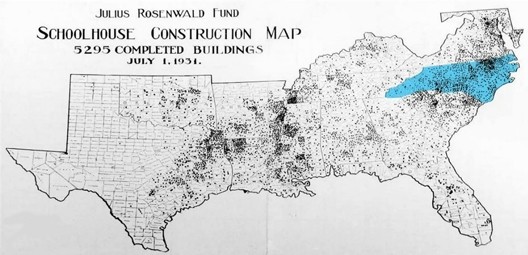 These are similar plans to the School house. There hasn't been any record of finding an original photo of the school when it was built in 1920. But with this picture you are able to get an idea of the school houses layout. Credit: Thomas Hanchett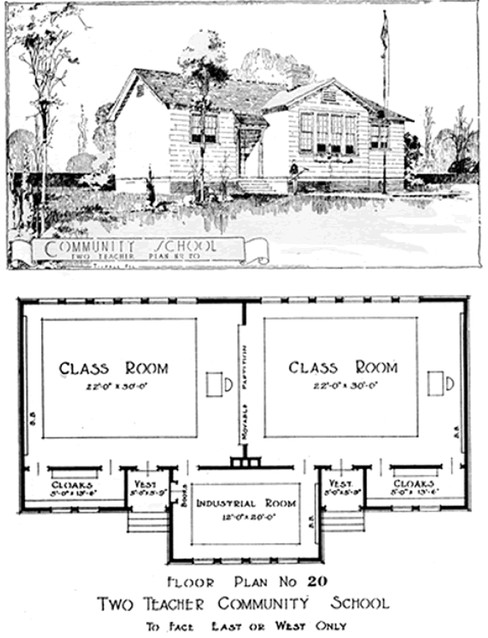 This is a photo of the two who started it all Julius Rosenwald and Booker T. Washington. Credit: Russell G. Brooker, PhD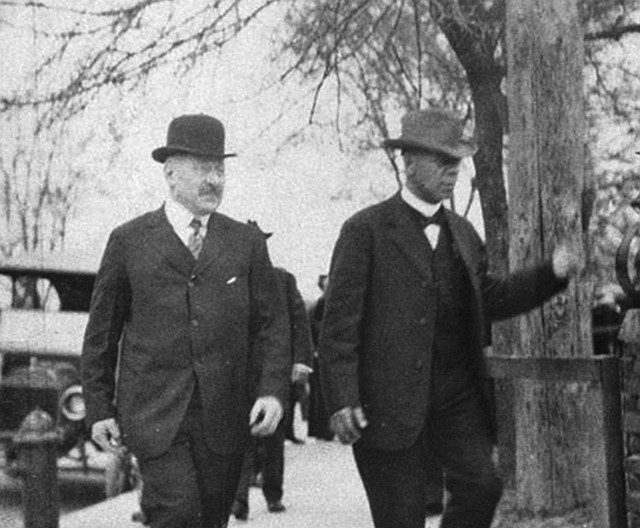 Backstory and Context
After the Civil War African Americans looked for educational opportunities. During the time Blacks were not able to attend the same school as whites which meant no hope for the African Americans. In 1896 the Supreme Court decision Plessy v. Ferguson upheld "separate but equal" which made segregation of public facilities in clouding schools. Even though this was happening it seemed that nobody cared until Mr. Julius Rosenwald stepped up and started helping the underprivileged African American children.
The School was originally built in 1920 by a local Black carpenter.
Julius Rosenwald
and partner
Booker T. Washington
established a fundraiser program for all schools to be built for the less fortunate african american children who wanted to learn.
In the 1910s, Chicago philanthropist Julius Rosenwald, president of Sears, Roebuck and Co., became aware of the sad state of education among African Americans in the rural South. His response was establishment of a fund that provided architectural plans and matching grants that helped build more than 5,300 schools from Maryland to Texas between the late 1910s and 1932. (Brown)
It was a sixty foot, one story frame, two classroom school building with American craftsman style design elements and along with original pine floors that are still in the building today. They thought African American children should have a place to receive an education. With the program schools were built and funded by Rosenwald throughout the Southern United States. Children attended this school from 1921 till 1950 when the building was sold to the Barrington family. The children attended other schools in their district such as Central Elementary in Barco, and a few others. There was 81 students enrolled during the 1940 and 1941 school year. North Carolina alone had a round about 813 schools sadly many have been demolished.

The school was moved on April 12, 2016 at 96 years old she made it to her new location at the Currituck BBQ restaurant in Coinjock, North Carolina where she is going to be restored back to her formal glory days. Local business man Paul Robinson plans to rebuild the exterior and interior back to how it was in the 1920s and use as a museum for african americans, old fashion country store, and a place of meeting.

Down below is a video of The Anderson Rosenwald School House. I thought the video gave really interesting information and can help you realize the significance of how important the Rosenwald School houses are and all of them should be saved from demolition!!!
Sources
Brown, Claudia R. "Rosenwald Schools in North Carolina." Rosenwald Schools in North Carolina. BOOKS ON NORTH CAROLINA ARCHITECTURE AND COUNTY AND MUNICIPAL SURVEY PUBLICATIONS, 10 Feb. 2003. Web. 27 Apr. 2016. Deutsch, Stephanie. You Need a Schoolhouse: Booker T. Washington, Julius Rosenwald, and the Building of Schools for the Segregated South. Evanston, IL: Northwestern UP, 2011. Print. Pittsfield Cemetery: National Register of Historic Places Registration Form. Boston, MA: Massachusetts Historical Commission, 2007. Web.
Additional Information