Elizabeth City State Teachers College Historic District (Elizabeth City State University)
Introduction
On 3 March 1891, an African-American representative from Pasquotank County in the North Carolina General Assembly sponsored a bill for the establishment of a school for the "teaching and training teachers of the colored race [in Elizabeth City] to teach in the common schools of North Carolina." That school, now Elizabeth City State University, has transformed over the last 125 years from a normal school for African-American teachers to a four-year university offering both undergraduate and graduate degrees. In 1994, the National Register of Historical Places recognized the Elizabeth City State Teachers College Historic District, the original six campus buildings on the current site (an earlier building was rented on Shannon Street, now Herrington Road), as a historic landmark.
Images
State Colored Normal Principal Peter W. Moore and students seated around wood-burning stove, circa 1899 (before the move to the current site), Credit: ESCU Archives/Digital NC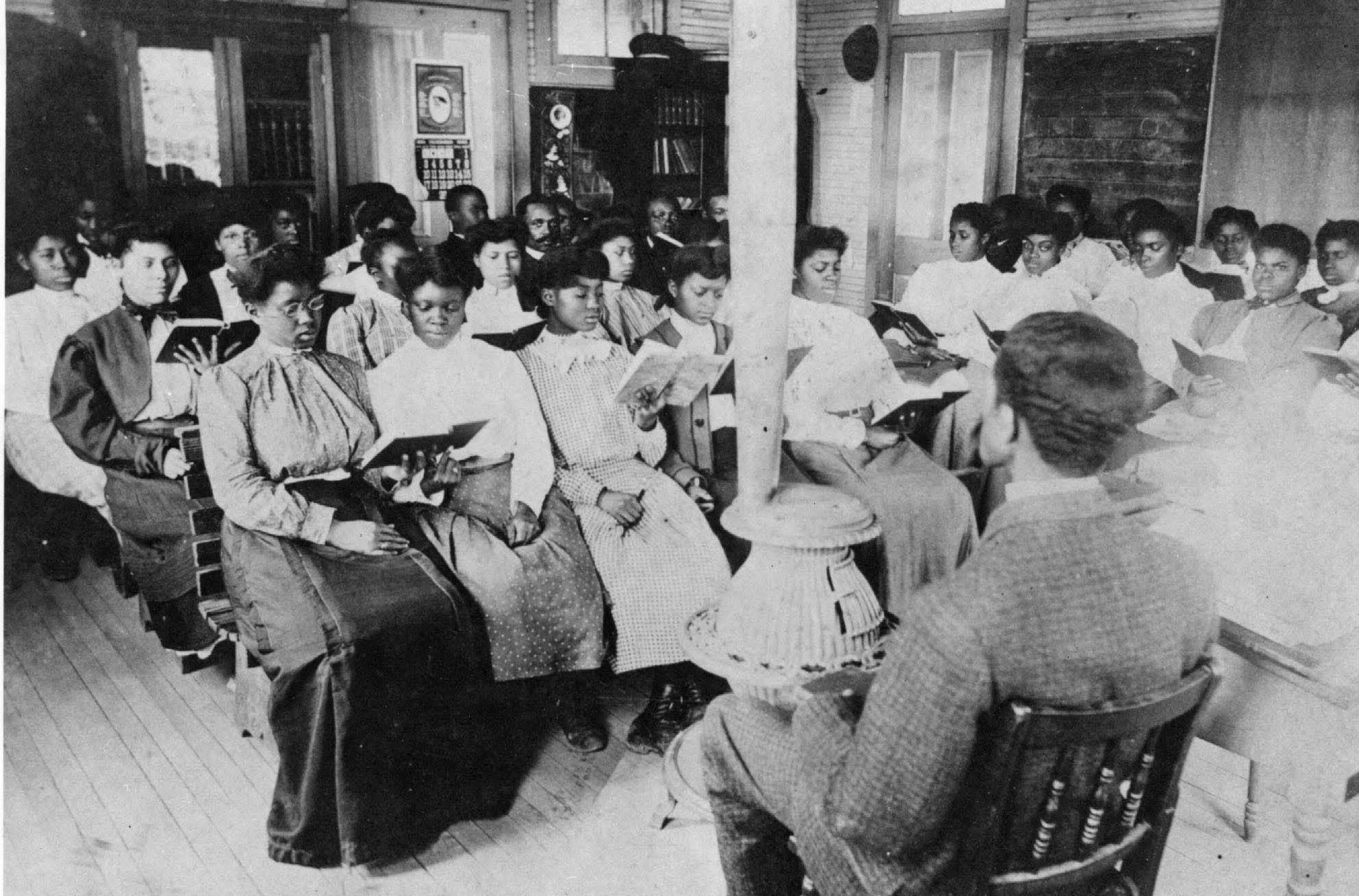 Moore Hall, 1922, Credit: ESCU Archives/Digital NC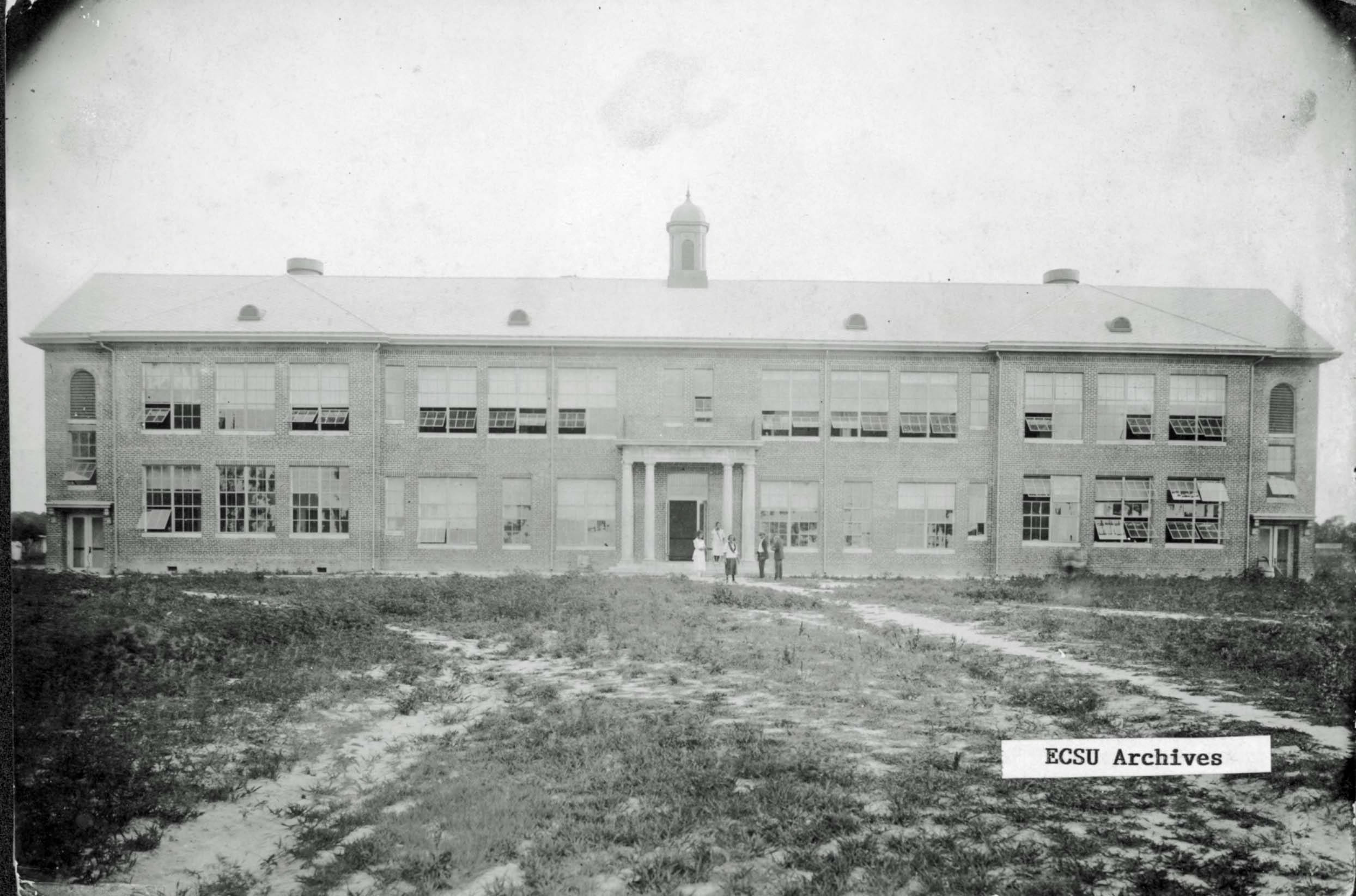 State Colored Normal School Fourth Year Domestic Science Students (in front of Symera Hall), 1914, Credit: ECSU Archives/Digital NC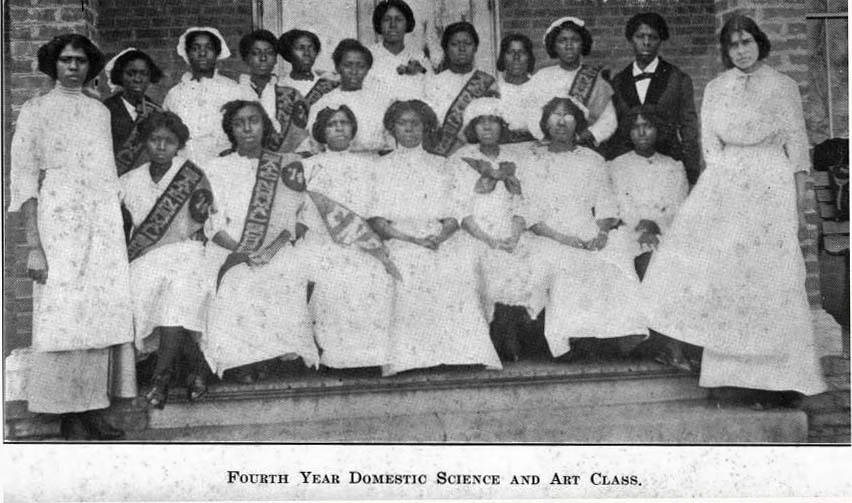 Gathering of Female Students on State Colored Normal School Campus (in front of Moore Hall), circa 1924, Credit: ECSU Archives/Digital NC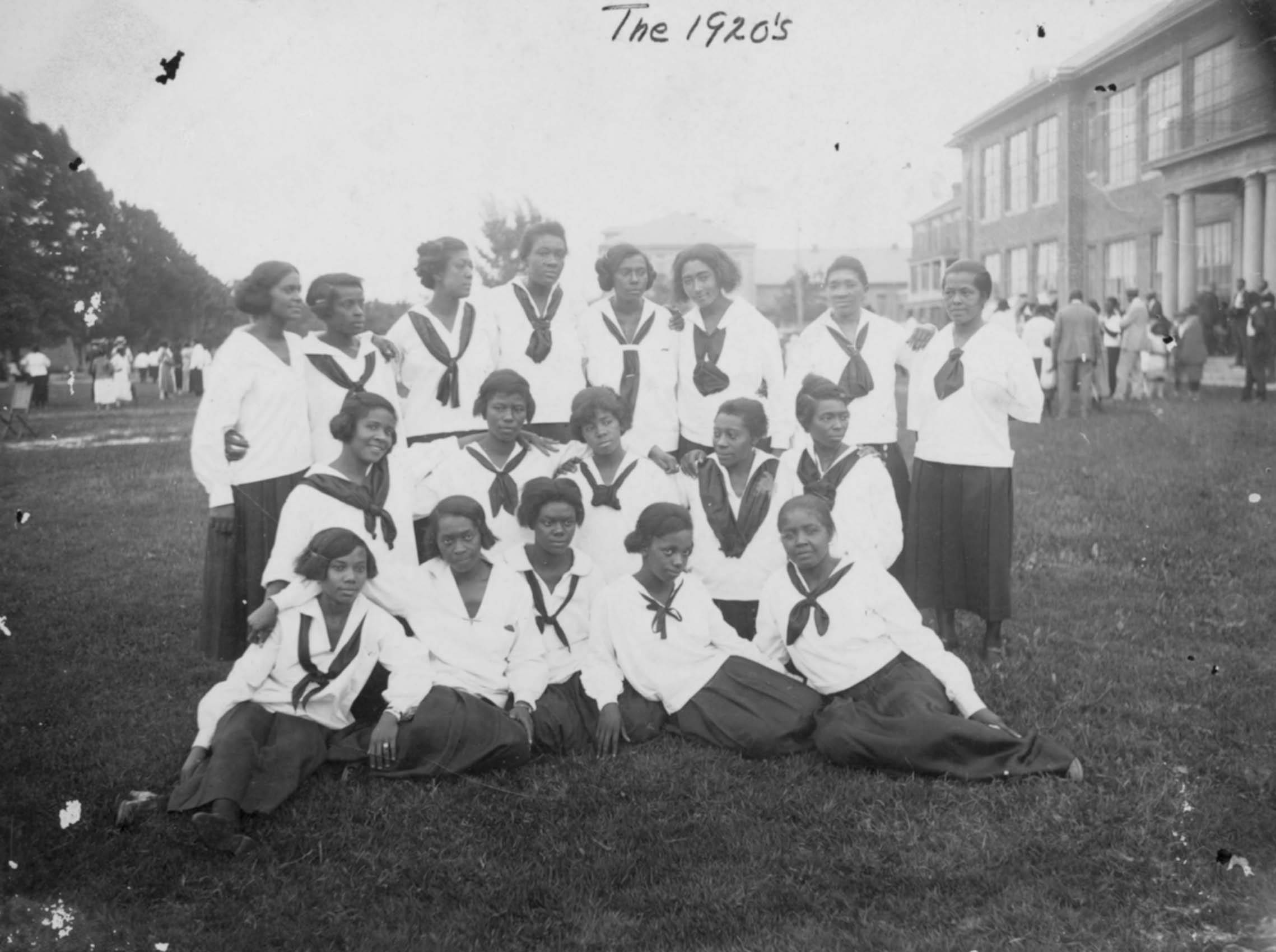 The student body of Elizabeth City State Colored Normal School, 1913-1914, Credit: ECSU Archives/Digital NC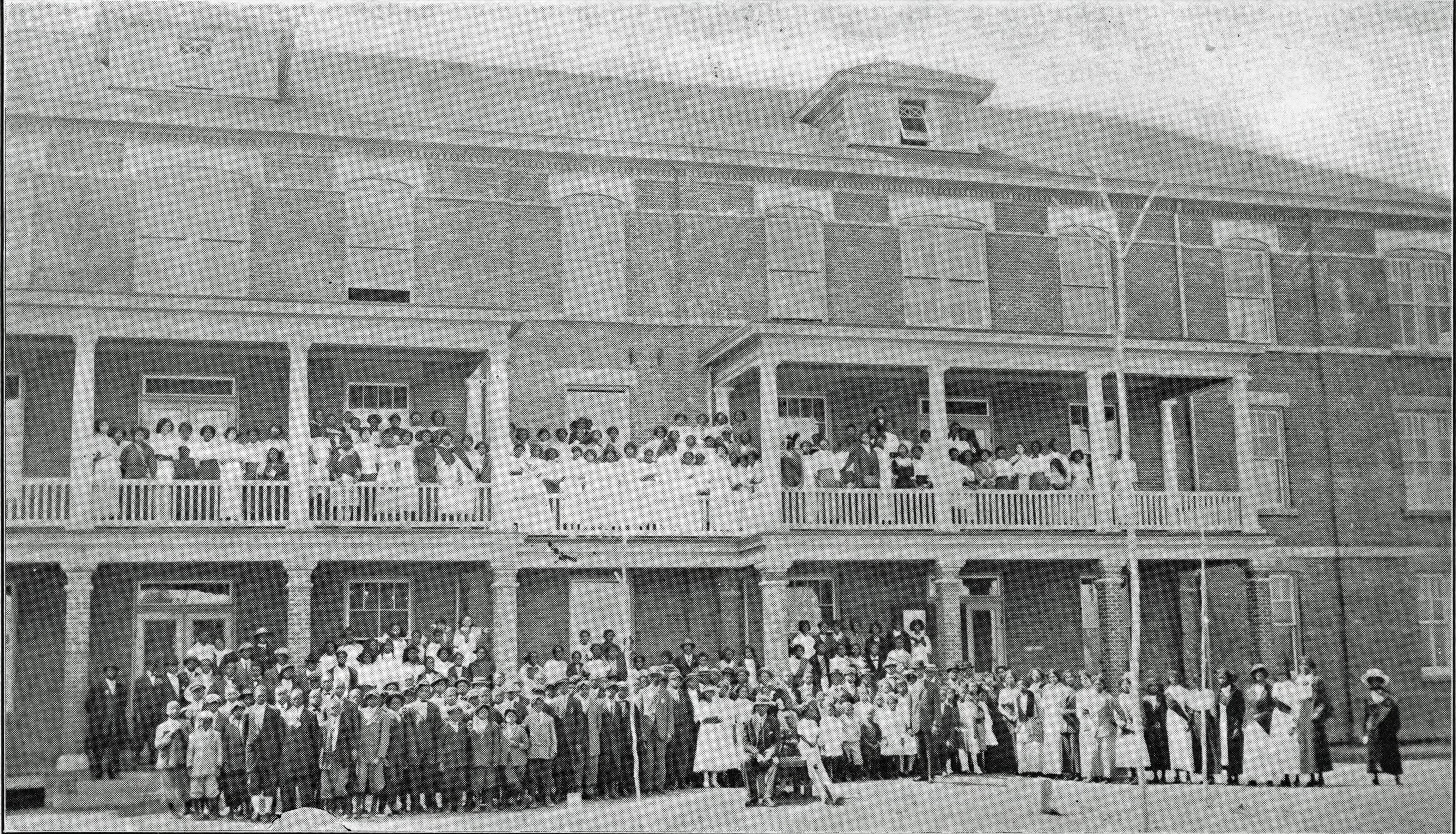 Backstory and Context
26 January 1891: Hugh Cale introduces legislation to establish normal school in Elizabeth City, law enacted 3 March
4 January 1892: Elizabeth City Colored Normal School opens on Roanoke Avenue under the leadership of Peter Weddick Moore with a state appropriation of $90
1896: Six students graduate in first graduating class
1912: School begins operations at its current location
1914: First football team
1928: Peter Moore retires, Dr. John Henry Bias elected the second president
1939: Newly renamed Elizabeth City State Teachers College awards first baccalaureate degrees, Dr. Harold Leonard Trigg becomes third president following the death of Bias
1941: Fiftieth anniversary celebrated
1946: Dr. Sidney David Williams becomes fourth president
1958: Dr. Walter Nathaniel Ridley takes the reigns as fifth president
1963: School becomes Elizabeth City State College
1964: ECSC abandons Pirates as athletics mascot and adopt Vikings, enrollment exceeds 1000 students for the first time
1966: Dr. Herman Cooke identifies a strain of bacteria that specifically targets cancer cells
1968: Dr. Marion Dennis Thorpe becomes the sixth president
1969: School becomes Elizabeth City State University
1972: School becomes a constituent institution of the new University of North Carolina system, Ridley becomes first chancellor
1981: Basketball team wins the CIAA championship
1983: Dr. Jimmy R. Jenkins '65 becomes the seventh chief executive officer and second chancellor
1986: First broadcast by WRVS-RM ("Wonderful Radio Viking Style")
1994: State Teachers College Historic District recognized by the National Register of Historic Places
1996: Mickey Lynn Burnim elected eighth chief executive officer and third chancellor
2007: Men's basketball team wins the 2007 CIAA championship, Dr. Willie J. Gilchrist became ninth executive officer and fourth chancellor
2011: Washington Monthly names ECSU the #1 baccalaureate school for the first time
2014: UNC Board of Governors elects Dr. Stacey Franklin Jones tenth executive officer and fifth chancellor, the first woman to hold the post
2016: Dr. Thomas Conway elected eleventh executive officer and sixth chancellor, ECSU celebrates 125 years of excellence
Sources
Glen Bowman, Elizabeth City State University 1891-2016: The Continuity of a Historical Legacy of Excellence and Resilience (Donning Press, 2015) Evelyn Johnson, Elizabeth City State University: A Story of Survival (Washington: Vantage, 1978).
Additional Information