Charles "Chuck" Yeager Bridge
Introduction
Pilot icon and United States Air Force Brigadier, General Charles Elwood "Chuck" Yeager, was a combat pilot during WWII, and later a test pilot for the Air Force. Also, he flew in the Vietnam War and various places during the Cold War, and trained a generation of NASA's pilots. However, he is most famous for being the first pilot to break the sound barrier in the Bell X-1 rocket plane named Glamorous Glennis, after his wife. And— under the radar of the U.S. Air Force— he flew underneath several bridges, with one legendary flight resulting in treasured folklore for his home state of West Virginia. Although it was never suggested that he flew under this exact bridge, West Virginia named the I-64/77 Bridge in Charleston in his honor.
Images
Photo of United States Air Force Brigadier General Charles Elwood "Chuck" Yeager--Source: N/A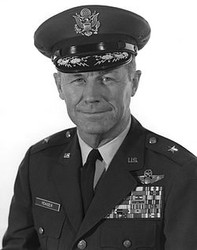 Chuck Yeager Bridge in Charleston, WV. -- Source: N/A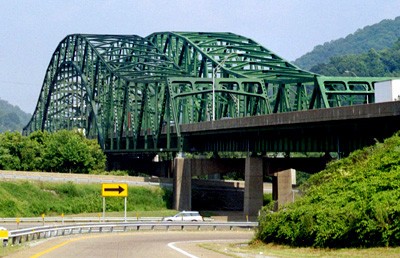 Chuck Yeager standing in front of Glamorous Glennis.-- Source: http://www.space.com/26204-chuck-yeager.html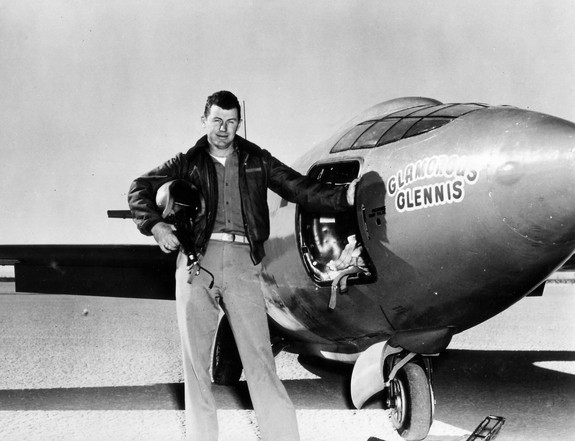 Backstory and Context
According to Chuck Yeager's website, Charles "Chuck" Yeager was born on February 13, 1923 in Myra, West Virginia, which is a few miles outside of Hamlin, WV, on Mud River.6 Shannon White writes in her article titled "Humble Beginnings" that:
The tiny town of Hamlin, West Virginia sits nestled in the Appalachian foothills, just about as far from worldwide acclaim as anyplace that's barely a dot on the map. Yet it was here that the boy who would become a legend became a man.6
Yeager graduated from the previously known Hamlin High School in 1941. Today, a statue of Chuck Yeager stands in front of his old school, which was renamed to Hamlin PK-8, and is now a junior high for students in the community. Before graduation, in 1939 and 1940, "Yeager attended the Citizens Military Training Camp at Fort Benjamin Harrison in Indiana."1 He then went on to join the United States Army Air Forces in September following graduation. He worked as a mechanic on airplanes originally, but enrolled in a flying sergeant program that lead him to WWII; he was promoted to Flight Officer in March of 1943.1 In all, he flew 64 combat missions during WWII.2,4 He was shot down and escaped capture, returning to fly 56 more missions to receive the promotion of lieutenant captain. 1,4 In 1969, after commanding in Vietnam, Yeager was promoted to Brigadier General. In 1975, he retired from the Air Force.
It was in a program called Muroc Army Air Field in which Yeager began testing high-speed flights; this eventually lead to his iconic flight on Oct. 14th, 1947 when he broke the sound barrier.2 However, this is not the only iconic flight to be made by Yeager. As if specially performed for the people of his home state, Yeager added to his legacy on Oct. 10th 1948, when he decided to fly under the Southside Bridge of Charleston while visiting family in the area.2 Quoting Yeager from an article in the Charleston Gazette:
"I looked up and saw the bridge and within a second I knew I had clearance."5
This bridge, however, is not to be confused with the one carrying his namesake, although Yeager was known for flying under many bridges during his heyday.
On the day of his legendary bridge flight, he was said to be flying a P-80 Shooting Star jet, whose speed mesmerized the crowds of people attending a river regatta. Yeager would have found himself in some serious trouble were the U.S. Air Force to catch wind of his shenanigans; however, the flight was "never officially reported and has since become a beloved part of the city's folklore."2
The bridge, which carries Yeager's namesake, runs Southbound on 1-77 in Charleston, West Virginia. It was built in 1954 and rehabilitated in 1986.3
Sources
1. "Brigadier General Charles E. Yeager." 456fis.org. 2 Oct. 2014. Web. 31 Mar. 2016. http://www.456fis.org/CHUCK_YEAGER_BIOGRAPHY.htm 2. "Chuck Yeager." WV Encyclopedia. N.d. Web. 31 Mar. 2016. http://www.wvencyclopedia.org/articles/1387 3. "Chuck Yeager Bridge." Bridgehunter.com. N.d. Web. 31 Mar. 2016. https://bridgehunter.com/wv/kanawha/20A640/ 4. Howell, Elizabeth. "Chuck Yeager: First Person to Break the Sound Barrier." Space.com. 11 June 2014. Web. 31 Mar. 2016. http://www.space.com/26204-chuck-yeager.html 5. Maramba, Kris Wise. "Chuck Yeager Sets His Legendary Bridge Tale Straight." Charleston Gazette. 29 Apr. 2010. Web. 31 Mar. 2016. http://www.wvgazettemail.com/News/201004280921 6. White, Shannon. "Humble Beginnings." Chuck Yeager. N.d. Web. 31 Mar. 2016. http://www.chuckyeager.com/1923-1941-growing-up
Additional Information