Baltimore Slave Trade Historic Marker
Introduction
The Baltimore Slave Trade Historic Marker, erected by the Maryland Historical Trust, is a reminder of the connection between the domestic slave market that proliferated primarily between Baltimore's Inner Harbor and Fell's Point. Although the US banned the import of slaves in 1808, the domestic slave trade in Baltimore thrived, as well as in many other cities at the time. Furthermore, due to innovations such as the cotton gin and the growing desire for more slaves in the Deep South, it is estimated that before 1859, over one million slaves were sold south from Maryland and Virginia. One Baltimore institution that exemplified this trade was the "slave pens," most of which were located in Inner Harbor and Fell's Point, including some that were located near this marker. Compounding the slave pens were frequent advertisements in the Baltimore Sun and other papers, declaring "5,000 Negroes Wanted" or "Negroes! Negroes! Negroes!" In an 1845 city directory, "Slave Dealers" were listed between "Silversmiths" and "Soap." More than a dozen slave traders operated in Baltimore along Pratt and adjacent streets. The stories regarding Baltimore's past is still controversial for African Americans and whites, and this historic marker ensures that these stories aren't unforgotten.
Images
This marker is on the southern side of Pratt Street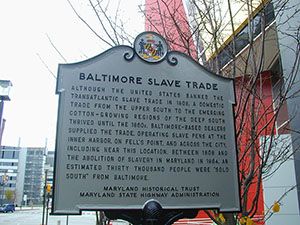 Learn more about slavery in this are-click the link below to learn about this book by T. Stephen Whitman.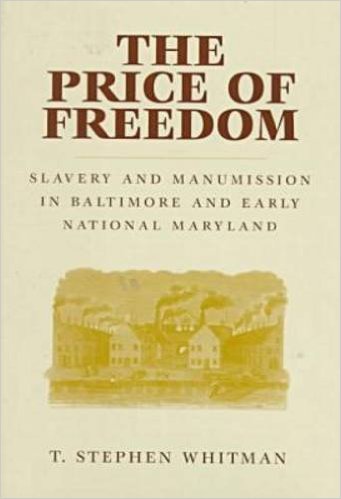 Flyer regarding slave kidnappings, 1851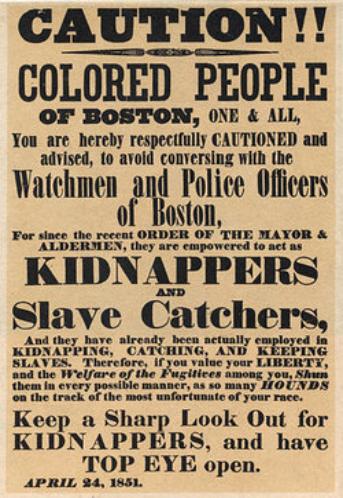 Backstory and Context
The Baltimore Slave Trade
Historic figures such as Frederick Douglass and Thurgood Marshall are rightfully praised in Baltimore for their contributions in substantially improving the plight of African Americans. Yet, before the Civil War, Baltimore was also home to a prolific domestic slave market, where the horrors of slavery (outside the plantation) were available to public witness. In fact, between 1815 and 1860, Baltimore's port was one of the leading disembarking points for ships carrying slaves to New Orleans and other destinations in the Deep South. When freeing a slave trader's jail on Pratt Street in Baltimore in 1863, Union Col. William Birney wrote to his commanding officer, "In this place I found 26 men, 1 boy, 29 women and 3 infants…Sixteen of the men were shackled and one had his legs chained together by ingeniously contrived locks connected by chains suspended to his waist."
Men, women, and children inhabited these slave pens for different periods of time as well as reasons. And quite frequently, Baltimore residents could see a dreary scene of chained slaves being ordered from the pens to the harbor, where ships took them south. Additionally, slave owners resting in Baltimore could "store" their slaves overnight for a small fee in these pens; unwanted slaves, such as those who tried to escape several times, could also be sold, housed, and meagerly fed in these pens until a ship could take them to the markets in the Deep South. This trade also posed a threat to the free African Americans living in Baltimore, who were often kidnapped and sold into slavery.1
Sources
Scott Shane, "The secret history of city slave trade." Baltimore Sun, June 20, 1999.
Additional Information