The Omni Grove Park Inn
Introduction
This historic, Arts-and-Crafts-style hotel was built in 1913 by self-made millionaire Edwin Wiley Grove. The hotel made headlines for the speed of its construction and was completed in just under one year by paying 400 workers above-market rates but also requiring them to work ten hour shifts for six days a week. Today, the hotel is known for its views and amenities, as well as its architecture and a golf course designed by Donald Ross. The hotel's location among the Blue Ridge Mountains helped to attract visitors to the region which spurred Asheville's growth. Numerous presidents and other famous people have stayed at the hotel including presidents William H. Taft, Franklin D. Roosevelt, Woodrow Wilson, and Barack Obama. Other notables include Thomas Edison, Henry Ford, Will Rogers, and Jerry Seinfeld. The hotel was placed on the National Register of Historic Places in 1973.
Images
The exterior of the Omni Grove Park Inn.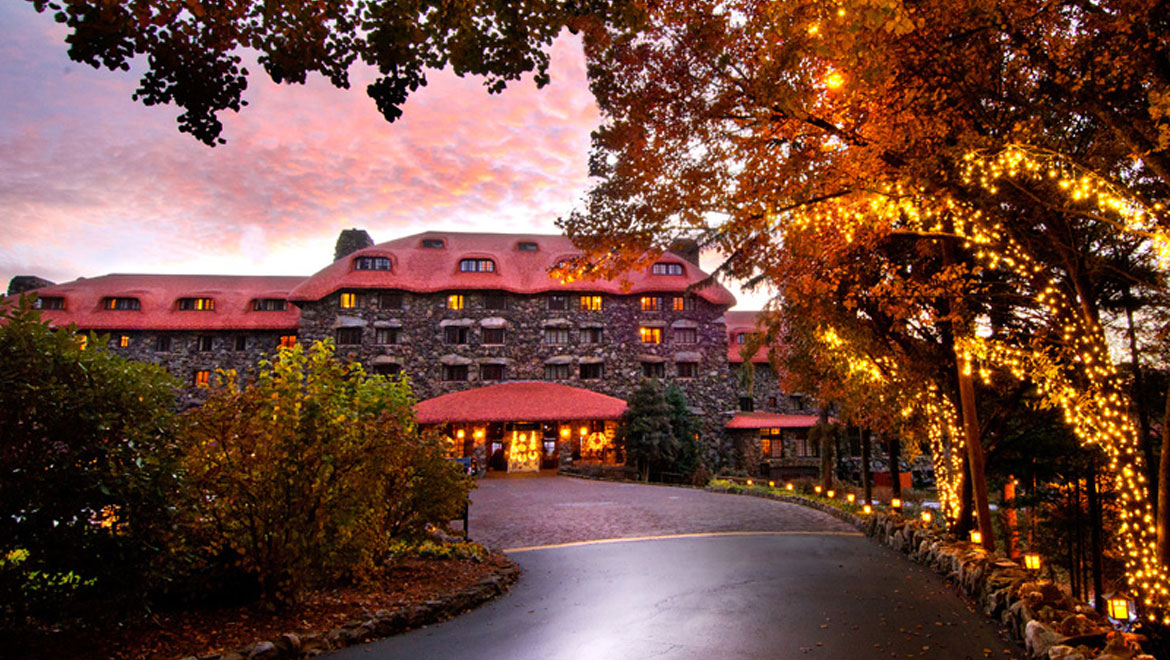 A more expansive view of the land surrounding the Omni.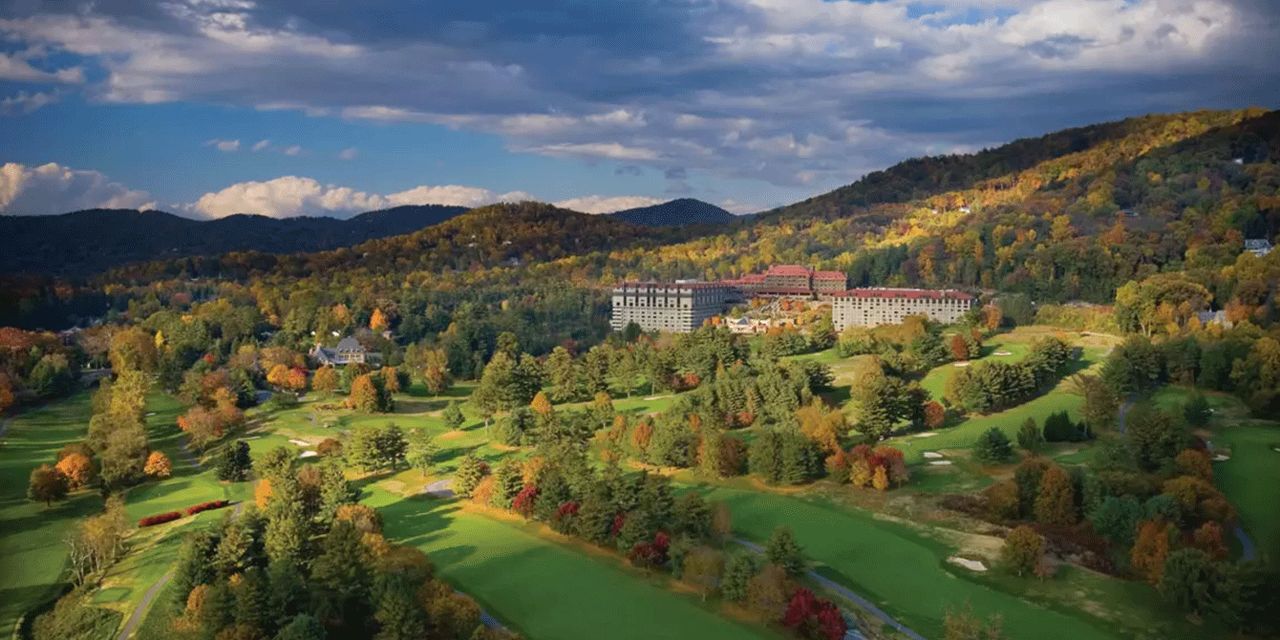 The spa on the hotel's lower level.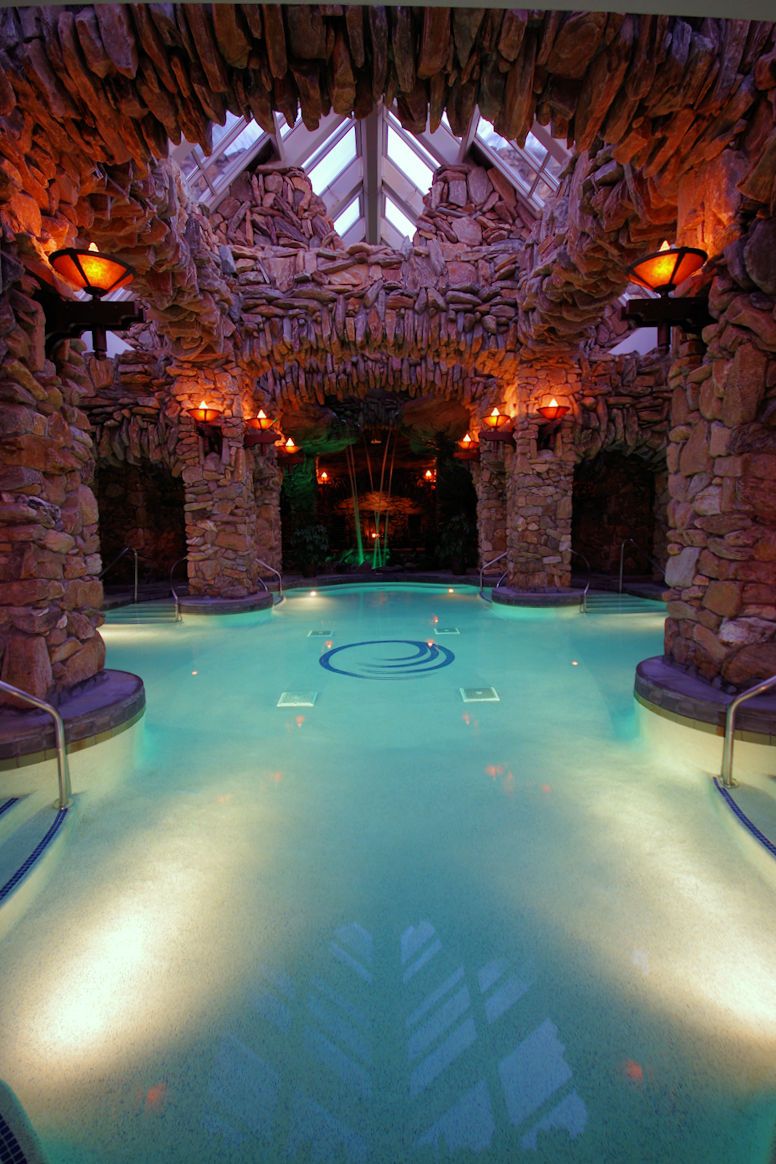 Backstory and Context
The founder of the Omni Grove Park Inn, Edwin Wiley Grove, was born in 1850 in Tennessee. He served in the Civil War, but made his fortune with a pharmaceutical business that he purchased in his mid-twenties. Immediately after purchasing the business, he focused all his energy upon formulating a medication to prevent malaria, a disease which was running rampant in the south in the 19th century. Eventually, in the late 1890s, Grove introduced "Grove's Tasteless Chill Tonic," a concoction made by suspending quinine (a medication used to treat malaria) in liquid. The tonic was an immediate success. After just 20 years on the market, Grove's tonic sold over 1.5 million bottles.
Ironically, Grove himself was often ill, being routinely infected with bouts of bronchitis and exhaustion. To remedy this, Grove's doctors recommended that he rest and recover in the clean mountain air of Asheville, North Carolina. Upon his arrival in Asheville, Grove immediately began purchasing property. He had previously developed residential neighborhoods in Atlanta, Georgia, and saw the same potential for growth in Asheville. In 1909, Grove purchased 408 acres of land in northern Asheville, including what would eventually become the Grove Park Inn. However, planning for building the Grove Park Inn did not begin for another two years. In 1911, Grove tasked Fred Seely, who was a pharmaceutical manufacturer and Grove's son-in-law, with designing and building the hotel atop Sunset Mountain.
Seely immediately put men to extremely strenuous work in order to finish the construction of the hotel. Four hundred men worked 10-hour shifts, six days a week, hauling mules, wagons, ropes, and granite builders (some weighing up to 10,000 pounds) up Sunset Mountain in order to build the hotel. By subjecting men to this level of labor, Seely kept his promise to have the hotel ready for business less than one year from the time when construction started. The Grove Park Inn officially opened on July 12th, 1913. On the hotel's opening day, William Jennings Bryan, the United States's Secretary of State at the time, delivered a keynote address to the wealthy men present at the opening. In this address, he proclaimed the Grove Park Inn was "built for the ages," which seems particularly apt given the success the hotel has met.
The Grove Park Inn was designed according to the Arts and Crafts architectural movement. This movement originated in England in the mid-19th century, and became popular in the U.S. at the end of the 19th century. Like many Arts and Crafts architectural pieces, the Omni Grove Park Inn was built with open floor plans, exposed beams, native materials like wood and brick, dim, glowing interiors, and prominent fireplaces. While it has mostly kept the same architectural style, the Omni Grove Park Inn boasts a number of additional amenities today, including beautiful views and easy access to the Blue Ridge Mountains, many restaurants, a Donald Ross designed golf course, a tennis and fitness center, convention facilities, and a spa on its lower level. The Omni Grove Park Inn was added to the National Register of Historic Places in 1973, and has housed a number of Presidents and celebrities due to its rich history and architecture.
Sources
"The Grove Park Inn Story." Omni Hotels and Resorts, https://www.omnihotels.com/hotels/asheville-grove-park/property-details/history. Accessed 5 Mar. 2020.
Frost, Susan. "Arts and Crafts." Chicago Architecture Center, http://www.architecture.org/learn/resources/architecture-dictionary/entry/arts-and-crafts/. Accessed 5 Mar. 2020.
Image Sources
https://www.omnihotels.com/hotels/asheville-grove-park/accommodations

https://www.historichotels.org/hotels-resorts/the-omni-grove-park-inn

https://www.pinterest.com/pin/208221182750190868/?lp=true

Additional Information