O. Henry Statues
Introduction
Tucked away in a small plaza within downtown Greensboro is this three-piece memorial is dedicated to one of the city's most notable residents, William Sydney Porter. Known to many by his pen name "O. Henry," Porter was the author of several famous pieces of American literature. His pieces were known to incorporate humor, wit, and surprise endings. His work includes "Cabbages and Kings," "Roads of Destiny," and "Whirligigs." The statues include Porter, his dog, and a book representing his many short stories.
Images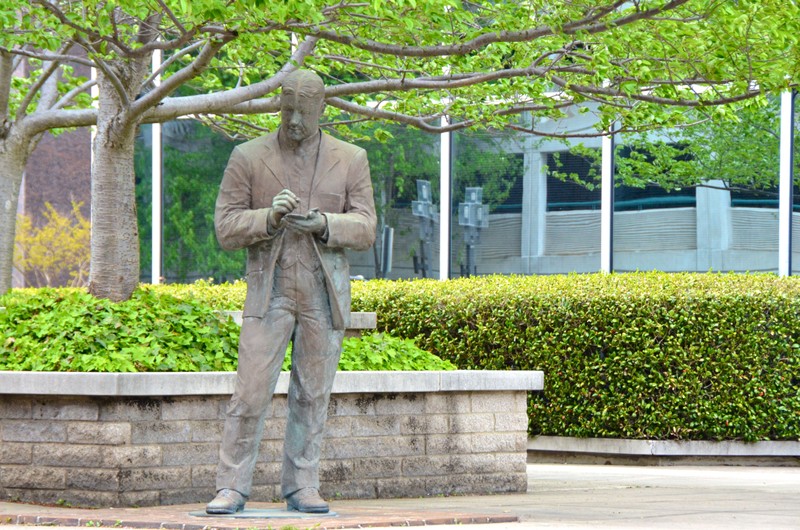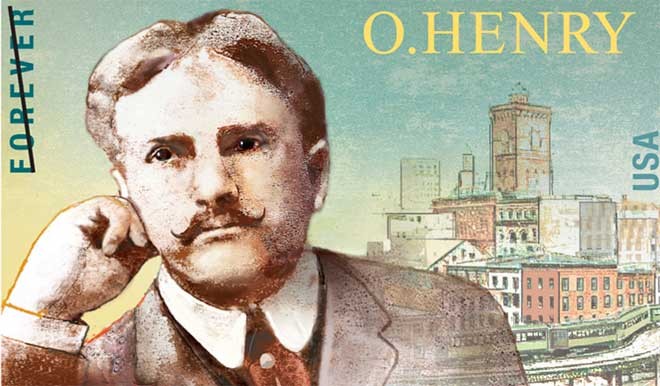 William Sydney Porter, 1909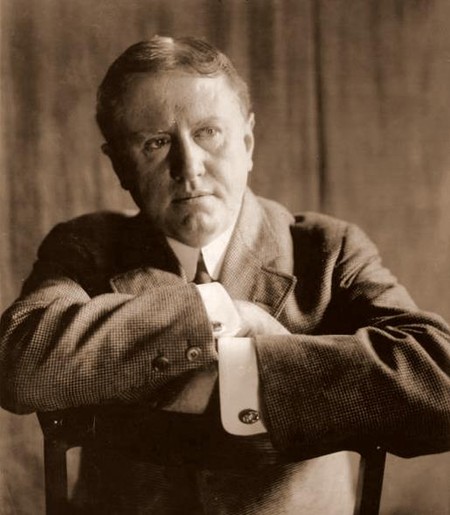 Backstory and Context
William Sidney Porter was born in Greensboro, North Carolina on September 11, 1862. Porter's mother died when he was three years old and he was raised by his father and paternal grandmother. Porter enrolled in classes at his aunt's elementary school and was tutored by her for years. As a young adult, Porter worked at a drug store and became a licensed pharmacist at the age of nineteen. 
In 1882, Porter moved to Texas. He worked on a sheep ranch, learning Spanish and German from immigrant ranch hands.
Porter later moved to Austin, where he became involved in the city's social scene, including joining several drama and choral groups. During this time, Porter met seventeen-year-old Athol Estes. Athol's parents were against the courtship, as the young girl had tuberculosis. However, the two eloped on July 1, 1867. The couple had a son who died in childbirth in 1888, and a daughter who lived, named Margaret, in 1889. 
Athol encouraged Porter to pursue writing. While he had taken a job drawing maps, he also contributed editorial writing pieces to magazines and papers. In the early 1900's, Porter began drafting plots and creating characters and within the next decade would begin writing stories. 
In the 1890s, Porter was accused of embezzling from the bank where he was employed. He was fired from the position, and in 1896 federal charges were filed for embezzlement. Porter's father-in-law paid his bail. However, Porter made the decision to flee while on his way to a courthouse meeting and ended up in Honduras. It was here that he published "Cabbages and Kings," the story that created the expression "banana republic." Porter used the phrase to describe a small, unstable Latin American country dependent on a narrow economy based on the export of one commodity. During this time, Porter also sent his wife and daughter back to Texas, as Athol's illness had worsened. A short while later, it was determined that Athol was dying, and Porter returned to Austin. He surrendered in court, and his father reposted bail to allow him to spend his remaining time with Athol. 
Atoll died on July 25, 1897 and Porter was found guilty of embezzlement in February of 1898. He was sentenced to five years in prison. However, his education as a pharmacist allowed him an advantage in jail as he was able to work within the prison hospital as a druggist. Porter was provided with his own room off the hospital wing instead of a standard cell. 
While in prison, Porter assumed the pen name O. Henry and began publishing completed works. After three years, in 1901, Porter was released from prison for good behavior, and reunited with his daughter. 
In 1902, Porter's literary career began to take off as he wrote for the New York World Sunday Magazine and published several successful short stories. However, Porter had also developed an alcohol problem. In 1910 Ported, passed away from complications due to alcoholism. He was buried in Riverside Cemetery in Asheville, North Carolina. 
Today his monument stands in Greensboro, marking the town of his birth and childhood. Visitors are able to view the large bronze statues and read the information posted via plaques. Additionally, the nearby Greensboro Historical Museum contains an exhibit showcasing O. Henry's life. 
Additional Information