North Carolina Museum of Art
Introduction
The region's premiere public art museum, NCMA dates back to 1924 with the founding of the North Carolina State Art Society-a community organization that sponsored events and small exhibits. Today, the museum complex spans 160 acres includes two landscaped buildings surrounded by outdoor art and a number of walking trails, picnic tables, sculpture gardens, and a pond. The museum's Stone Building (now referred to as the East Building) was completed in 1983 and features studios, traveling shows and exhibits, the Audubon Gallery, the North Carolina Gallery, and special exhibits that change throughout the year. The West Building was built to hold and display the museum's permanent collection and includes galleries of American, African, European, Middle Eastern and Ancient art. It is also home to the Iris restaurant, which is open for lunch when the museum is open, and offers special dinners on Friday evenings. The museum offers self-guided audio tours as well as tours led by docents-see the museum website for more information and schedules.
Images
The West Building holds the museum's permanent collection, restaurant, and the Rodin Court and Sculpture Garden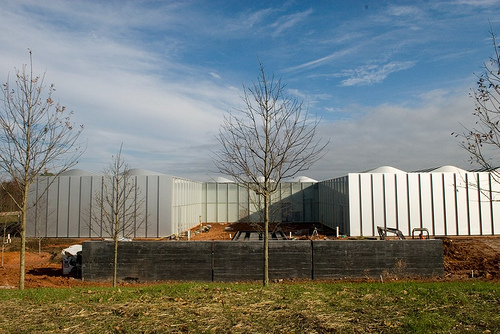 Gyre by Thomas Sayre. The name refers to "gyration" and features three elliptical trenches filled with concrete and steel bars.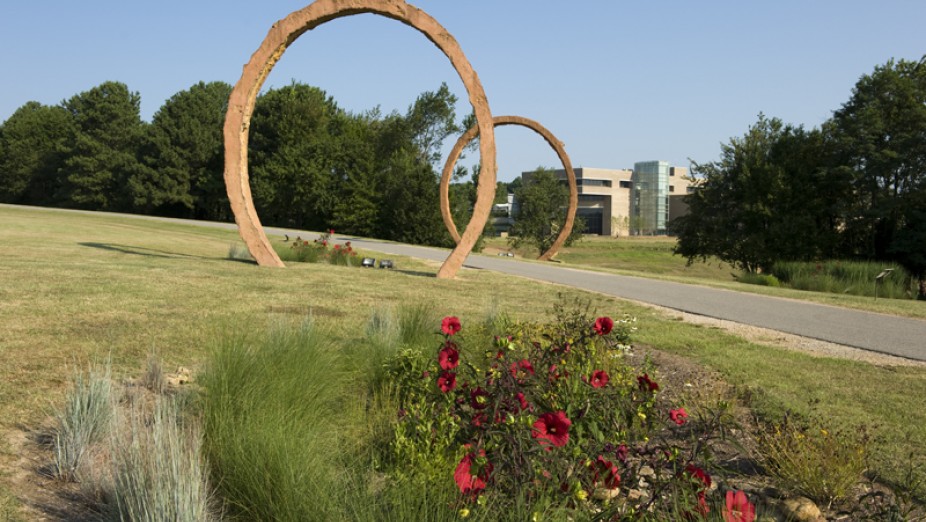 Rodin Court and Sculpture Garden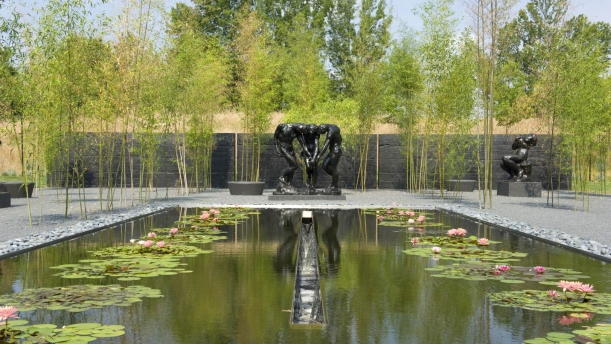 Backstory and Context
Four years after its formation in 1924, local businessman Robert Phifer donated his collection and money to the North Carolina State Art Society. With these resources and other donations, the organization began offering temporary exhibits in one of the state office buildings in Raleigh. After World War II, New York philanthropist and art lover Samuel Kress proposed a challenge--if the state legislature would approve a one million dollar appropriation, Kress would match these funds. Although rare for a state legislature to approve such a large expense for the arts at the time, the appropriation and matching donation allowed what had been a small gallery to become one of the leading art museums in the nation.

The museum acquired the former highway building on Morgan Street and after renovations were complete, the first state-funded art museum in the nation opened in 1956. The museum's collections grew rapidly thanks primarily to local donations, and in 1967, the state legislature again approved a funding measure that that led to the creation of the Stone Building (called the East Building today) which opened in 1983. In 2000, another appropriation allowed for the creation of the West Building and the museum park, complete with wooded trails and sculpture gardens. The West Building's exterior is made largely glass, a feature that allows the museum to by filled with filtered natural light-a feature that makes this museum feel different from most of the nation's art galleries.
Sources
History of the North Carolina Museum of Art from the official museum website, http://ncartmuseum.org/about/history/ accessed 3/26/16
Additional Information