President Andrew Johnson's Birthplace
Introduction
This building, originally constructed as a kitchen sometime in the eighteenth century, is considered to be Andrew Johnson's birthplace. However, no one knows for sure whether it was this building or a former structure on the same site that he was born in. This house was moved from its original location in the early 1880s by Catherine Pool, who rented it to a Black family. In 1887, amateur local historian Frederick A. Olds declared the home Andrew Johnson's birthplace. The North Carolina Society of the Colonial Dames of American subsequently purchased the house in 1904 for only $100. It was then moved to Pullen Park and two other locations. Restorations were made to the structure in the 1940s, with a break during World War II. The Andrew Johnson Birthplace finally arrived at its current location in Mordecai Historical Park in 1975.
Images
The structure as it exists today in the Mordecai Historic Park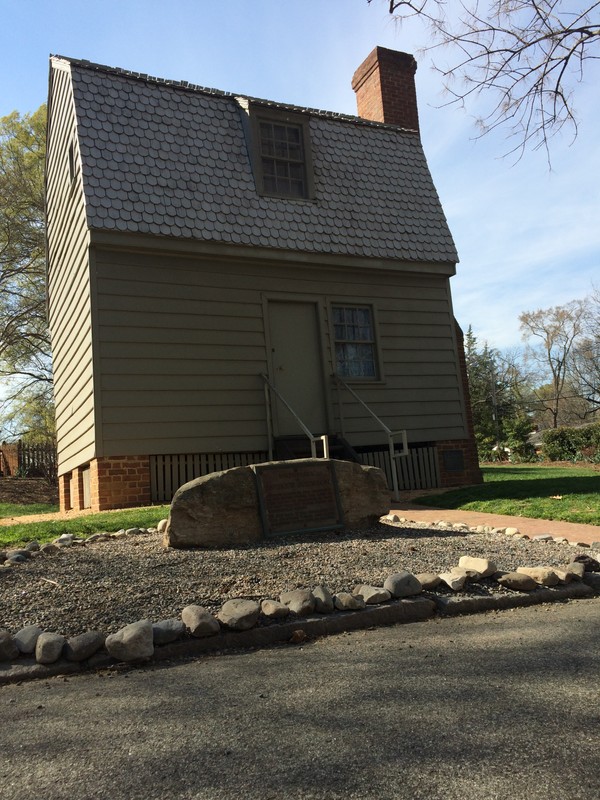 Backstory and Context
Andrew Johnson was born in Raleigh, North Carolina in 1808. When he was three years old, Johnson lost his father, leaving the family in poverty. His mother, Mary "Polly" McDonough Johnson took work as a seamstress and later apprenticed Johnson and his brother William to a local tailor. The pair ran away and worked on their own as tailors for a time before returning home. The family then moved to Tennessee where Johnson set up a tailoring business, married Eliza McCardle, and began participating in local debates. In 1829, Johnson was elected alderman in Greenville. Five years later, he became mayor. After the Nat Turner Rebellion in 1831, a new Tennessee constitution was drafted that would disenfranchise free African Americans. Johnson supported the measure and made a name for himself while promoting it.
In 1935, Andrew Johnson was elected to Tennessee's state legislature, where he served until -1843. That year, he was elected to the House of Representatives. After a ten-year tenure there, he became governor of Tennessee in 1853. He was then voted into the Senate in 1856. In 1862, President Lincoln appointed Johnson (who had switched parties, from being a Democrat to a Republican) to be the military governor of Tennessee. During the Civil War, Johnson remained faithful to the Union even when Tennessee seceded. This move earned him a spot as Lincoln's vice president in the 1864 election. When Lincoln was assassinated the following year, Johnson became the United States' seventeenth president.
For the first eight months of Johnson's term, Congress was in recess. He used this opportunity to push through Reconstruction policies. These laws made way for Southern "Black codes," which restricted the rights of African Americans. When Republicans and Northerners in Congress tried to pass the Civil Rights Act of 1866, Johnson vetoed it. However, Congress managed to override his veto, the first time this happened with an important bill. Having already loss public support on both sides of the aisle, Johnson made matters worse for himself when he fired Secretary of War Edwin Stanton, an act that violated the Tenure of Office Act. In 1868, the House voted to impeach Johnson for this violation, but he was acquitted in the Senate by one vote. Despite this blow to his credibility, after his presidency, Johnson was re-elected to the Senate in 1875. He died later that same year.
Sources
ANDREW JOHNSON 1808-1875. North Carolina Highway Historical Marker Program. Accessed February 22, 2019. http://www.ncmarkers.com/Markers.aspx?MarkerId=H-6.

Cross, Jerry L. Andrew Johnson Birthplace. NCpedia. Accessed February 22, 2019. https://ncpedia.org/andrew-johnson-birthplace.

Andrew Johnson. White House. Accessed February 22, 2019. https://www.whitehouse.gov/about-the-white-house/presidents/andrew-johnson/.

Andrew Johnson Biography. Biography.com. April 02, 2014. Accessed February 22, 2019. https://www.biography.com/people/andrew-johnson-9355722#synopsis.