Durham-Ellington-Compton House
Introduction
The Compton House is one of the leading landmarks of Clayton's National Historic District. The house was built in 1850 and features strong Greek architectural influences which were common in Johnston County at the time. During General Sherman's March through the South in 1865, Sherman stayed in the house. At that time, the home was owned by Joseph M. Smith. During the time General Sherman stayed here, he met with two former North Carolina governors who were sent by Confederate Governor Zebulon B. Vance. Vance remained in Raleigh while Sherman met with former governors William Alexander Graham and David Swain who were sent by Vance to meet with Sherman in Clayton to discuss terms for ending the war. After a brief skirmish on the outskirts of town, Sherman and Vance's delegates came to an agreement, and Sherman did not destroy the town of Raleigh. He also did not destroy property throughout the region as he had done in South Carolina and Georgia.
Images
The house was built in 1850 and was the location of an important meeting between Confederate and Union leaders at the end of the Civil War.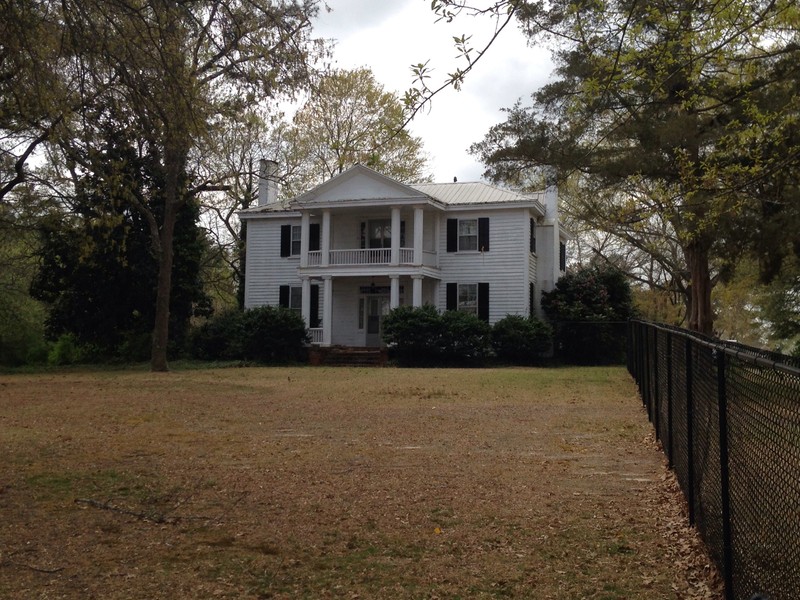 Backstory and Context
Four years after the construction of this home, the North Carolina Railroad completed its connection to the area and built a depot near Front Street. The railroad reached Durham and Goldsboro the following year and it also reached Charlotte by 1856. A bill to formally incorporate the town of Clayton was proposed three years later but the pending Civil War stalled the area's growth. Clayton Township was formally recognized in 1869 and the population of the community was recorded as 352 in the 1880 census and 478 ten years later. By 1910, the population reached 1441 which made Clayton the largest town in the county.

The house's name is a reference to early residents which include members of some of the most prominent founding members of the town: Durham, Ellington, and Compton.
Sources
Clayton Town Public Records: "Nomination for National Register of Historic Places"

A Timeline of Events in Clayton Area History. Town of Clayton website. Accessed December 27, 2018. https://www.townofclaytonnc.org/uploads/files/Library/clayton%20timeline%202014.pdf.


Additional Information