Forest Park Carousel
Introduction
The Forest Park Carousel is a historic early 20th-century carousel originally located in Dracut, Massachusetts, but it was moved to Forest Park in Queens in 1971. The carousel is one of only two surviving examples built by the famous D.C. Muller brothers. Astoundingly, it is still in operation to this day. It was added to the list of New York City Designated Landmarks in Queens in June, 2013.
Images
The carousel as it appears today (http://www.nycgovparks.org/)
Detail of a horse model (http://www.projectwoodhaven.com/)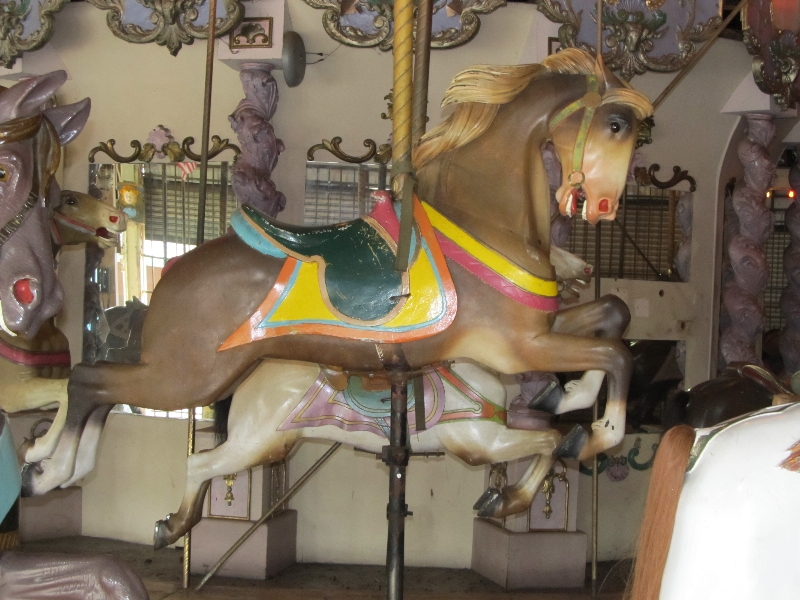 Detail of a tiger model (http://www.projectwoodhaven.com/)
Backstory and Context
The carousel was designed and constructed by the D.C. Muller brothers; Daniel, Carl, and Alfred, who were considered some of the finest master-carvers of carousels in the world in the 1900s. They hand-carved forty-six lifelike animals, including jumping and standing horses, a lion, a tiger, and a deer, which were laid out in three rows. All of the animals could be ridden as steeds, and there were even two chariots on the carousel. A Ruth & Sohn Band Organ was installed, which would play fairground music as the herd spun around. The carousel was opened to the public in 1903 at Lakeview Park in Massachusetts.

When it was moved to New York, the carousel was housed in a modernist pavilion designed by Victor F. Christ-Janer, the Connecticut architect who also purchased and relocated the carousel in the 1970s. In 1985 the carousel closed, but thanks to an extensive restoration project, it reopened five years later. Further closures happened in 2008, but since 2011 it has remained open and in operation.


Sources
"Commission Names Eight Individual Landmarks and Expands a Historic District on the Upper West Side." NYC Landmarks Preservation Commission. 6/25/13. Accessed Web, 6/24/17. http://www.nyc.gov/html/lpc/downloads/pdf/13-04_lpc_approves_eight_landmarks_and_expanded_historic_d....

D C Muller Brothers 1890-1928. Carousel History. 4/9/15. Accessed Web, 6/24/17. http://carouselhistory.com/d-c-muller-carousel-carver/.

"The Forest Park Carousel." Project Woodhaven. Accessed Web, 6/24/17. http://www.projectwoodhaven.com/2011/April/the-carousel-today.html.

"Forrest Park." NYC Parks. Accessed Web, 6/24/17. https://www.nycgovparks.org/parks/forest-park/highlights/12049.

"Carousel History." Forest Park Carousel. Accessed Web, 6/24/17. http://www.forestparkcarousel.com/?page_id=19.


Additional Information