Congregation Tifereth Israel Synagogue
Introduction
Located in Corona, Queens, the synagogue building of the Congregation Tifereth Israel was built in 1911 by Ashkenazi Jews. It is a remarkably rare surviving example of Gothic-Moorish revival architecture and remains both the oldest purpose-built synagogue building and oldest synagogue in continuous use in Queens. The building was added to the list of New York City Designated Landmarks in Queens in February 2008.
Images
Exterior view of the Gothic-Moorish Revival facade (www.nytimes.com)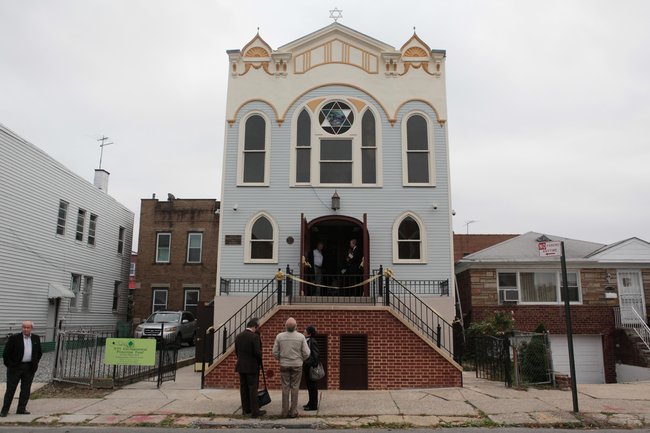 Interior view of the synagogue (www.nytimes.com)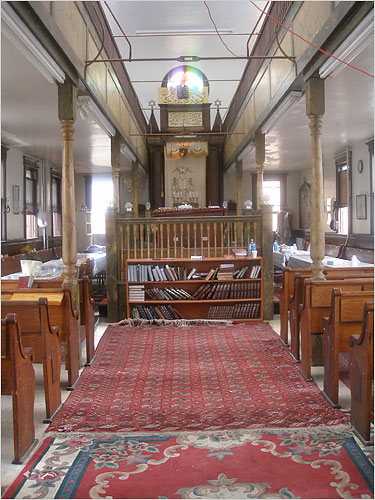 Backstory and Context
During the early 1900s, many Ashkenazi Jews moved from various locations in and around New York City to Corona, which at that time had a relatively small Jewish population. The majority of the Congregation Tifereth Israel came from the Lower East Side, which by then was far exceeding its capacity. They were able to move easily to the Queens area due to the construction of the Flushing Railroad in 1853 and improved ferry connections between the 1870s and 1890s. By 1918, Queens boasted eighteen synagogues, two of which were in Corona, though only this one survives to the present day. Many members of the twenty-three thousand Jews living in Queens by 1919 operated theatres or worked at shirtwaist factories located along Corona Avenue.

The Congregation Tifereth Israel was incorporated in 1911 and purchased the plot of land at 54th Avenue in April of that same year. They commissioned Crescent L. Varrone to design the synagogue, and construction started in August 1911. The two-story building was made of a lumber frame covered in clapboard, which has been renovated and replaced with a layer of stucco plaster. It features a tripartite façade with a raised central entrance, accessed via a double staircase. A roundel with the Star of David is located above the entrance. The façade displays Gothic a Moorish elements, such as rounded- and pointed-arch windows, and a decorative gabled parapet. Towers topped with rounded, onion-shaped peaks were also built on each corner, in contrast to the relatively modest design of the interior. The flat roof is pierced with a skylight.

In addition to the synagogue, a mikveh (bathhouse) - which was once the residence of the rabbi - and a yeshiva (an institute for the study of the Torah and Talmud) were constructed, though the latter closed in the 1970s and was converted into accommodations for a music studio (once used by Madonna). A Jewish cemetery was also operated. Although the synagogue fell into a state of disrepair during the 1990s, the building continues to be used and cared for by the Ashkenazi Jewish congregation to this day and remains a vital part of their identity and heritage. Work began in 2014 to restore the building and modernize its electricity and heating systems, with plans to cover the exterior walls with wood in the future.


Sources
Bertrand, Donald. "Tifereth Israel Synagogue Receives Landmark Status From City." New York Daily News. 2/18/08. Accessed Web, 6/17/17. http://www.nydailynews.com/new-york/queens/tifereth-israel-synagogue-receives-landmark-status-city-a....

Chan, Sewell. "Landmark Status for 1911 Queens Synagogue." The New York Times. 2/12/08. Accessed Web, 6/17/17. https://cityroom.blogs.nytimes.com/2008/02/12/landmark-status-for-1911-queens-synagogue/?_r=1.

"Congregation Tifereth Israel." NYC. Accessed Web, 6/17/17. http://www.nyc.gov/html/lpc/downloads/pdf/reports/Tifereth_Israel.pdf.

"Congregation Tifereth Israel." The New York Landmark Conservation. Accessed Web, 6/17/17. http://www.nylandmarks.org/programs_services/grants/sacred_sites_program/projects/congregation_tifer....

Leduff, Charlie. "The Rabbi's Lost Tribe." The New York Times. 11/16/97. Accessed Web, 6/17/17. http://www.nytimes.com/1997/11/16/nyregion/the-rabbi-s-lost-tribe.html.

Additional Information