Bayside Cemetery
Introduction
Established in the late 1840s, the Bayside Cemetery is one of New York City's oldest burial grounds and closely associated with the city's third-oldest synagogue, Shaare Zedek. Located between Liberty Avenue and Pitkin Avenue in Bayside, the cemetery contains the graves of around thirty-five thousand Jews, including many Civil War veterans and George Rosenshein, a victim of the Titanic.
Images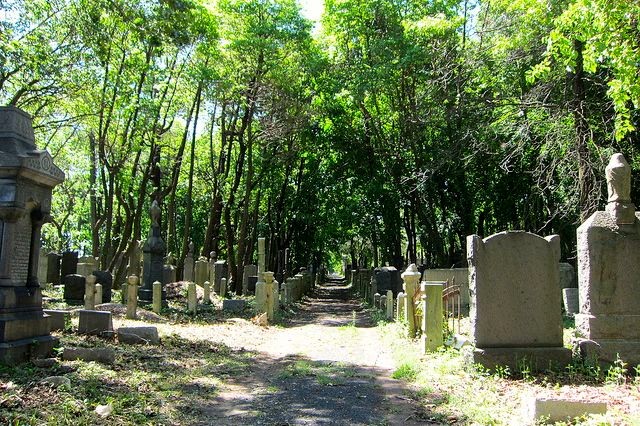 Backstory and Context
Founded in 1838, the Shaare Zedek congregation initially met at 42 Water Street before moving to 472 Pearl Street. Two years later they bought a plot of land between Madison and 5th Avenues on 88th Street to be used as a graveyard. Additional land was acquired from the Ansche Chesed synagogue on Henry Street in 1849, where they built a school and a mikveh (bathhouse).
In 1865, they purchased plots of land in Bayside, where they moved their cemetery. Some notable burials include Marcus Witmark, who founded the sheet music company of the same name, and Becky Ostrovsky, who died in the Triangle Shirtwaist Fire of 1911 – an event that led to tremendous changes in safe factory working conditions. First World War veteran and US Congressman Lester David Volk was also buried there, following his death in 1962. Many graves are quite impressive, including ten-foot high obelisks and urns.
The cemetery expanded during the 1880s due to a large growth in the Jewish population in the city. At that time, many Jews were emigrating from Russia and Europe, where anti-Jewish pogroms (violent rioting and sectarian treatment) were taking place. The Henry Street complex was expanded to a next-door building, and a second building was acquired in Harlem which became the main location of the Shaare Zedek from 1914 until 1921. In 1921, the congregation moved again, this time to its present day location on West 93rd Street.
Further improvements were made to the cemetery between 1905 and 1908, yet over the following decades, it became largely overgrown and the victim of vandalism. In 2012, the cemetery was renovated through the joint efforts of Pisciotta, the United Jewish Appeal Federation of New York, and the Community Association for Jewish At-Risk Cemeteries.
Sources
"Our History." Congregation Shaare Zedek. Accessed Web, 6/24/17. http://www.sznyc.org/history/.

Wiener, Julie. "Bayside Cemetery Spruced Up, But Many Questions Linger." The New Work Jewish Week. 7/3/12. Accessed Web, 6/24/17. http://jewishweek.timesofisrael.com/bayside-cemetery-spruced-up-but-many-questions-linger/.

"Some Selected Bayside Cemetery Articles." Bayside Cemetery Litigation. Accessed Web, 6/24/17. http://www.baysidecemeterylitigation.com/Article_Archive.html.


Additional Information