Springwood, Franklin D. Roosevelt National Historic Site
Introduction
Springwood was the birthplace and home of President Franklin Delano Roosevelt. During his unprecedented four terms in office, Roosevelt visited this Hyde Park estate nearly two hundred times. He held many of his most important meetings and made many of his most consequential decisions and speeches while staying at the home. Franklin and Eleanor Roosevelt are both buried near the home, which is the centerpiece of the Franklin D. Roosevelt National Historic Site which includes the Presidential Library and other sites throughout Hyde Park that were important to the life of the 32nd President of the United States.
Images
The Roosevelt family home is the centerpiece of a visit to the park.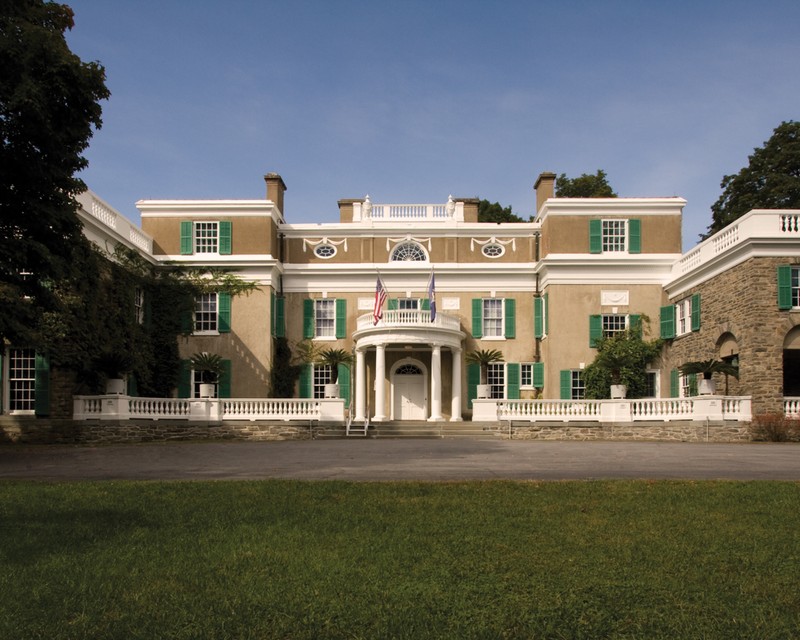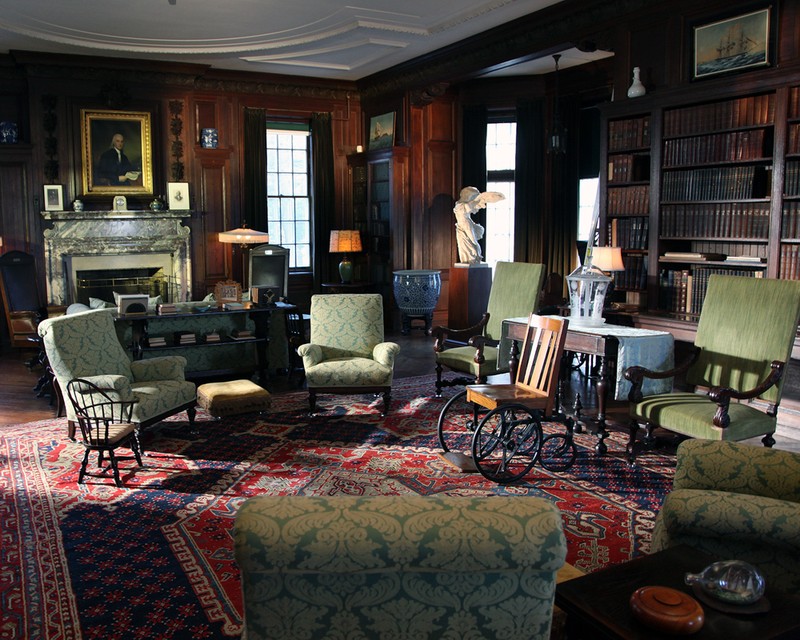 Burial site of Franklin and Eleanor Roosevelt in the Rose Garden.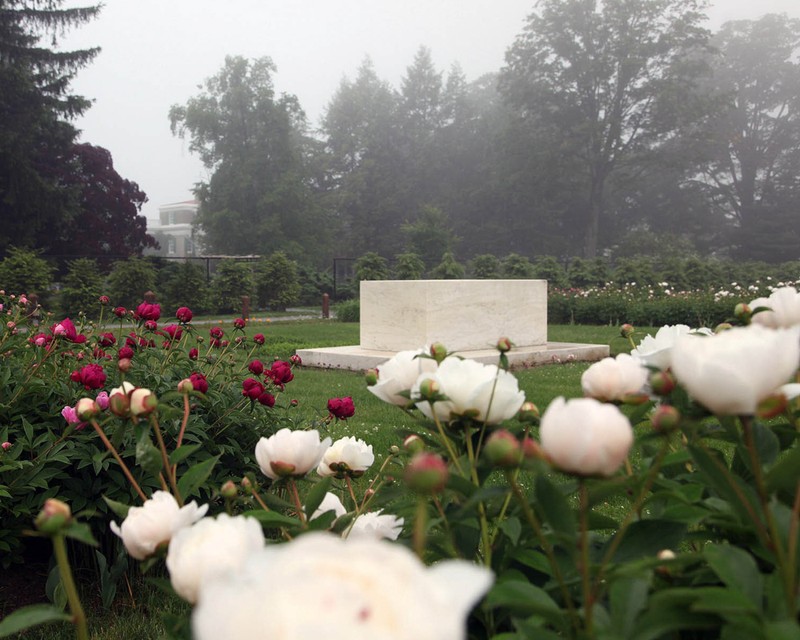 The Roosevelts entertained European royalty and head of state at Top Cottage, built by FDR to use in his retirement.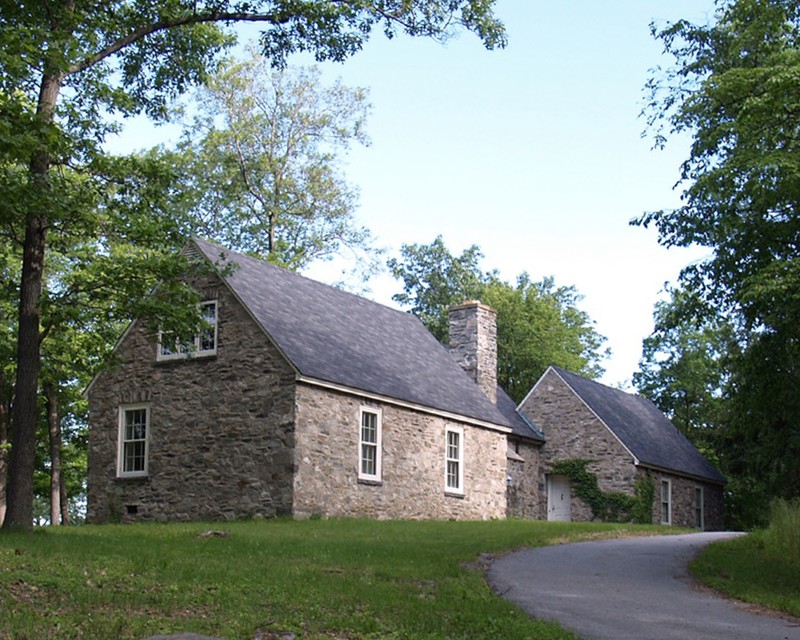 Backstory and Context
The 740-acre property includes the Roosevelt home, Top Cottage, formal gardens, woodlands, agricultural fields, and the burial site of Franklin and Eleanor Roosevelt. Adjacent to the property is the Franklin D. Roosevelt Presidential Library & Museum. The museum includes exhibits related to Roosevelt's early life, his career as a New York political leader and governor, and his four terms as president wherein Roosevelt led the nation through the Great Depression and World War II. The home also includes exhibits about Roosevelt's family, including his father James Roosevelt who purchased the property in 1866 and his mother Sara Roosevelt who ran this house until her death in 1941.

Few figures in American public life have been so closely identified with a particular place as President Roosevelt with his Hyde Park home. FDR was born here in 1882 and remained closely connected to the house and property until his death in 1945. It was both home and a haven for spiritual renewal during times of personal and national crises. On this land he set out forest plantations, maintained family and tenant farms, built Top Cottage (his hilltop retreat), and established the nation's first Presidential Library. Here he participated in community life, welcomed dignitaries, supporters, the news media, and conducted the work of the presidency.
Franklin D. Roosevelt was born in Hyde Park, New York on January 30, 1882. He was the son of James Roosevelt and Sara Delano Roosevelt. His parents and private tutors provided him with almost all his formative education. He attended Groton (1896-1900), a prestigious preparatory school in Massachusetts, and received a BA degree in history from Harvard in only three years (1900-03). In 1905, he married a distant cousin, Anna Eleanor Roosevelt, the niece of President Theodore Roosevelt. Roosevelt next studied law at New York's Columbia University. When he passed the bar examination in 1907, he left school without taking a degree. For the next three years he practiced law with a prominent New York City law firm. He entered politics in 1910 and was elected to the New York State Senate as a Democrat from his traditionally Republican home district.
Roosevelt was reelected to the State Senate in 1912, and supported Woodrow Wilson's candidacy at the Democratic National Convention. As a reward for his support, Wilson appointed him Assistant Secretary of the Navy in 1913, a position he held until 1920. Roosevelt's popularity and success in naval affairs resulted in his being nominated for vice-president by the Democratic Party in 1920 on a ticket headed by James M. Cox of Ohio. However, popular sentiment against Wilson's plan for US participation in the League of Nations propelled Republican Warren Harding into the presidency, and Roosevelt returned to private life.

While vacationing at Campobello Island, New Brunswick in the summer of 1921, Roosevelt contracted poliomyelitis (infantile paralysis). Despite efforts to overcome his crippling illness, he never regained the use of his legs. In time, he established a foundation at Warm Springs, Georgia to help other polio victims, and inspired, as well as directed, the March of Dimes program that eventually funded an effective vaccine.
In 1924 he nominated Governor Alfred E. Smith of New York for president at the Democratic National Convention, but Smith lost the nomination to John W. Davis. In 1928 Smith became the Democratic candidate for president and arranged for Roosevelt's nomination to succeed him as governor of New York. Smith lost the election to Herbert Hoover;but Roosevelt was elected governor.
Following his reelection as governor in 1930, Roosevelt began to campaign for the presidency. While the economic depression damaged Hoover and the Republicans, Roosevelt's bold efforts to combat it in New York enhanced his reputation. In Chicago in 1932, Roosevelt won the nomination as the Democratic Party candidate for president. He broke with tradition and flew to Chicago to accept the nomination in person. He then campaigned energetically calling for government intervention in the economy to provide relief, recovery, and reform. His activist approach and personal charm helped to defeat Hoover by seven million votes.
The Great Depression worsened in the months preceding Roosevelt's inauguration, March 4, 1933. Factory closings, farm foreclosures, and bank failures increased, while unemployment soared. He undertook immediate actions to initiate his New Deal programs. He worked with a special session of Congress during the first "100 days" to pass recovery legislation to employ young men, assist business and labor, insured bank deposits, regulated the stock market, subsidized home and farm mortgage payments, and aid the unemployed. These measures revived confidence in the economy. Another flurry of New Deal legislation followed in 1935 including the establishment of the Works Projects Administration (WPA) which provided jobs not only for laborers but also artists, writers, musicians, and authors, and the Social Security act which provided unemployment compensation and a program of old-age and survivors' benefits.
By 1939, with the outbreak of war in Europe, Roosevelt was concentrating increasingly on foreign affairs. When Hitler attacked Poland in 1939, Roosevelt stated that, although the nation was neutral, he did not expect America to remain inactive in the face of Nazi aggression. Accordingly, he tried to make American aid available to Britain, France, and China and to obtain an amendment of the Neutrality Acts which rendered such assistance difficult. He also took measures to build up the armed forces in the face of isolationist opposition.
With the fall of France in 1940, the American mood and Roosevelt's policy changed dramatically. Congress enacted a draft for military service and Roosevelt signed a "lend-lease" bill in March 1941 to enable the nation to furnish aid to nations at war with Germany and Italy. America, though a neutral in the war and still at peace, was becoming the "arsenal of democracy", as its factories began producing as they had in the years before the Depression.
The Japanese surprise attack on Pearl Harbor, December 7, 1941, followed four days later by Germany's and Italy's declarations of war against the United States, brought the nation irrevocably into the war. He moved to create a "grand alliance" against the Axis powers through "The Declaration of the United Nations," January 1, 1942, in which all nations fighting the Axis agreed not to make a separate peace and pledged themselves to a peacekeeping organization (now the United Nations) upon victory.
He gave priority to the western European front and had General George Marshall, Chief of Staff, plan a holding operation in the Pacific and organize an expeditionary force for an invasion of Europe. The United States and its allies invaded North Africa in November 1942 and Sicily and Italy in 1943. The D-Day landings on the Normandy beaches in France, June 6, 1944, were followed by the allied invasion of Germany six months later. By April 1945 victory in Europe was certain.
The unending stress and strain of the war literally wore Roosevelt out. During a vacation at Warm Springs, Georgia, on April 12, 1945, he suffered a massive stroke and died. He was 63 years old. His death came on the eve of complete military victory in Europe and within months of victory over Japan in the Pacific.
Visitors to Franklin Roosevelt's home may enjoy a Ranger-guided tour of Springwood and Top Cottage and explore the gardens and trails. Begin your visit at the Henry A. Wallace Visitor and Education Center to see the 22-minute film, A Rendezvous With History, and purchase tickets for house tours and the FDR Presidential Library and Museum.
The Home of Franklin D. Roosevelt National Historic Site is open year-round, daily from 9:00 AM to 5:00 PM (closed Thanksgiving, Christmas, and New Year's Day). Reservations are recommended during summer weekends, holidays, and the month of October. The tour of the home is approximately one hour. Access to the Roosevelt home and Top Cottage is by guided tour only. The grounds are free and open daily until sunset.
Additional Information