Merchant's House Museum
Introduction
The Greek Revival building now known as the "Old Merchant's House" or the Merchant's House Museum was constructed as a row house in 1831-1832 by Joseph Brewster. The brick and marble home stood in New York City's exclusive and fashionable Bond Street area, and was purchased by wealthy hardware merchant Seabury Tredwell in 1835. The Tredwell family lived in the house for 98 years, until Gertrude Tredwell died in 1933, leaving behind the only intact 19th-century Manhattan family home complete with original furniture and family possessions. It has been a museum since 1936 and is listed on the National Register of Historic Places and as a National Historic, New York State, and New York City Landmark.
Images
Merchant's House Museum (image from NYC Parks)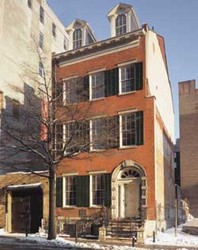 Merchant's House Museum parlor (image from Merchant's House Museum)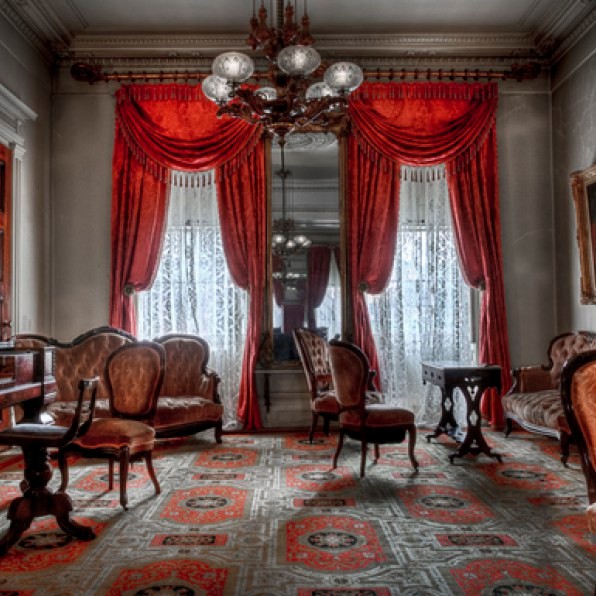 Merchant's House Museum garden (image from MHM)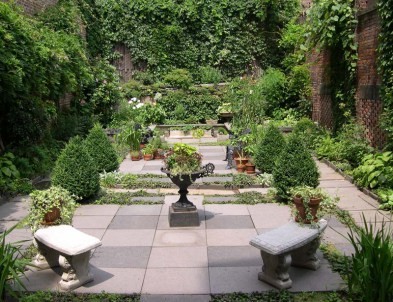 Merchant's House Museum, 1935 (image from MHM)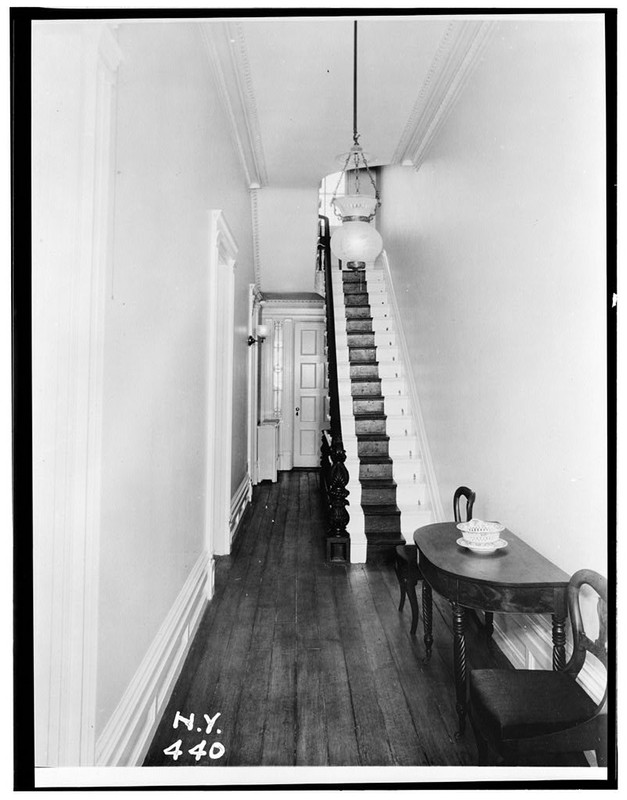 Merchant's House Museum, quarters of the Irish servants (image from MHM)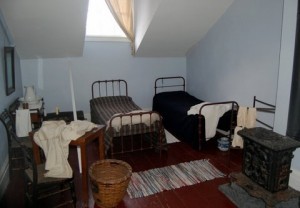 Merchant's House depicted on Bond Street, 1857 (image from MHM)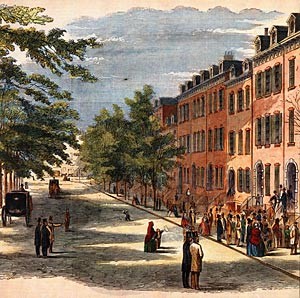 Historic Marker for the Merchant's House (image from Historic Markers Database)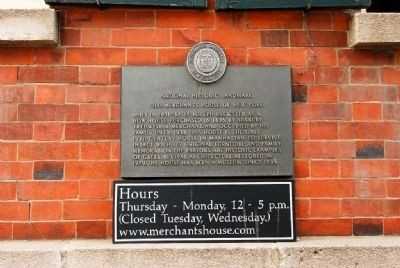 Backstory and Context
History of the Tredwell Family and Household
Seabury Tredwell's paternal ancestor, Edward Tredwell, arrived in Massachusetts from Kent County, England, circa 1637. About ten years later, Edward settled thirty miles east of New York City in a village on Long Island. Seabury's maternal ancestors were Mayflower passengers John Alden and Priscilla Mullins, the subjects of Henry Wadsworth Longfellow's "The Courtship of Miles Standish." The family was loyal to England during the American Revolution.
Seabury Tredwell moved to New York City in 1798 at the age of 18 and owned a hardware business by 1814. He married Eliza Parker, his landlady's daughter, in 1820, and the couple had eight children: Elizabeth, Horace, Mary, Samuel, Phoebe, Julia, Sarah, and Gertrude. Seabury worked in the South Street Seaport, commuting between home and work via horse-drawn omnibus. In 1832 and 1833, he purchased 850 acres of land in Rumson, New Jersey, as a summer home, and purchased the family home at 29 East 4th Street upon his retirement at the age of 55. The family generally kept four Irish servant women at a time: a cook/laundress, her assistant, a parlor maid, and a chambermaid. Wages for such servants were between three and four dollars per month, much less than factory wages; but domestic servants had the provisions of lodging and medical care. Four of the Tredwell's servants are listed in an 1855 New York State census: Ann Clark, Bridget Murphy (emigrated in 1852 at age 16), Mary James, and Mary Smith (emigrated in 1851 at age 14).
After the deaths of Seabury (1865) and Eliza (1882), the house was occupied by Phoebe, Julia, and Gertrude Tredwell for the rest of their lives. The Bond Street neighborhood became known as the Athenian Quarter for its collection of cultural and intellectual institutions, including the National Academy of Design and the New York Historical Society. However, the neighborhood became increasingly commercial and less elite, with shops, workrooms, and the Tomkins public market taking the place of many of the residences along Broadway. Upon Gertrude's death in 1933 at the age of 93, the house was the only intact 19th-century family home in the city of New York complete with original furniture, decor, and personal belongings. Gertrude died in poverty, the house surrounded by saloons and manufacturing lofts. Her niece and heir, Lillie Nichols, sold the house to her cousin, George Chapman, who established a non-profit organization for the founding of the museum.
History of the Museum
George Chapman succeeded in establishing the Merchant's House Museum, which officially opened in 1936. In 1959, Chapman's death led to a three-year stretch of temporary caretakers for the house, which began to fall into disrepair. It was taken over by the Decorators Club of New York City in 1962. Three years later, the Old Merchants House became the first Manhattan building designated as a New York Landmark after the passage of the Landmarks Preservation Law in April of 1965. The following year, it was listed as a National Historic Landmark and included in the National Register of Historic Places. The Decorators Club called on Joseph Roberto, New York University architect, to advise them on restoration after extensive water damage was discovered in 1968. A nine-year, $284,000 structural restoration was completed with funding from the Federal and state governments, private foundations and donors, and corporations. The museum re-opened in November of 1979, and hired its first professional staff in 1988. A $1 million grant from the Vincent Astor Foundation (1997) and inclusion in the Historic House Trust of New York City (1999) have provided long-term security for the preservation of the house museum. It is now owned by the New York City Department of Parks and Recreation and operated by the Old Merchants House, Inc.
Museum Collection and Programming
The Merchant House Museum's collection of the Tredwells' original possession includes around 3,000 objects: furnishings, decorations, lighting, household and personal items, family photographs, books, art, clothing, and textiles. Over 100 pieces of furniture and 40 dresses dating between 1815 and 1890 are included in the collection, which is arranged in the preserved period interior of the house. The museum offers guided tours on Monday, Thursday, and Friday; walking tours the second Sunday of each month; and monthly candlelight ghost tours (Gertrude Tredwell and some of the Irish servants supposedly haunt the upstairs). Educational programs on 19th-century life and culture are also offered for both adults and schoolchildren. Museum events include lectures, readings, concerts, special exhibitions, performances, and summer evenings in the garden.
Historic Marker Inscription:
Old Merchants House of New York
Built in 1831-32 by Joseph Brewster as a row house. Purchased in 1835 by Seabury Tredwell, a merchant, and occupied by his family until 1933. This house is the only 19th Century house in Manhattan to survive intact with its original furniture and family memorabilia. The parlors are historic examples of Greek Revival Architecture. Restored in 1979, the house has been a museum since 1935.
Erected by New York City Historical Society.
Sources
Merchant's House Museum. Accessed May 07, 2017. http://merchantshouse.org/.

"Historic Houses." Historic Houses : NYC Parks. Accessed May 07, 2017. http://www.nycgovparks.org/facilities/historichouses.

"Merchant's House Museum." The Historic House Trust. Accessed May 07, 2017. http://historichousetrust.org/house/merchants-house-museum/.
Additional Information