Palmer House Hilton
Introduction
Originally known as "The Palmer," the Palmer House Hilton Hotel has been one of the city's most important places for events and welcoming guests from the day the establishment opened its doors on September 26, 1871. The original Palmer hotel greeted only a few guests, however, as it was destroyed by fire 13 days later--one of hundreds of buildings destroyed by the Great Chicago Fire on October 9, 1871. The second Palmer House was completed in 1875. The third and final Palmer House was built between 1923 and 1925 and was acquired by Conrad Hilton in 1945. Thor Equities acquired the Palmer House Hilton in 2005 and announced its intention to sell the historic property in 2015.
Images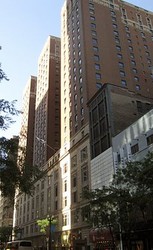 Ladies' entrance to the Palmer House Hotel, Sept. 19, 1903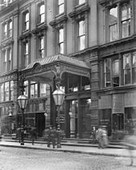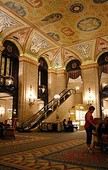 Chicago's Grand Hotels, book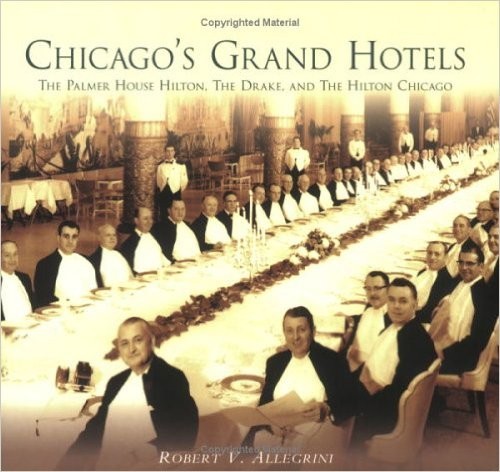 Backstory and Context
The first Palmer House was built was a wedding present to Bertha Honoré, the bride of Potter Palmer. Potter Palmer (May 20, 1826-May 4, 1902) was the founder of a dry goods store, called Potter Palmer and Company, located on Chicago's Lake Street. In 1865, Palmer brought two partners into his business, Marshall Field and Levi Leiter. This store eventually grew into a department store chain called Marshall Field and Company, which was bought by Macy's, Inc. in 2005.
Palmer's wife Bertha (May 22, 1849-May 5, 1918) was a successful businesswoman and philanthropist in her own rite. She served a number of positions in Chicago, including the President of the Board of Lady Managers, which meant that she was instrumentally important in organizing the World's Colombian Exposition, held in 1893. She was also among the first members of the Chicago women's club, a group of women who met to discuss various societal problems in an effort to find solutions. Part of the larger General Federation of Women's Clubs, the Chicago-based group sought to provide inexpensive milk for poor children and better general care for children whose mothers were in prison. Later in her life, she became a pioneer in the early days of Florida real estate. In 1910, she purchased over 80,000 acres of land in the Sarasota area. She convinced acquaintances and friends who had means to spend winters in Sarasota Bay. In 1914, she established a hunting preserve called "River Hills" on the 19,000 acres of land she bought in Temple Terrace, Florida.
Sources
Thor Buys Historic Palmer House Hotel from Hilton Hotels Corporation; Plans to Add New Retail Space Ryan Ori, Palmer House Hilton could fetch $575 million, http://www.businesswire.com/news/home/20050817005743/en/Thor-Buys-Historic-Palmer-House-Hotel-Hilton http://www.chicagobusiness.com/realestate/20150610/CRED03/150609768/palmer-house-hilton-could-fetch-575-million https://en.wikipedia.org/wiki/Marshall_Field_and_Company https://en.wikipedia.org/wiki/Bertha_Palmer
Additional Information