Tudor City Greens
Introduction
Tudor City Greens, the twin parks of the Tudor City neighborhood, were conceived and built by Fred French in the 1920s as part of his vision for a "human residential area" in a once blighted area of Manhattan. Their attractions included arbors, gazebos, fountains, walks, and a miniature golf course. When the parks were threatened with destruction to make way for skyscrapers in the 1980s, residents of Tudor City objected and attained an injunction to stop the development. Now managed by a non-profit company, the Tudor City Greens offer free concerts during the season, featuring New York City singers and performers. All donations go toward maintenance and preservation of the parks.
Images
Tudor City Greens, Spring 2015 (image from Tudor City Greens)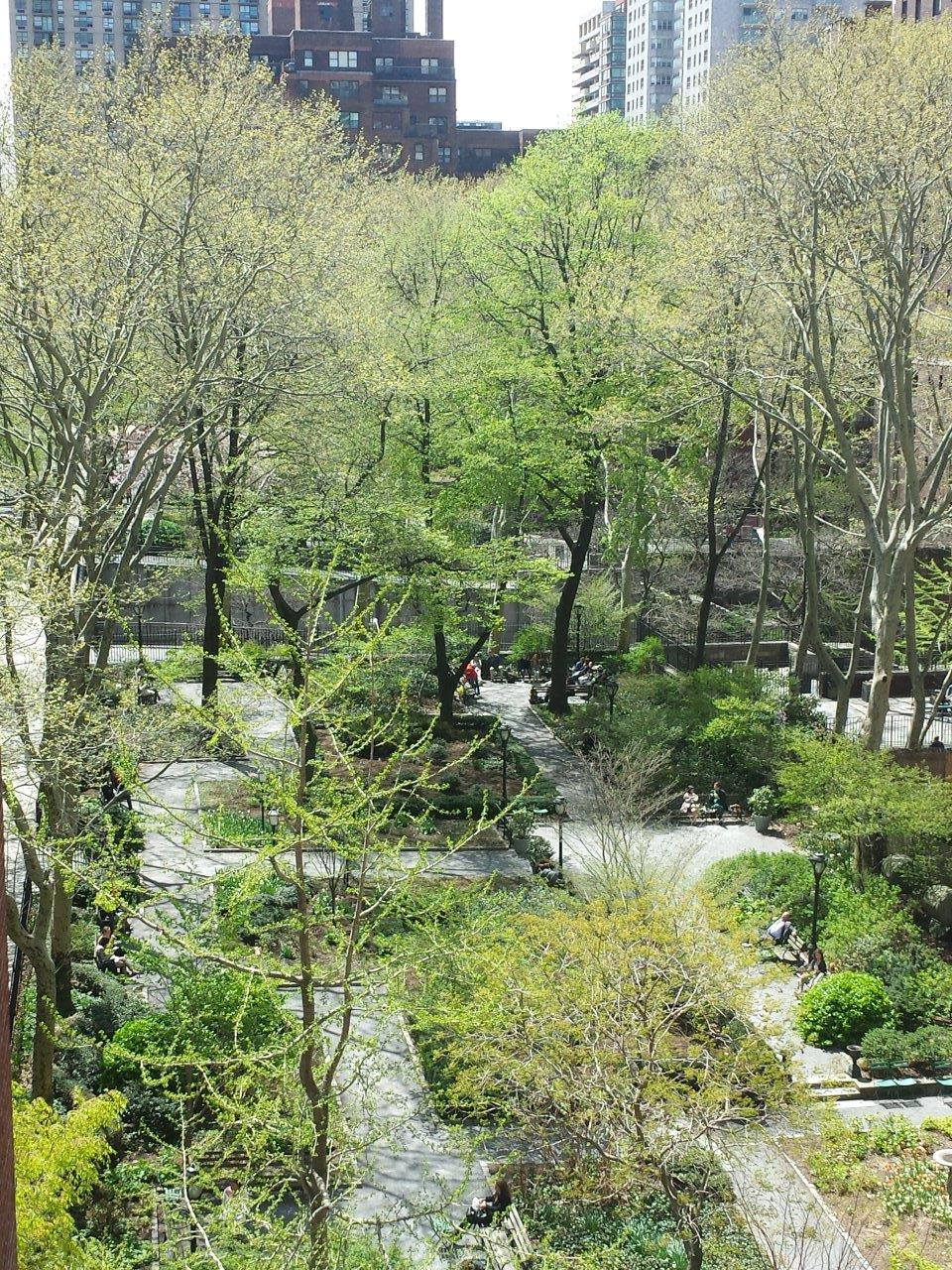 Tudor City Greens (image from Gresham Lang Gardens)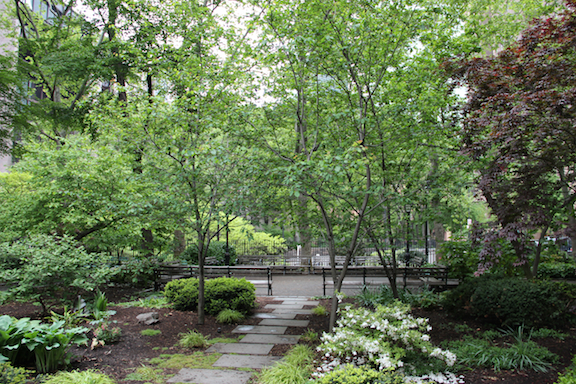 Tudor City Greens (image from Gresham Lang Gardens)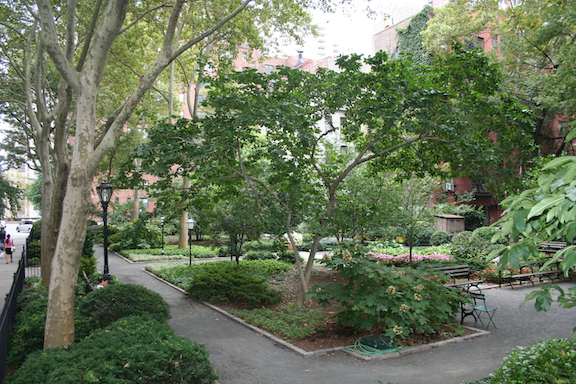 Tudor City Greens (image from Flickr)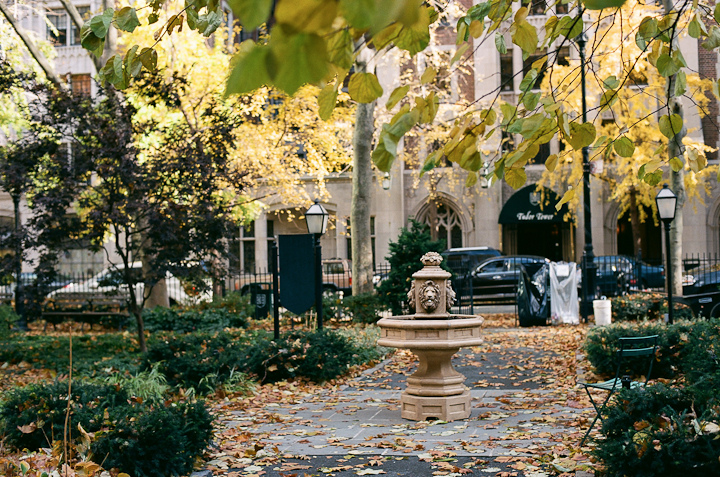 Tudor City Greens (image from Flickr)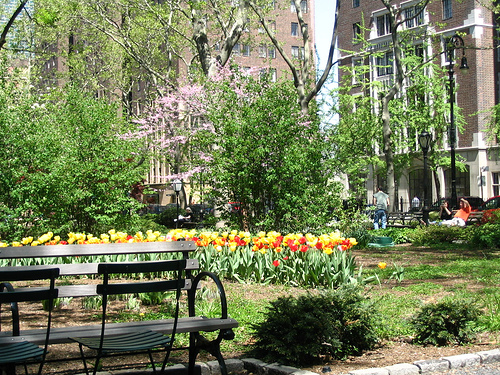 Backstory and Context
Fred F. French, a real estate developer, planned the neighborhood of Tudor City in the 1920s. Though French came from a poor family, he won scholarships to Horace Mann High School and Princeton University. After a year at Princeton, he dropped out to travel the country, working as a ditch-digger, a railroad worker, a cowboy, and a miner. He returned to New York to attend Columbia University for engineering. Eventually, he became a wealthy real estate developer and set his sights on the crime-ridden neighborhoods along First Avenue that were controlled by Irish gangs. His vision was for a peaceful enclave with gardens and amenities that would entice middle-class New Yorkers to live in Manhattan rather than the outer boroughs. At the time of construction, Tudor City was the largest residential development in New York City's history with 2,800 units. To raise money for his development, he advertised stocks to ordinary citizens and shared the profits. Purchasing tenement buildings overlooking First Avenue between East 41st and 43rd Streets before the owners realized they could have gotten better prices by holding out, French acquired all but one building. The central location and easy access to Grand Central Station and to the Second and Third Avenue Elevated trains made the development desirable. At the center of the Tudor-style high-rises, French placed a pair of parks with arbors, gazebos, fountains, walks, and a miniature golf course. When French died in 1936, his firm continued management of the highly successful properties.
In 1972, the Helmsley-Spear Company purchased Tudor City and proposed to build skyscrapers in the open spaces of the parks. Residents objected and, under the leadership of John McKean, blocked a bulldozer from the parks on Memorial Day weekend in 1986. An injunction was filed afterward, and Helmsley relented. After the development was sold to Time Equities, Inc. in 1987, the parks were donated to the national conservancy organization, The Trust for Public Land. The Tudor City Greens, Inc non-profit corporation formed and purchased the parks in order to restore the damage of their neglect. Under Tudor City Greens' stewardship, improvements have included new electricity and lighting systems, an irrigation system, sidewalk repairs and upgraded pathways, restoration of the original wrought-iron fencing, new signage and seating, and maintenance and addition of new flora.
Music and Art for City Greens has offered free outdoor concerts at South Park in Tudor City since 2008, with professional performers from Broadway and the New York City cabaret, jazz, classical, and opera scenes. Performances are free, and any donations offered go toward the upkeep of the parks, which sustained severe damage from Hurricane Sandy, including the loss of trees, fencing, lights, sidewalks, and plantings. A list of plants and trees found in the park includes Kousa Dogwood, Southern Magnolia, Spreading Euonymous, Tulips, and Dublin Roses.
Sources
"Welcome to Tudor City Greens." Tudor City Greens. Accessed Web, 5/16/17. http://www.tudorcitygreens.org/home.asp.

"Plantings." Tudor City Greens, Access 11/16/18. https://www.tudorcitygreens.org/plantings/

"Tudor City Greens Concerts in the Park." Music and Art for City Greens. Accessed Web, 5/16/17. http://www.musicandartforgreen.com.


Additional Information