Holocaust Memorial
Introduction
Located at the intersection of Lombard and Gay Streets, the Baltimore Holocaust Memorial is the result of two decades of work by Baltimore residents who raised funds and secured public support for this powerful reminder of six million men, women, and children who were killed in extermination camps operated by the Nazi regime during WWII. The design of this memorial reflects the literal meaning of the word Holocaust as destruction by fire. It also reflects the techniques used by the executioners, as the statue portrays the emaciated bodies of victims in a ball of flame. Though quite startling, the memorial's supporters hoped that the design would support their message of remembrance. The base of the sculpture features the famous words of George Santayana, "Those who do not remember the past are destined to repeat it." In addition to their work in creating the memorial, the designers of the Holocaust Memorial Park use a variety of images to communicate remembrance as a civic duty. On each side of the central walkway triangle, visitors can find 1940s vintage railroad tracks symbolizing the vast railway system that transported millions of victims to their deaths. A Black fence borders one edge of the park to evoke the aura of a concentration camp, and quotes by Holocaust survivor and author, Primo Levi, are inscribed on the sides of two massive, cantilevered concrete blocks.
Images
The Baltimore Holocaust Memorial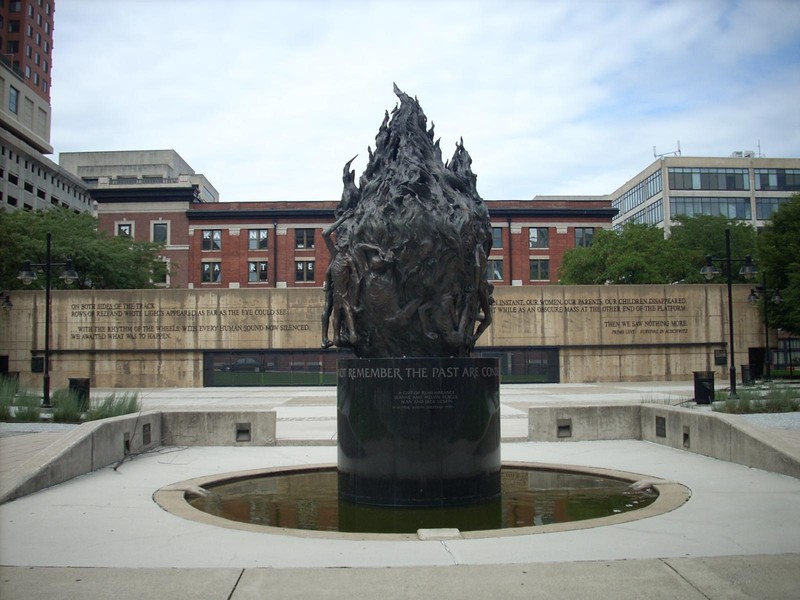 Some of the inscriptions in the Holocaust Memorial Park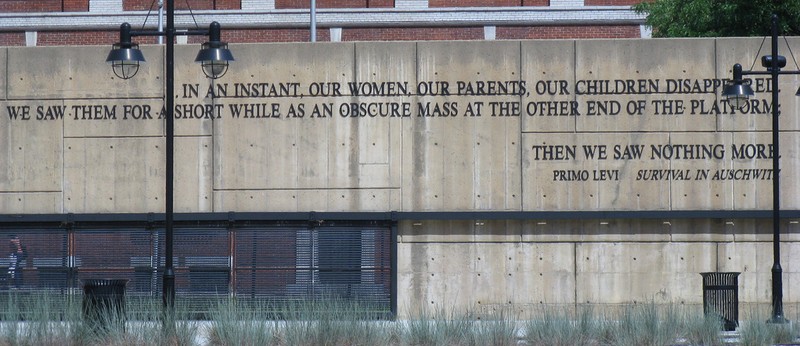 The dedication of the central statue in 1988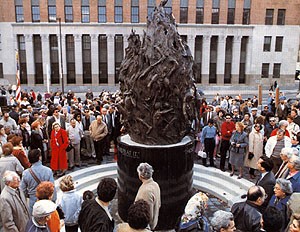 Learn more about the connections between American history and the Holocaust with this book by award winning historian Peter Novick-click the link below to learn more.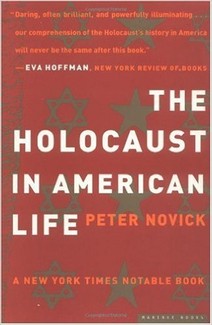 Backstory and Context
The origins of the Baltimore Holocaust Memorial can be traced back to the 1970s, when a ninth grade Baltimore Hebrew class told the teacher, Alvin Fisher, that they didn't believe the Holocaust occurred. This moment marked Fisher's campaign to have a memorial to Holocaust victims constructed in Baltimore. By 1976, the Baltimore Jewish Council took up the project and began raising funds, and by 1980, the memorial was designed at a cost of $300,000. The original memorial was designed by Donald Kann of Kann and Associates and Arthur Valk of Valk Design Associates.
There are three parts of the memorial, including the large grassy mound planted with trees, two 80 x 19 feet cantilevered blocks of bleached, gray-white concrete and a grassy mall behind the blocks. One wall features the memorial's consecration as well as a list of the 32 camps where the victims of the Holocaust died.

In 1988, the flame sculpture on the memorial was dedicated specifically to Kristallnacht, the Night of Broken Glass. Seven years later in 1995, the memorial had severely deteriorated, and the Jewish Council supported a redesigned memorial.
Sources
Information about the memorial and its history come from sculptor Joseph Sheppard's website: http://www.josephsheppard.com/Holocaust/NewMemorial.htm
Additional Information