Broken Angel House (1979-2014)
Introduction
The Broken Angel House was a four-story brick tenement building in Brooklyn's Clinton Hill neighborhood that was purchased by self-taught architects and artists Arthur and Cynthia Wood in 1979 and expanded and modified to reach a height of over 100 feet along with unique architectural features in the coming decades. The building – named after an appropriated cherub statue from Staten Island – was immediately recognizable for its tall spire on the roof. The building was also the setting for Dave Chappelle's 2006 film Block Party. The Woods used the building as their family home and even had aspirations to turn it into an architectural school, but a fire in 2006 resulted in the Department of Buildings finding the structure in fault of building codes. In 2013, after some failed attempts to secure the crumbling walls and develop the building into apartments, the Woods were evicted, and the next year the property was sold. The site was later purchased by a developer for the construction of luxury condominiums.
Images
Broken Angel house in 2006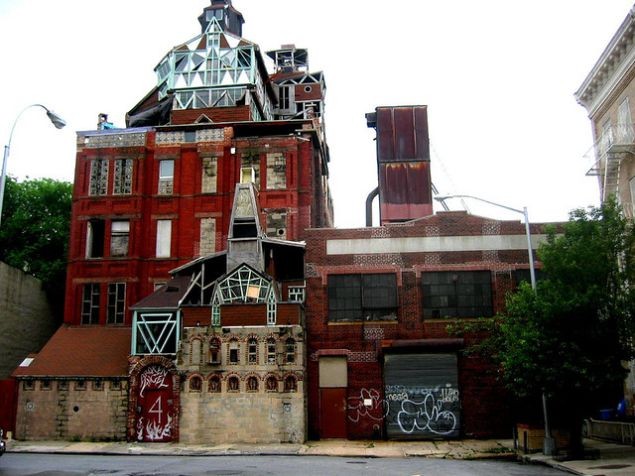 Broken Angel house in 2006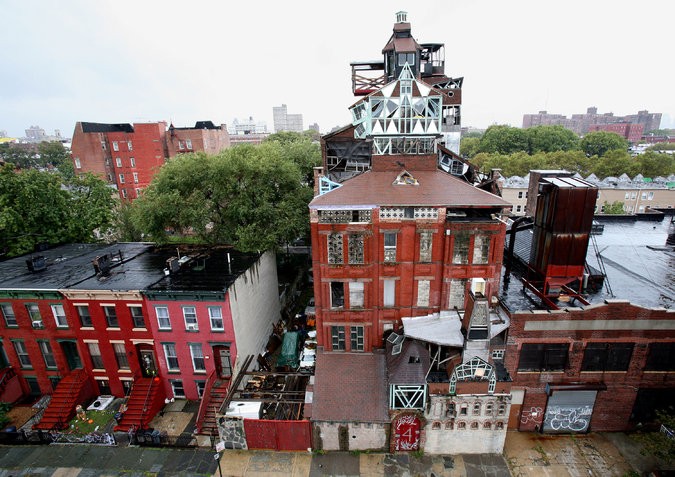 Cynthia and Arthur Wood (nytimes.com)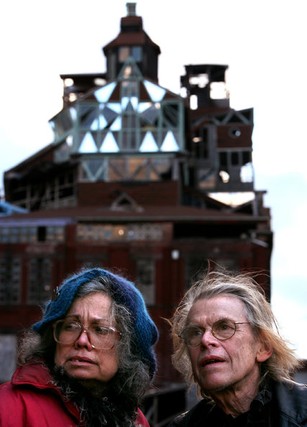 Backstory and Context
Arthur and Cynthia purchased the building on Downing Street in 1979. They paid two thousand dollars for the former Brooklyn Trolley Building at a time when the neighbourhood of Clinton Hill was gradually succumbing to drug problems. Over the next few decades, they started modifying and adding to the relatively plain building, accepting the help of their two children and neighbours who collected the materials. The original 42-foot structure almost tripled in size as a series of platforms, walls, windows, and ceilings were constructed of salvaged glass bottles, recycled wood and bricks, reclaimed statues, and pilfered fire escape ladders – Arthur even wanted to incorporate a helicopter into the design.
Whilst the additions were hardly stable – visitors would break into a cold sweat when climbing the rickety staircases – the house was remarkably long-lasting. However, in 2006 a fire gutted large parts of the upper storys of the building. Following the fire, the couple were hopeful about redeveloping the building whilst they camped in a nearby neighbour's yard. They even started installing plumbing and electrical lines and restoring the building's floors and walls in partnership with a local developer, Shahn Andersen. However, they failed to keep up with a four million dollar bank loan that was subsequently rescinded. The Woods had to foreclose on the Broken Angel House in 2013.
Today, Arthur and his family live in Beacon, New York. The property on Downing Street was sold to Barrett Design & Development LLC in 2014, who have demolished much of the structure and exhibit plans to turn it into ten modern luxury condos. However, some elements from the Broken Angel can still be seen to this day. Two bas-relief concrete masks are set into an interior stairway, and some of the condos will feature the original exposed brick fireplaces that were used by the Woods. 
Sources
Rabinowitz, Alexander. "Documentary to Tell the Story of Brooklyn's Broken Angel House." Observer. 7/9/15. Accessed Web, 6/6/17. http://observer.com/2015/07/documentary-to-tell-the-story-of-brooklyns-broken-angel-house/.
Kaysen, Ronda. "From 'Broken Angel' to Condos." New York Times. 5/8/15. Accessed Web, 6/6/17. https://www.nytimes.com/2015/05/10/realestate/in-clinton-hill-brooklyn-from-broken-angel-to-condos.html?_r=3.
Connolly, Chris. "Neighborhood Report: Clinton Hill; A Broken Angel Lifts Its Eccentric Wings Over the Brooklyn Skyline." New York Times. 4/14/02. Accessed Web, 6/6/17. http://www.nytimes.com/2002/04/14/nyregion/neighborhood-report-clinton-hill-broken-angel-lifts-its-eccentric-wings-over.html.
Surico, John. "Remembering Broken Angel, the Brooklyn Monument That Was Too Weird to Survive." Vice. 12/11/15. Accessed Web, 6/6/17. https://www.vice.com/en_us/article/the-brooklyn-monument-that-was-too-strange-to-live.
Pogredin, Robin. "An Angel Is Pulled Closer to Earth." New York Times. 1/11/07. Accessed Web, 6/6/17. http://www.nytimes.com/2007/01/11/arts/design/11angel.html.
Additional Information