Old Market House - Shepherdstown Public Library
Introduction
Located in the heart of Shepherdstown, the Shepherdstown Public Library was built in the 1800s as a market house, offering local farmers a sheltered place to sell their wares. It has also been home to the fire department, the town council offices, a butcher shop, a school, and the local jail. Today, it is the home of a thriving library.
Images
Constructed as a public market in 1800, this historic building has served as the local public library since the 1920s.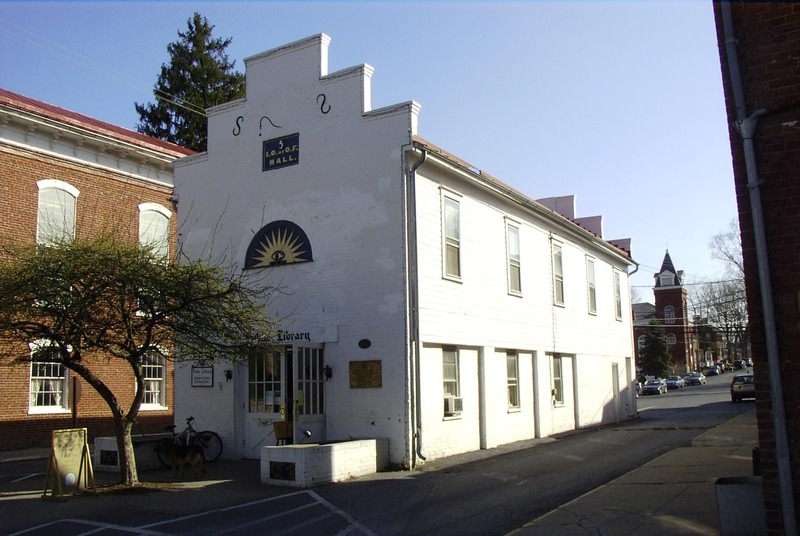 One of six historic blueprints from the Library of Congress.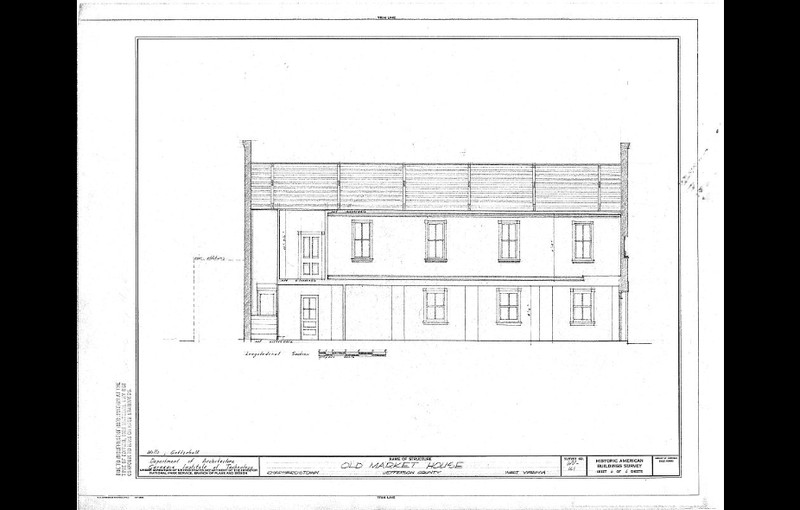 The building, circa 1930-1940, in use as the Woman's Club library. Photo courtesy of the West Virginia and Regional History Center, WVU Libraries.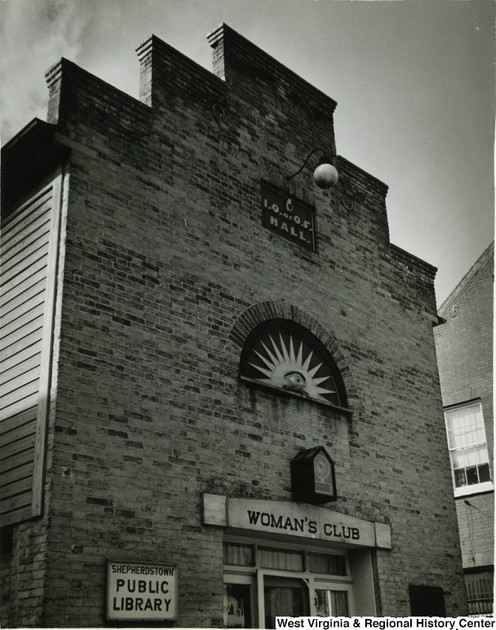 Backstory and Context
This building sits in the middle of King Street, originally this area served as a market space in the 1700s. The town built the market house in 1800, placing the shipping post and public hog pen on the south end. Offenders of Town ordinances suffered public punishment; loose hogs could also be seized for public auction. The building was originally a single story with large doors in the front and the back, a typical layout for a market house. In 1845, the Independent Order of Odd Fellows approached the town about adding a second story to the Market House, in exchange for a 999 year lease. The Order needed a meeting room, and ritual demanded that it be located on the second floor with opaque windows to preserve the secrecy surrounding the meetings. The building contains a Seeing Eye symbol above the front door. The work was completed and the second story served as the Order's meeting room until 1962.
When the town market closed in 1854, the town enclosed the stalls in brick walls and turned the building into a firehouse. The Market House served as a makeshift hospital during the nearby Battle of Antietam, the bloodiest battle of the Civil War. Throughout the Civil War, the building was used by the U.S. military as a holding area for soldiers. The building also served as council chambers, private school, and meat market.
In 1926, the Shepherstown Women's Club took over the bottom floor of the building for a public library, but they were not alone. The Women's Club shared the building with the town jail. The library was operated by the club, funded by donations, and staffed by dedicated volunteers for fifty years. Despite limited funding, the library thrived. The town removed the jail cells, after much persuasion, in 1948, and in 1962, the Women's Club bought the lease from the Order of Odd Fellows and took possession of the upstairs, which become a children's department. In 1971, the Women's Club turned the library over to the state and it continues to operate as a library today. 
Sources
Our History. Shepherdstown Public Library. Accessed February 22, 2017. http://www.lib.shepherdstown.wv.us/history.html.
Additional Information