John Basilone Monument
Introduction
This monument honors the bravery and sacrifice of local resident and Medal of Honor recipient John Basilone, the first enlisted US Marine to be awarded both the Medal of Honor and the Navy Cross. After winning these awards, Basilone returned to the battlefield only to be killed in action. The monument was originally planed to be located across the street from the home of Basilone's parents, but this location was selected so that more residents would be able to attend the dedication ceremony which occurred on June 6, 1948. The city of Raritan continues to honor Basilone's memory with an annual parade dedicated to the memory of local veterans.
Images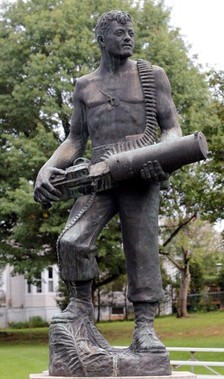 15,000 attended the dedication of the monument on June 6th, 1948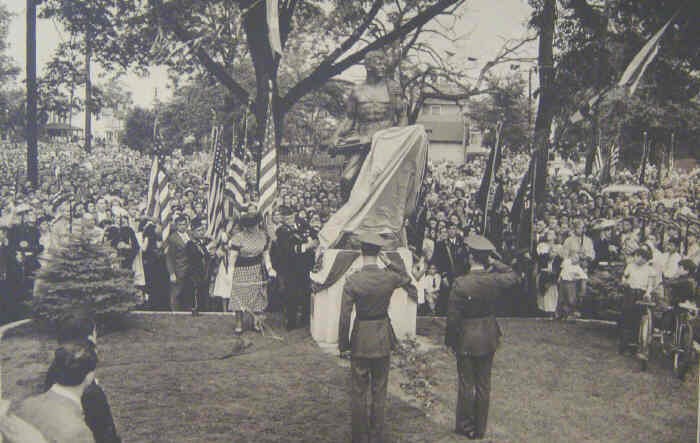 Backstory and Context
During the Battle at Guadalcanal, Basilone was charged with holding down a defensive position at a small airstrip called Henderson Field. With only 16 men and 4 working machine guns, Basilone led a defensive effort that eliminated 3,000 Japanese troops and allowed the outnumbered Americans to defend this crucial airstrip. Basilone's strategy was to dedicate two of the guns to protecting his position while each of the men worked to make sure that each gun was supplied with ammunition. The battle lasted an entire night. In recognition of his successful defense against enormous odds, Basilone was awarded the Medal of Honor. Partly owing to the successful defense of this airstrip, Guadalcanal became a turning point in the Battle of the Pacific.
Like many medal winners, Basilone was asked to join a promotional tour in the United States to help promote the sale of war bonds. Before long, however, John Basilone asked for reassignment back to the Pacific where he could continue the war and support his fellow Marines. Basilone was assigned a unit at Camp Pendleton and was shipped to Iwo Jima months later. During the invasion of Iwo Jima, US Marines were met with a fierce and entrenched Japanese counterattack that left thousands dead on the thick sanded beaches of the island. Basilone was among the few survivors of the first wave of Marines who landed on the island. He led a tank crew through a mine field and then engaged an entrenched Japanese bunker. He lost his life while attacking the bunker when a mortar shell landed on his position.
Sources
https://amstmonuments.wordpress.com/2010/12/27/john-basilone-monument/ http://www.basiloneparade.com Rariton Online, http://www.raritan-online.com/phillip-orlando-dedication.htm, accessed 3/13/2016
Additional Information