Hamtramck Home - Mecklenburg Inn
Introduction
The exterior of this historic downtown building has changed little from the time of the early republic, it might be the only on the south side of town with little renovations. From the late 1790s to the mid 1850s, it was the residence of John F. Hamtramck, one of the town's military heroes. Later it became a business address, and had become a part of the town's tradition of inns and taverns. Today, is home to the Mecklenburg Inn-a popular local tavern.
Images
The historic home is now Mecklenburg Inn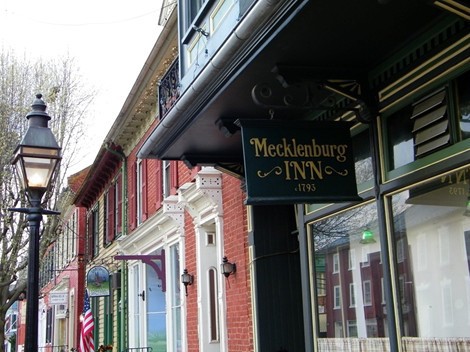 John Francis Hamtramck, used with permission of the West Virginia West Virginia Archives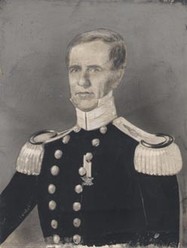 Backstory and Context
John Francis Hamtramck was born to a military father with a distinguished career, when the death of his father left him as the ward of General William Henry Harrison. Hamtramck attended the U.S. Military Academy from 1815-1819. He was promoted to 2nd Lieutenant and stationed in Pennsylvania. Hamtramck resigned his commission in 1822.
Hamtramck moved to Missouri, where he owned a farm, but he somehow ended up in at a ball in Shepherdstown hosted by Walter Bowie Shelby. At the ball, Hamtramck met his wife Eliza Clagett Shelby. They were married on December 27, 1825 and lived in Missouri. Hamtramck worked for a time as the U.S. Indian Agent for the Osage Tribe from 1826-1830. When he was replaced, Eliza exerted her influence to move back to Jefferson County. They bought a farm east of the Boteler's Fountain Rock, but lived in the Shelby home on East German Street.
Hamtramck was mayor of Shepherdstown form 1850-1854, and served on Jefferson County Court from 1853-1858. He also served as captain of both the Potomac Rifle Company and the Shepherdstown Light Infantry. Hamtramck returned to the army during the Mexican American War and led the 1st Virginia Volunteer Regiment. After his death, the Shepherdstown light infantry changed its name to the Hamtramck Guard.

Despite Shepherdstown inclusion in what would become the Unionist state of West Virginia, the town was home to many Confederate sympathizers. In fact, a local ordinance required townspeople to pay local taxes with Confederate currency. When men from the town organized one of the first Confederate volunteer units from Virginia, the unit named themselves the Hamtramck Guards in honor of the town's most famous military leader.
Sources
Dolly Nasby, Shepherdstown. Arcadia Publishing, 2005.John Francis Hamtramck. Historic Shepherdstown Commission. Accessed April 25, 2017. http://historicshepherdstown.com/portfolio-item/john-francis-hamtramck/.


Additional Information