Historical Marker- Bernard de Marigny
Introduction
Located in the historic St. Louis Cemetery No. 1, this marker commemorates the life of Bernard de Marigny de Mandeville (1786-1868). Marigny served in the US Army, helped draft the first and second constitutions of Louisiana, served in the Louisiana Territorial Legislature, and was a wealthy land-owner. In 1830, he founded Mandeville, Louisiana and was elected to president of the Louisiana State Senate in 1822.
Images
Bernard de Marigny marker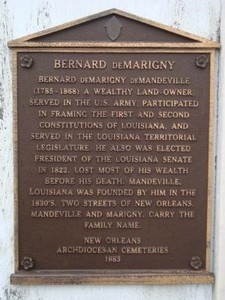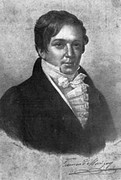 Marker on Marigny gravesite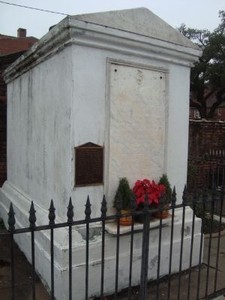 The History of Mandeville, book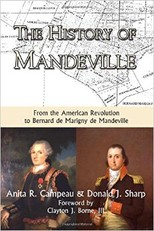 Backstory and Context
Bernard was the son of Xavier Philippe de Marigny de Mandeville, Ecuyer and Chevalier de St. Louis, and Jeanne Marie d'Estrehan de Beaupre. The family held a hereditary title of ecuyer, or squire, which was a knight's aid. Bernard was born in New Orleans, making him the third generation of his family born in colonial Louisiana. His grandparents were influential leaders of the colony. Antoine Philippe de Marigny, his paternal grandfather, was a French nobleman with a varied career, including time served as a military officer and geographer. Jean Baptiste d'Estrehan, his maternal grandfather, served as the colony's royal treasurer.

Xavier-Philippe de Marigny died when his son Bernard was fifteen. His father's death left Bernard in charge of the family plantation located immediately downriver from the original city of New Orleans (now called the French Quarter or Vieux Carre'.). Historian Edward L. Tinker wrote of Bernard in 1933, "His every whim [was] indulged while his father was alive, he became as wild and headstrong after his death as an unbacked [wild] mustang, and his guardian, abandoning all idea of control, finally shipped him to England, hoping that life abroad might mend his manners; but in London Bernard's dissipations became only more pyrotechnic, and he spent most of his time at Almack's and other famous gambling places."

Bernard was an avid gambler, introducing New Orleans to a dice game he learned in England called Hazard. In an attempt to resolve his mounting gambling debts, Bernard had his family plantation downriver from New Orleans subdivided into streets, squares, and individual lots. The first of these were sold in March, 1806, and the new neighborhood was called Faubourg Marigny. Today this same neighborhood is on the National Register of Historic places and is one of the most culturally and architecturally-rich areas of modern New Orleans.
Sources
Friends of the Cabildo. New Orleans Architecture, Vol. IV: The Creole Faubourgs. Pelican Publishing Company, 1996.


Additional Information