The New Orleans Katrina Memorial
Introduction
The memorial located on this site marked the tragedy that befell New Orleans on August 29, 2005. Hurricane Katrina severely damaged the Mississippi and Louisiana Gulf Coast and caused the deaths of over 1,100 people. This memorial acts as a grave marker to those who were not buried in marked graves by loved ones.
Images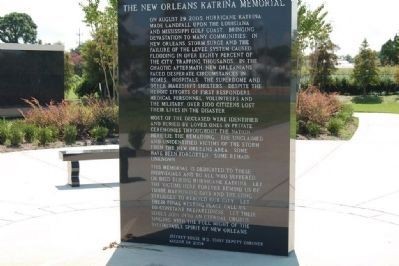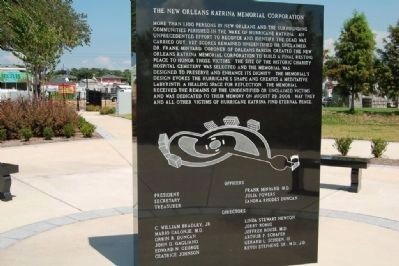 Flooding or I-10/I-610/West End Blvd., surrounding areas of New Orleans and Metairie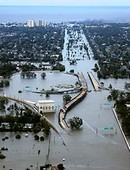 Hurricane Katrina at its strongest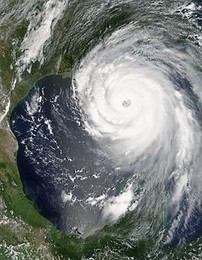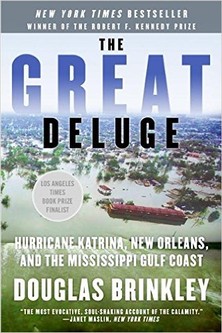 Backstory and Context
While Katrina was devastating to many communities and cities, perhaps the most remembered and, at the time, most televised damage occurred in New Orleans. Due to the elevation of New Orleans being below sea level, the city relies on a system of federally built levees to protect it from flooding. The breach of important levees, including the 17th Streer Canal levee, the London Avenue Canal, and the Industrial Canal left about 80% of the city flooded.

Alrhough this horrific flooding was responsible for a number of deaths, remembering how other deaths occurred help us to understand the truly dire emergency situation that the storm created. Before midnight on August 28, the first deaths in New Orleans were reported. These were the deaths of three patients at a nursing home that likely died from dehydration while evacuating to Baton Rouge. Some evidence suggests that prisoners in the area were abandoned while guards searched for shelter. After the storm, many prisoners, numbering in the hundreds, we're officially recorded as "unaccounted for." Four bodies were found in the Convention Center. One of these bodies is believed to be the victim of a homicide. By October 23, 2005, the number of recovered bodies in the New Orleans area numbered over 700. Coroners had trouble identifying many of the dead due to the advanced decomposition of many of the bodies. This decomposition was mostly the result of staying in the sun and water for extended periods of time before they were recovered. The costliest hurricane in recorded history, Katrina cost $108 billion in damages. In addition to Louisiana and Mississippi, the hurricane also affected the Bahamas, South Florida, Alabama, the Florida Panhandle, and Cuba.


Sources
http://www.hmdb.org/marker.asp?marker=85824 http://en.m.wikipedia.org/wiki/Hurricane_Katrina
Additional Information