Schomburg Center for Research in Black Culture, New York Public Library
Introduction
The Schomburg Center for Research in Black Culture located in Harlem, New York is a research unit of The New York Public Library system. It is recognized as one of the leading institutions focusing exclusively on African-American, African Diaspora, and African experiences. Begun with the collections of Arturo Alfonso Schomburg more than 85 years ago, the Schomburg has collected, preserved, and provided access to materials documenting Black life—in America and worldwide. It has also promoted the study and interpretation of the history and culture of peoples of African descent. Today, the Schomburg continues to serve the community not just as a center and a library, but also as a space that encourages lifelong education and exploration. The Schomburg Center consists of three connected buildings: The Schomburg Building, the Langston Hughes Building, and the Landmark Building.
Images
Exterior view of the Schomburg Center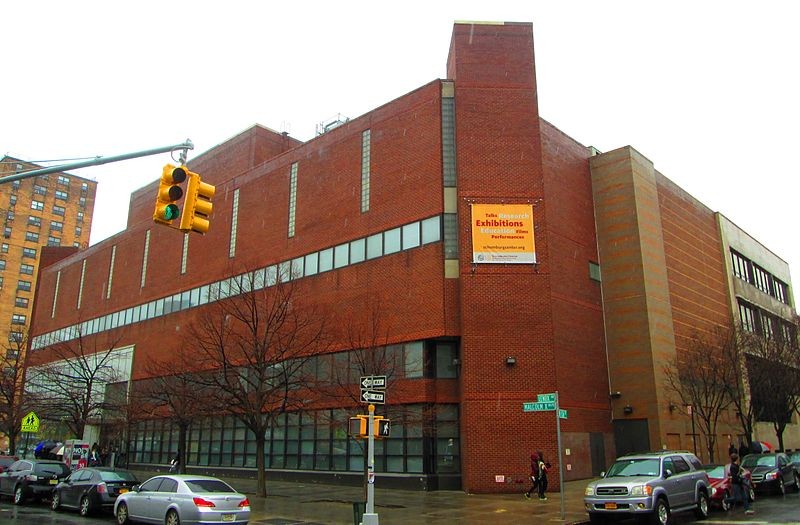 An interior view of the Schomburg Center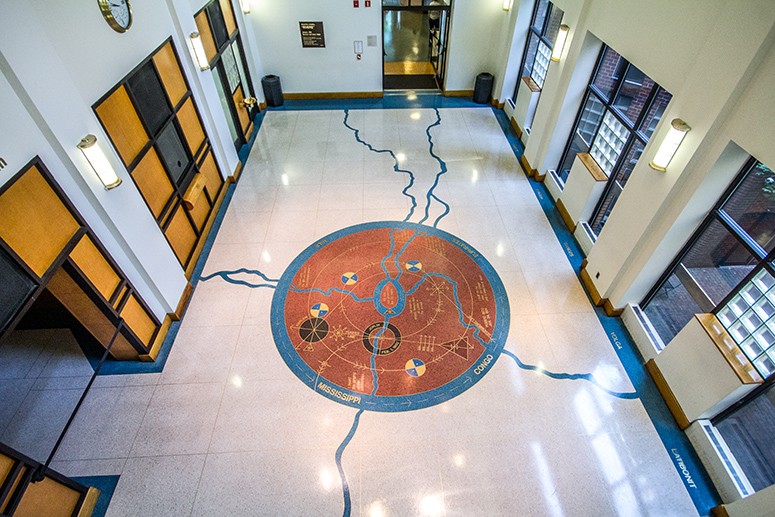 Jean Blackwell Hutson Research and Reference Division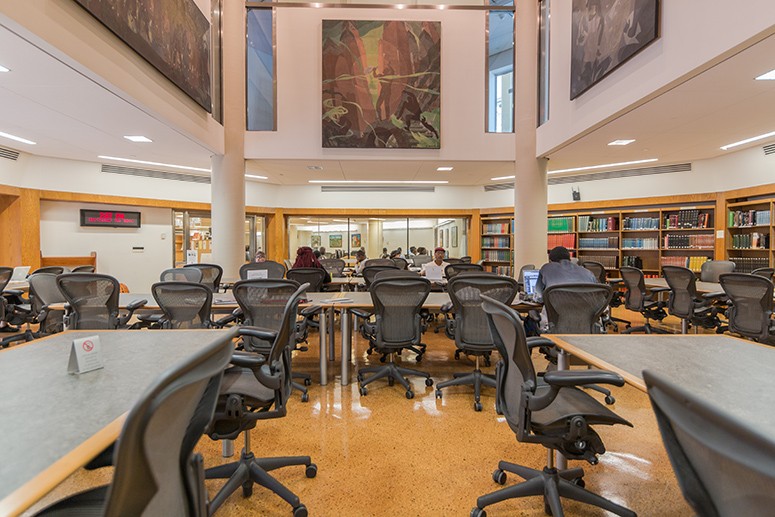 Backstory and Context
In 1926, The New York Public Library added the personal collection of the distinguished Black scholar and bibliophile Arturo Alfonso Schomburg to the Division of Negro Literature, History and Prints of its 135th Street Branch Library.

Schomburg subsequently served as curator of the division from 1932 until his death in 1938. The division was renamed in his honor in 1940, and in 1972 it was designated as one of the Research Libraries of The New York Public Library.
Research and Reference Division
The Research and Reference Division contains more than 15o,ooo volumes and 85,ooo microforms. Primarily in English, they also include works in a variety of African and European languages. Although weighted heavily toward the humanities and social sciences, the division's collections also comprise resources covering medicine and the natural sciences. In addition, it offers more than 6,ooo serials, including 4oo Black newspapers and 1,ooo current periodicals from around the world. The Ernest D. Kaiser Index to Black Resources is one of the Schomburg Center's most unique finding aids, providing more than 179,000 citations to articles in thousands of issues of Black magazines and newspapers.
The Research and Reference Division is officially named the Jean Blackwell Hutson Research and Reference Division after the Center's curator and chief from 1948-1980. Hutson played a key role in preserving the facility be means of helping to secure funds, growing the Center's collection, and tailoring the library to the needs of the people. Under Hutson's tenure as curator and chief, the library grew from a mere 15,000 volumes to an astound 75,000 volumes. This was due largely to her connection with childhood friend and esteemed poet Langston Hughes, whom she was able to persuade to donate a large part of his collection to the library. Today, one of the three buildings which make up the Schomburg Center is named after Langston Hughes in recognition of his generous contribution. The growth of the libraries resources which resulted naturally from this contribution gained due to the efforts of Hutson created a need for more space to house them. To fix this growing need for space, Hutson helped to establish the Schomburg Corporation in 1971. This corporation was charged with the goal of raising money for more space to house the Center's growing collection and was made up of many concerned and passionate Harlem residents. Not only mention, Hutson also "learned to go to Albany", where she petitioned legislature for funds to construct a more viable living space for the Center's collection. These acts collectively led to the acquisition of the $3.7mil used to construct the new building for the Center, which opened in 1981.
Manuscripts, Archives and Rare Books Division
The Manuscripts, Archives and Rare Books Division enables researchers to work directly with unique, original source materials. The collection has grown through the years, beginning with the rare treasures from Arturo Alfonso Schomburg's personal holdings. Today, it contains more than 3,900 rare books, 580 manuscript collections, and 15,ooo pieces of sheet music and rare printed materials. These include the original manuscript of Richard Wright's Native Son; the papers of Dr. Robert Weaver, the first Black United States cabinet officer; Gustavus Vassa's autobiography, which provides evidence for Granville Sharp's attack on slavery in the British colonies in 1796; and records of the Civil Rights Congress.
Art and Artifacts Division
The Art and Artifacts Division houses one of the most comprehensive collections of Black artists' work in a research center. It includes paintings, sculptures, works on paper and textiles, and material culture. It contains more than 20,000 items from Africa and the African Diaspora. The collection is particularly strong in art produced during the Harlem Renaissance and WPA periods. This includes murals by Aaron Douglas, a leader of the Harlem Renaissance. Black American artists are represented by 19th-century figures such as Edward Mitchell Bannister and Henry Ossawa Tanner, and 20th-century figures such as Meta Vaux Warrick Fuller, Elizabeth Catlett, Jacob Lawrence, and Romare Bearden.
Photographs and Prints Division
The Photographs and Prints Division includes collections of images from mid-18th-century graphics to contemporary documentary and art photographs. The more than 500,000 items include portraits of many prominent 19th- and 20th-century Black artists, political figures, actors, musicians, athletes, and social activists. The collection also documents Black life throughout the world including scenes from Africa and the slave era through the 20th-century Americas. Among the photographers represented are James VanDerZee, Gordon Parks, Edward Steichen, Coreen Simpson, Bert Andrews, and Chester Higgins.
Moving Image and Recorded Sound Division
The Moving Image and Recorded Sound Division offers a broad range of audiovisual documentation of Black culture including music, oral history recordings, motion pictures, and videotapes. Its resources include early radio broadcasts and recordings of statements by celebrated personalities such as Marcus Garvey, Booker T. Washington, and George Washington Carver. Musical documentation ranges from African chants to American jazz. These assets are complemented today by a special Oral History/Video Documentation Project which videotapes interviews with historically or culturally significant figures. It offers over 5,000 hours of oral history recordings and more than 5,000 motion pictures and videotapes of early Black Þlm classics, documentaries, and radio programs from many parts of the world.
Educational and Cultural Programs
Educational and Cultural Programs at the Schomburg Center complement its research services and interpret its collections. Seminars, forums, workshops, staged readings, film screenings, performing arts programs, and special events are presented on a year-round basis in its renowned Langston Hughes Auditorium.
Each year, the Schomburg Center presents a number of exhibitions featuring art objects, photographs, documents, published works and artifacts drawn from its own holdings, as well as resources from other institutions. These exhibitions explore issues and themes in the history and culture of people of African descent throughout the world. The programs and exhibitions are open to everyone, from schoolchildren to senior citizens, and most are available for free, increasing the library's role as a community center. The Schomburg Center's Traveling Exhibitions program makes exhibits on themes such as the Black press, the anti-apartheid movement, Black photographers, Black theatre, and voluntary Black migration available to institutions nationally and internationally. The Schomburg Center's Schools Program offers Summer Institutes for teachers, year-round teachers' forums, and workshops on Black history and culture. It also produces and disseminates curriculum guides, exhibition portfolios, and audiovisual materials on related themes.
Sources
"About the Schomburg Center for Research in Black Culture." New York Public Library. Accessed Web, 5/20/17. http://www.nypl.org/locations/tid/64/about.


Additional Information