Dinosaur Ridge
Introduction
Located in the Dakota Hogback region of the Morrison Fossil Area National Natural Landmark, Dinosaur Ridge stands as one of the world's most famous dinosaur fossil localities. The history of Dinosaur Ridge traces back to 1877 when some of the best-known dinosaurs were found, including the Apatosaurus, the Stegosaurus (the Colorado State Fossil), and the Allosaurus. These discoveries initiated a "dinosaur gold rush," and the dozens of successful excavations at Dinosaur Ridge have stocked many of the world's museums while bringing more attention and passion to dinosaurs and paleontology. In addition to further excavations and exploration, Dinosaur Ridge is also open to the public with its Visitor Center and two interpretive trails ideal for anyone wanting to learn more about dinosaurs. The National Park Service has designated Dinosaur Ridge as a National Natural Landmark and the state of Colorado has made it a Colorado Natural Area.
Images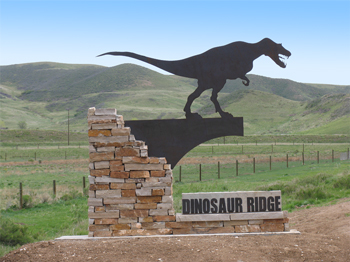 Tracks at Dinosaur Ridge.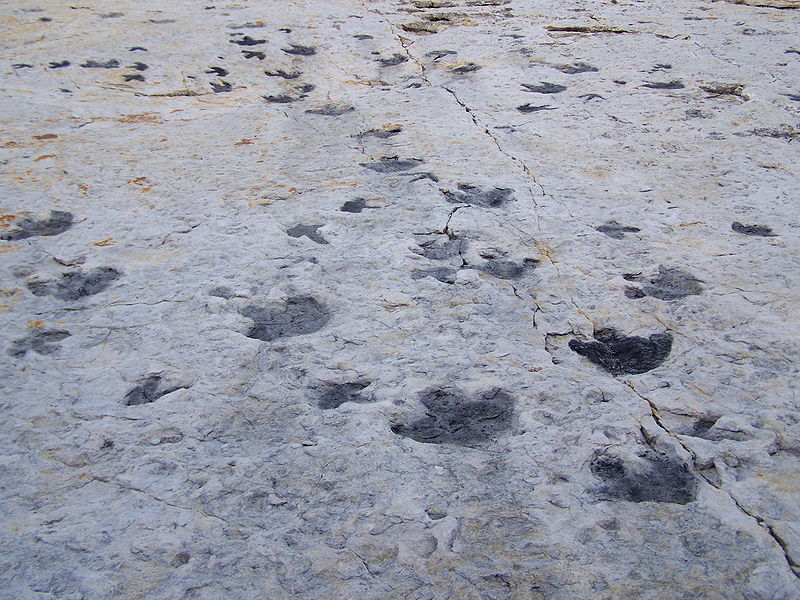 Backstory and Context
Dinosaur Ridge's international acclaim dates to 1877, when Arthur Lakes, a professor at the Colorado School of Mines in the city of Golden, discovered a myriad of fossils. The original fossils included the Apatosaurus, the Stegosaurus, and the Allosaurus, and these fossils, along with other early discoveries, were highly representative of the Late Jurassic Period, 150 million years ago. Following the discoveries, scientists and paleontologists from all over the world made their way to Colorado to take part in the dinosaur gold rush along the Morrison Formation.
By 1937, during construction of the West Alameda Parkway, researchers discovered dinosaur tracks in the 100-million-year-old rocks on the eastern side of Dinosaur Ridge. Over the course of the 20th century, several more important discoveries were made, while Dinosaur Ridge maintained its acclaim for its ecological and paleontological significance. In fact, over 300 types of tracks have been identified.
In 1989, the Friends of Dinosaur Ridge non-profit was established to preserve fossils and educate the public about the natural history of the area. The site also features the Dinosaur Ridge Exhibit Hall, which displays about the dinosaurs found at the site, as well as interpretive trails that explain the local geology, a volcanic ash bed, trace fossils, paleoecology, and many other geological and paleontological features.
Sources
History & Discoveries. Dinosaur Ridge. n d. Accessed October 03, 2018. http://www.dinoridge.org/history---discoveries.html.
Additional Information