George Jones Museum
Introduction
Author-Uploaded Audio
The George Jones Museum in Nashville, Tennessee celebrates the life and legacy of one of country music's most distinctive voices, George Jones. Opened in 2015, the Museum tells the story of the life of the man known as "The Possum," covering his childhood in Texas, the early days of his career, his marriage to fellow country music singer Tammy Wynette, his personal and professional downfall, and his remarkable return in 1980 with one of the most famous songs in country music history, "He Stopped Loving Her Today." Strolling through the George Jones Museum, visitors can see priceless artifacts such as the singer's unique suits, treasured guitars, Jones's famous John Deere tractor, awards, and much more. In addition to the Museum, the George Jones Complex also features a gift shop, a restaurant, and a rooftop bar that offers prime views of the Cumberland River and Downtown Nashville.
Images
The Front of the George Jones Museum on 2nd Avenue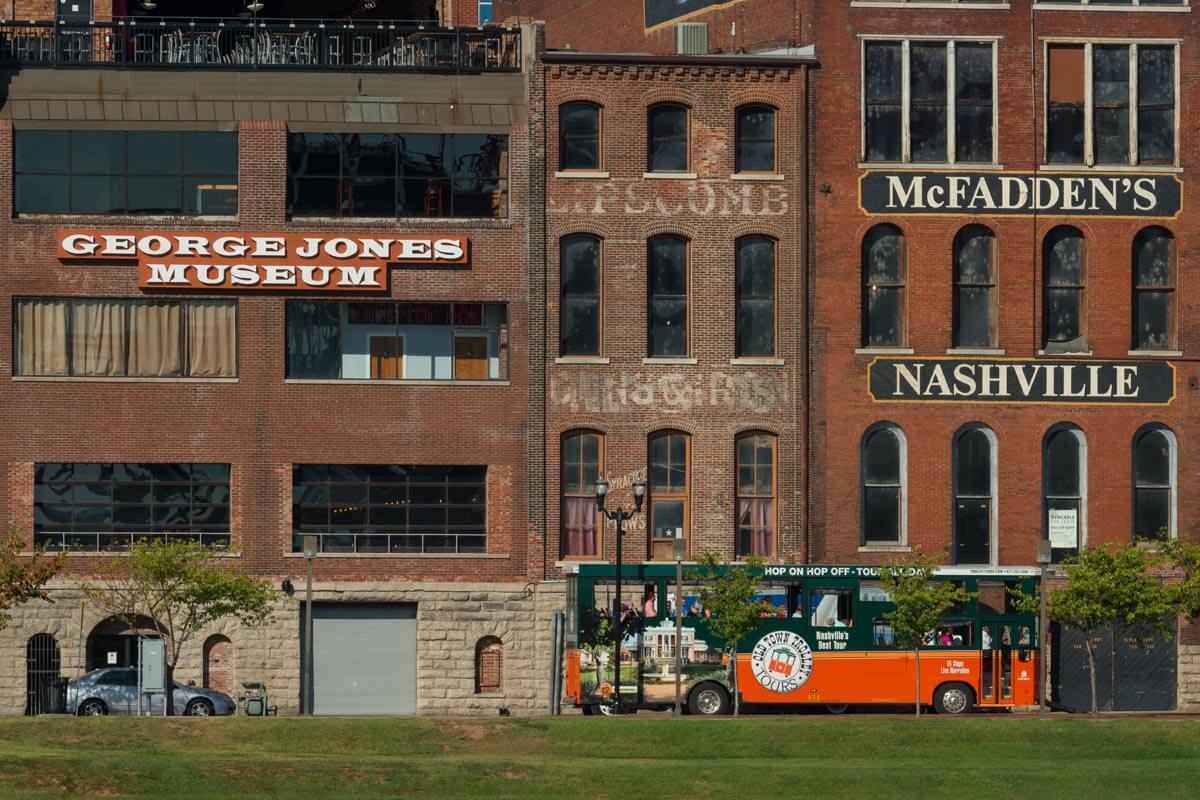 The Entrance to the George Jones Museum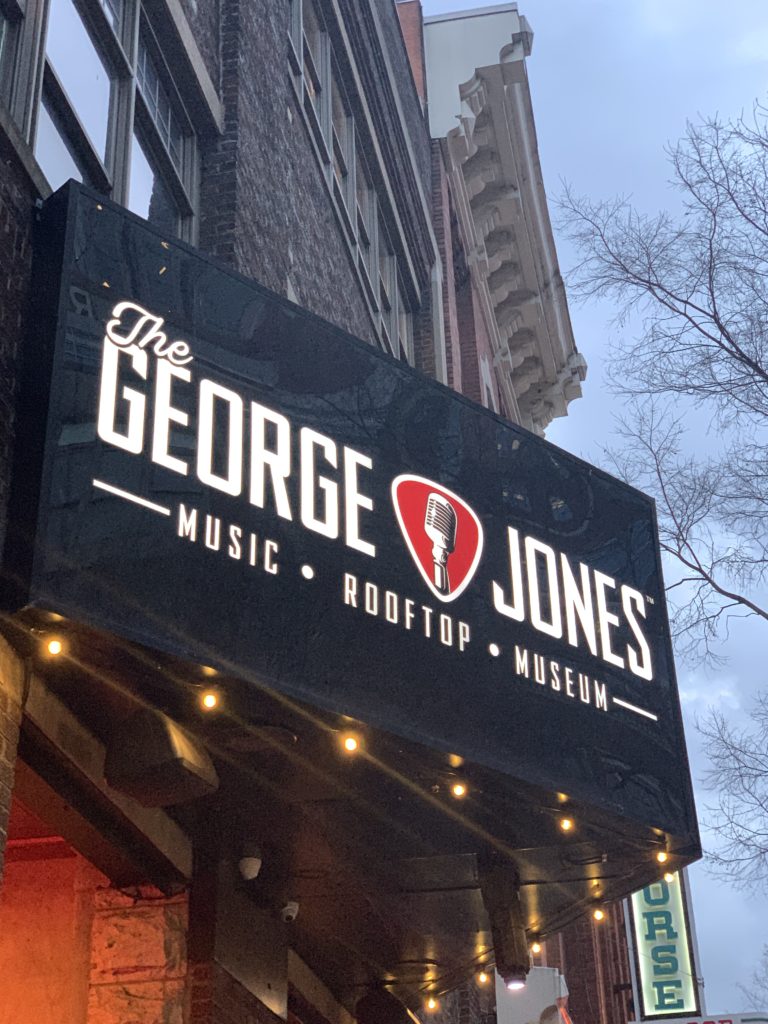 The Opening of the George Jones Museum on April 23, 2015. George Jones' widow, Nancy Jones, is seated on the rocking chair.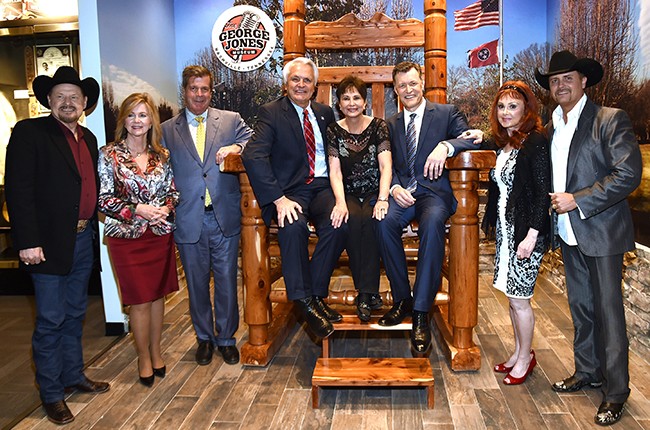 Awards on Display in the Museum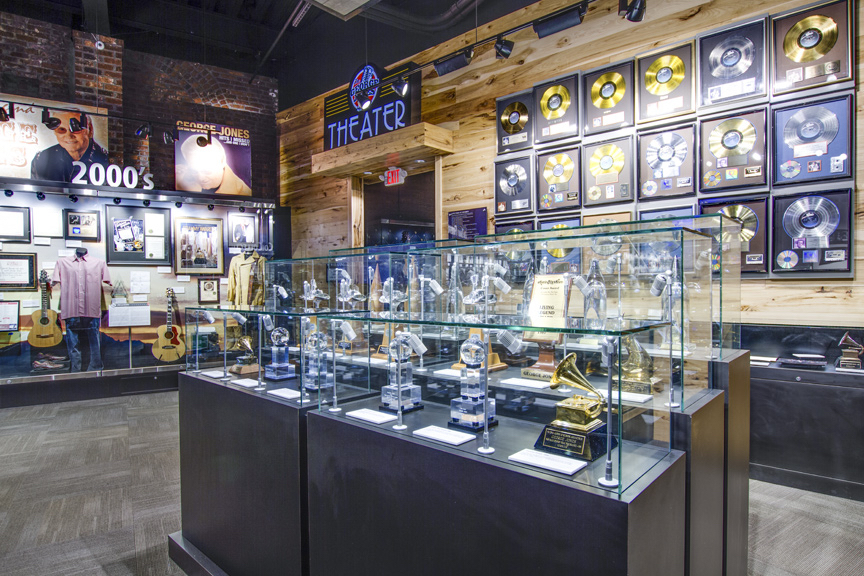 Some of the Museum Collection on Display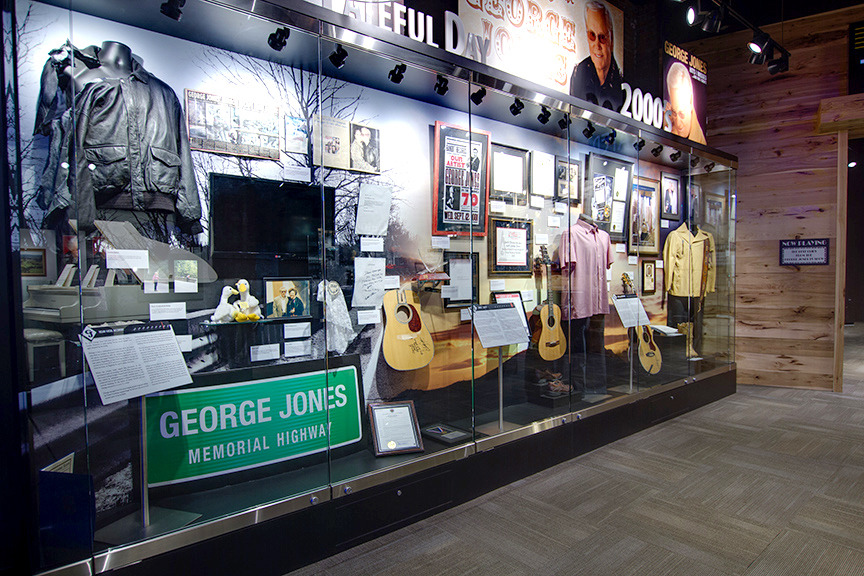 George Jones, Known as "The Possum"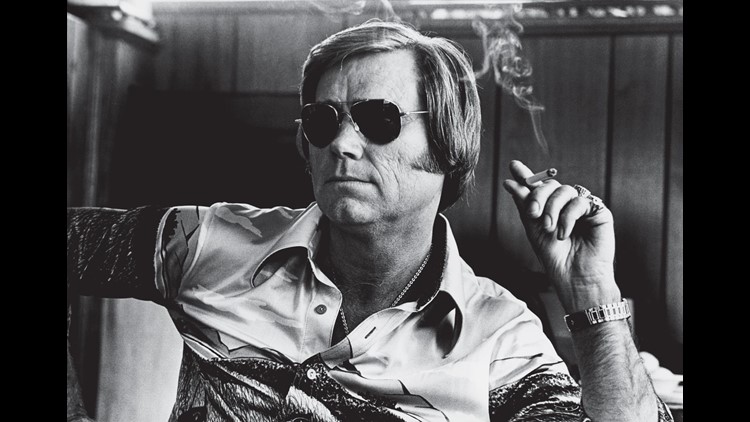 George Jones with his third wife, Tammy Wynette. Together, the couple was Country Music Royalty.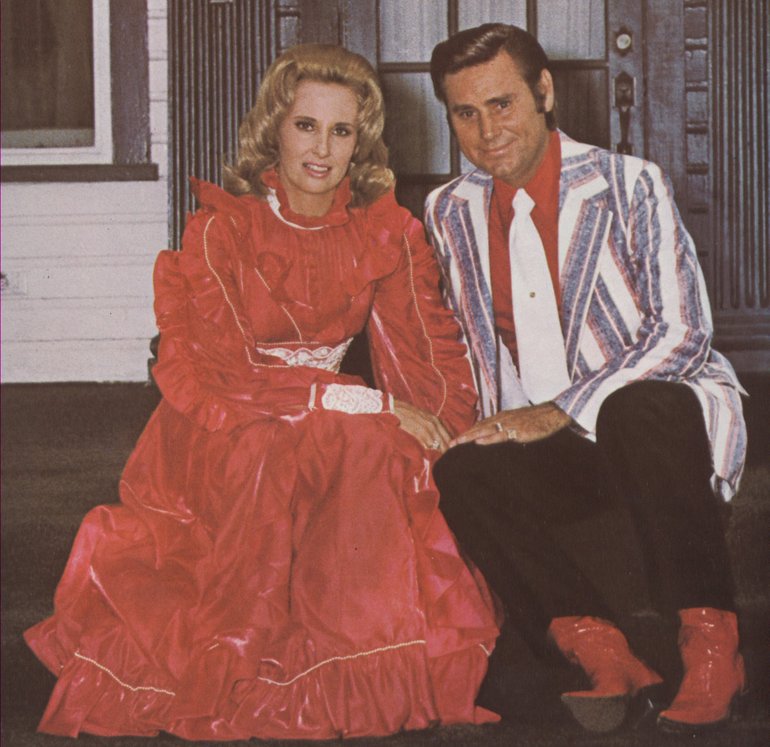 View of the Cumberland River from the George Jones Rooftop Bar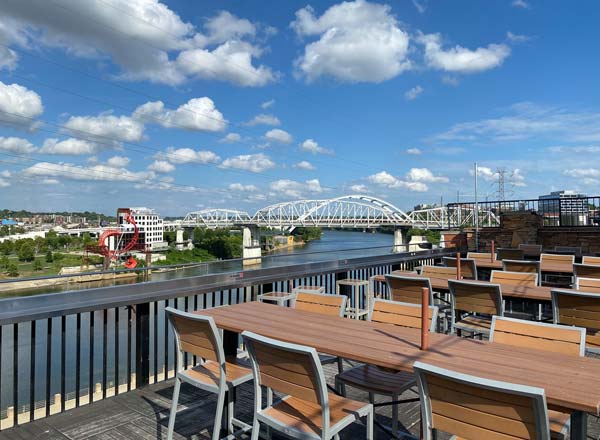 Backstory and Context
Author-Uploaded Audio
The George Jones Museum opened on 2nd Avenue in Nashville in the spring of 2015, just two years after George Jones (known as "The Possum") passed away at the age of 81. Born in Saratoga, Texas in 1931, a young Jones began his singing career on the streets of Beaumont with the guitar his father bought him when he was nine-years-old. After a stint in the Marine Corps during the Korean War, he decided to follow in the footsteps of his idol Hank Williams and pursue being a singer. After being signed by Pappy Daily at Starday Records, Jones' first big hit came in 1955 when "Why Baby Why" made it to #4 on the country charts.
His first #1 hit, "White Lightnin,'" was released in 1959, and over his 60-year career, Jones had more top 40 country songs on the country charts than any other artist. He collected a total of 5 GRAMMY and numerous CMA, ACM, and Billboard awards. In 1969, Jones married his third wife, fellow country singer Tammy Wynette, and they went on to have numerous hits together, both while they were married and after they divorced in 1975. Jones earned the nickname "No Show Jones" when he became notorious for not showing up to his own shows due to his addiction to drugs and alcohol.
After a brief hiatus, Jones reemerged in 1980 with one of the biggest country songs of all time, "He Stopped Loving Her Today." Other notable George Jones hits include, "She Thinks I Still Care," "The Race Is On," "A Good Year for the Roses," and "Who's Gonna Fill Their Shoes?" George Jones was inducted into the Country Music Hall of Fame in 1992, received the prestigious Kennedy Center Honors in 2008, and was awarded a GRAMMY Lifetime Achievement Award in 2012. George Jones passed away in Nashville in April 2013. He remains one of the most respected and revered country singers of all time.
The George Jones Museum officially was dedicated on April 24, 2015. Nancy Jones, George Jones' fourth wife and widow, had saved thousands of mementos from his career and was the Museum's chief organizer. The Museum features mementos from the singer's life, including: a U.S. Marine jacket, a pair of boxing gloves autographed by George Foreman, and the famous John Deere lawn mower that Jones' drove to a bar in Texas after having his car keys taken away from him. Walking around the Museum, visitors can see video footage of Jones singing some of his hit songs throughout his career. In addition to the impressive museum collection, the George Jones Complex also features a restaurant with event space and one of the most visited rooftop bars in Nashville, featuring prime views of the Cumberland River and the Nashville skyline. For all the fans, there is also a gift shop. On Christmas Day 2020, a bombing that occurred nearby caused damage to some windows and doors at the Museum, causing it to close down for repairs, but none of the museum collection itself was harmed and it reopened in 2021.  
Sources
Do You Know George?, The George Jones. Accessed August 12th 2021. https://georgejones.com/museum/.
Dauphin, Chuck . George Jones Honored by Family & Friends at Nashville Museum Opening: 'He Personified Soul', Billboard . April 27th 2015. Accessed August 12th 2021. https://www.billboard.com/articles/columns/country/6546164/george-jones-nashville-museum-opening.
Biography.com Editors. George Jones, Biography. September 8th 2020. Accessed August 16th 2021. https://www.biography.com/musician/george-jones.
Sexton, Paul. Nashville Attractions Detail Damage Caused By Christmas Day Blast, udiscovermusic. December 29th 2020. Accessed August 16th 2021. https://www.udiscovermusic.com/news/nashville-attractions-damage-christmas-day-blast/.
Image Sources
Old Town Trolley Tours

Traveling Adventures of a Farm Girl

Billboard

The George Jones

The George Jones

WQAD

Last.fm

Rooftop Guide

Additional Information