Jazz Tour- Former Home of Louis Douroux
Introduction
This house on the Algiers neighborhood's Pelican street was once home to jazz musician Louis Douroux. Douroux was born in 1875 and played cornet in the Pickwick Brass Band. He also played in the Eureka and Excelsior Brass Bands. In 1894, he married Olivia Manetta, who was a multi-instrument musician who particularly excelled on the trumpet. They had a daughter, Dolly Douroux, who later became a notable jazz musician herself. The house is included in the Algiers Point Association's self-guided "Over da River" Jazz Tour.
Images
Former home of Louis Douroux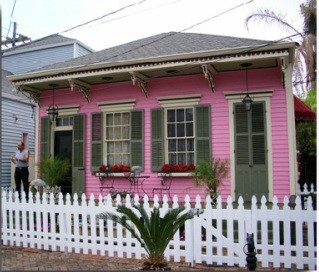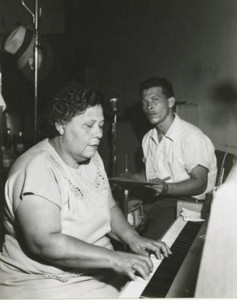 International Sweethearts of Rhythm, book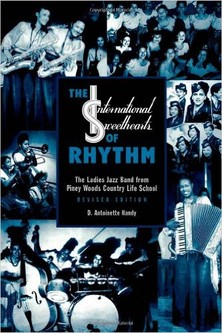 Backstory and Context
Dolly Douroux (1904-1979), married name Adams, was a jazz musician who played the piano, trumpet, guitar and drums. However, she is best known as a pianist. The Douroux and Manetta families were both of the Creole of Color ethnicity and were also both established musical families. Adams began playing the piano at age seven and was playing private parties with her brother by the time she was nine. As a young person, she was a music student at St. Mary's Academy. St. Mary's is a private Catholic school founded in 1867 and still in existence. Her brother was a violinist. She began playing in her uncle's band at age thirteen. Playing in Manuel Manetta's, her uncle, band gave her the opportunity to play with many legendary jazz musicians, including Louis Armstrong, Joe "King" Oliver, and Kid Ory. She married fellow musician Placide Adams in 1922.
Although normally restrictive gender norms would have prevented Adams from pursuing many performance opportunities, particularly early in her career, Adams was relatively free to play in public because she was generally playing with her family. Gigs even took them to the brothels in the infamous Storyville district of New Orleans. They occasionally played Lulu White's Mahogany Hall, one of the most famous brothels of Storyville. Adams was also part of the Creole Serenaders and Peter Bocage's band at different points in her career.
Sources
http://algierspoint.org/over-da-river-jazz-tour.html http://www.knowla.org/entry/1506/&view=summary https://en.wikipedia.org/wiki/St._Mary%27s_Academy_(New_Orleans)
Additional Information