Jazz Tour- Santa Maria Council No. 1724, Knights of Columbus
Introduction
This building located on the Algiers neighborhood's Olivier Street has housed the Santa Maria Council No. 1724, Knights of Columbus since the early twentieth century. The Knights of Columbus is a Catholic fraternal organization founded during the late-nineteenth century in Connecticut. The building is included in the Algiers Historical Society's self-guided "Over da River" Jazz Tour. Many prominent jazz musicians played here, among them the Marcour's Band, the Magnolia Jazz Band, Brownlee's Jazz Band, "Kid" Thomas Valentine, Nick LaRocca, and Bert Peck.
Images
Knights of Columbus building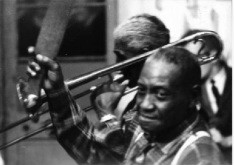 Knights of Columbus building
Backstory and Context
Thomas Valentine (February 3, 1896- June 18, 1987), more widely known as "Kid" Thomas Valentine, was born in Reserve, Louisiana. He became known as a trumpeter during the early twenties and started leading his own band in 1926. He lived in the Algiers neighborhood for decades. Thomas' playing style was unique because he continued in the old traditional style of New Orleans jazz, even when other musicians were influenced by the innovations Louis Armstrong brought to the genre. He played popular songs of the time, even into the rock-and-roll era, but he played them in the New Orleans dance hall style of early 1920s jazz. He was in the legendary Preservation Hall Jazz Band from the 1960s into the 1980s. He toured worldwide for the Hall, including a trip to Russia.
Dominic James "Nick" LaRocca (April 11, 1889-February 22, 1961) was the son of Sicilian immigrants and born in New Orleans. He played the trumpet and the cornet. LaRocca also led the Original Dixieland Jazz Band (ODJB) and composed one of the most popular jazz classics of all time, "Tiger-Rag." He was part of the band generally regarded as releasing the first jazz recording, "Livery Stable Blues" in 1917. They made the first commercial jazz recordings in New York City. The success of these records turned the musicians of ODJB into celebrities.
Sources
http://algierspoint.org/over-da-river-jazz-tour.html http://www.kofc.org/un/en/about/history/index.html https://en.wikipedia.org/wiki/Kid_Thomas_Valentine https://en.wikipedia.org/wiki/Nick_LaRocca
Additional Information