Battle of Short Hills
Introduction
The American Revolutionary War battle at Short Hills took place on June 26, 1777 and resulted in a strategic victory for the Continental Army. It did not take place in the current town of Scotch Hills, but rather in the Scotch Plains in the Edison township northeast of South Plainfied and west of Clark. The entire site is roughly 300 acres and consist of municipal land and some park space, including parts of the Ash Brook Golf Course and the Plainfield Country Club. The site was listed, as a historic district, on the National Register of Historic Places in 2014. The map indicates where the Battle of Short Hills monument—with a replica canon mounted on top—is located.
Images
The Battle of Short Hills monument. There are also historical markers and interpretive signs for the battle dispersed in the area.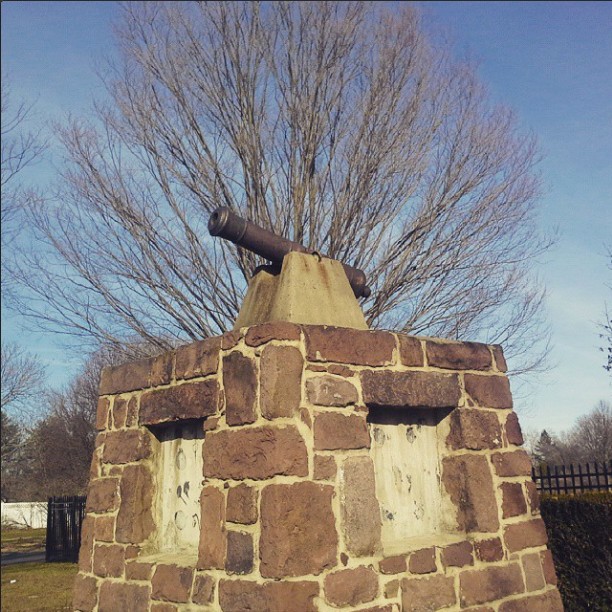 Backstory and Context
The British, led by General William Howe, attempted to lure General Washington's army out from its position in the Watchung Mountains (near Metuchen) in order to face the Americans on an open battlefield. The British, who had 11,000 troops greatly outnumbered the Americans who had 2,500. Howe waited for five days before realizing that Washington was not going to move out form the mountains and called for his force to return to Perth Amboy (where they would cross to Staten Island). Seeing this retreat, Washington ordered General William Alexander (aka Lord Stirling) to shadow the retreat and also led his forces out of the mountain position. Upon hearing this, Howe sent two columnns back with the hopes of cutting Washington off from their mountain position. However, American in forward positions encountered the British and the fighting alerted Alexander and also Washington. Alexander sent his forces out to fight the British columnns, which gave Washington time to retreat back to the mountains. Alexander ordered his forces to retreat given the strength and numbers of the British. The British then pulled out of New Jersey, giving the Americans an important strategic victory.
Sources
https://en.wikipedia.org/wiki/Battle_of_Short_Hills
Additional Information