Gravesite of Edmund Sylvester, Founder of Olympia
Introduction
Edmund Sylvester was one of the founding fathers of Olympia Washington. After inheriting a land claim in an area called Cheetwoot, he established a small town called Olympia, after the Olympic Mountains in 1850. He and his wife Clara Pottle were very involved in the Olympia community and local philanthropy. Their contributions included the land which is now Sylvester Park, as well as the Women's Club of Olympia. Edmund passed away in 1887 in Seattle, he is now interred at the Masonic Memorial Park in Tumwater. After his death Clara moved to San Diego and remained there until her death in 1917.
Images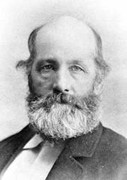 Edmund Sylvester's headstone in the Masonic Memorial Park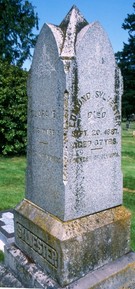 The home of Edmund and Clara Sylvester, where the first meeting of the Women's club of Olympia was held. After attempts to restore it failed it was destroyed by arson in 1961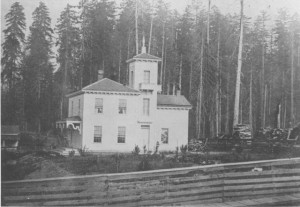 Backstory and Context
Like many of the founders and pioneers of the Pacific Northwest Edmund Sylvester came from the east. Born in Deer Lake Isle Maine in 1821 he moved to the west coast in 1843, arriving in Puget Sound where he took a land claim on Chambers Prairie. His business partner Levi Smith took a claim just south of Sylvester's, in an area called Cheetwoot. After Smith drowned in 1848 Sylvester inherited this claim, but it would still be two years before Olympia came into being. One year later, in 1849 Sylvester headed south to California to try his fortune with the gold rush, but to no avail. He returned to Puget Sound in 1850 on the brig Orbit.(Thurston Talk Editor)
Shortly after his return a number of local pioneers gathered together, and made the decision that it was time to organize, and create a more permanent settlement. As one pioneer John M. Swan stated: "'At a mutual consultation held by [Michael T.] Simmons, [Isaac N.] Ebey, [John M.] Swan, [Benjamin F.] Shaw, [Edmund] Sylvester, [Charles Hart] Smith [no relation to Levi Lathrop Smith], and [Henry] Murray, on January 12 [1850], it was decided to locate the future town on that certain point of land at the head of navigation on Budd's Inlet . . . . On this point Edmund Sylvester had a land claim . . . and therefore became town-proprietor.'"(Crooks, Drew)
They now knew they were to create a permanent settlement at Budd's Inlet, but every town needs a name and the settlers wanted something new, to symbolize their new beginnings in a relatively unsettled area of the country. While many names were put forward the council finally decided on Olympia, as it was unique in the country. There is some debate as to who decided on the name Olympia, John M. Swan states that it was Charles H. Smith, but others have put forward the it was Isaac N. Ebey. This confusion is compounded by the fact that Charles H. Smith disappeared in 1851 while in San Francisco, then a rough pioneer town still in the grips of the gold rush. (Crooks, Drew)
Regardless of the origin of its name though, Olympia became a successful venture, and its proprietor Edmund Sylvester played an important role in its early life. In 1854 he married Clara Pottle, while visiting his hometown of Deer Isle Maine. She returned with him to Olympia, and the two quickly became involved in the community.
Edmund donated much of his land to the town, giving properties for a park, customs house, a school, a Catholic Church and large plot for the Capitol grounds. The land he donated for a park was renamed Sylvester Park in 1893. Clara was also very involved in the local community, working for the female suffrage movement, temperance, and equality. (Thurston Talk Editor) In 1883 she invited like minded women to meet in the Sylvester home in Olympia. Eleven women accepted the invitation and met there, including Abbie Stuart, who had been heavily involved in the Women's Suffrage movement. Nine of the women who came agreed to organize and created the Women's Club of Olympia, a philanthropic and activist group which still exists today.(Kearns, Allene)
In addition to his civic duties Edmund ran a shop in the town center, at what is now 4th Avenue and Capitol Way. He was known for being a relaxed and kind businessman, who often played checkers with his customers. He passed away in 1887, leaving his wife Clara and daughter Elizabeth. He is buried in the Masonic Memorial Park beneath a large granite headstone.(Schrock, Ellaine and Bill)
Sources
Crooks, Drew. "From Cheetwoot To Olympia: The Naming Of Washington State's Capital City - ThurstonTalk." ThurstonTalk. 2013. Accessed February 29, 2016. http://www.thurstontalk.com/2013/03/12/olympia-washington-history-2/. Kearns, Allene H. "The History of the Woman's Club .rtf." Women's Club of Olympia. Accessed February 29, 2016. https://docs.google.com/document/d/1h9-opiaD-GBPFW_-z9enjUcx6dA8aIsTudOxT3Ts5E0/edit. Schrock, Ellaine, and Bill Schrock. "Find A Grave - Millions of Cemetery Records and Online Memorials." Find A Grave - Millions of Cemetery Records and Online Memorials. April 17, 2008. Accessed February 29, 2016. http://www.findagrave.com/cgi-bin/fg.cgi?page=gr. Thurston Talk Editor. "Sylvester's Legacy to Olympia - ThurstonTalk." ThurstonTalk. 2014. Accessed February 29, 2016. http://www.thurstontalk.com/2014/01/26/sylvesters-legacy-olympia/.
Additional Information