Old Bergen Church
Introduction
Old Bergen Church is the home of the oldest religious congregation in New Jersey. It was founded in 1660 when the Dutch colony of New Netherland was established directly across from what is now lower Manhattan. The church was built in 1841, replacing a sandstone church constructed in 1773 (there were two churches before this one). Today, the Church is home to the Reformed Church of America and the Presbyterian Church.
Images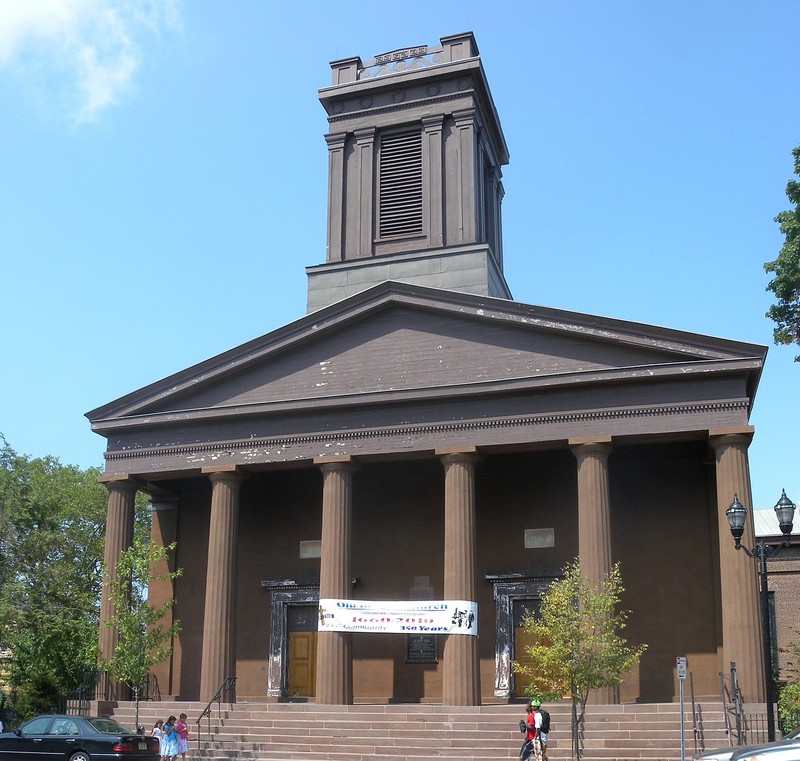 Backstory and Context
The congregation of the Old Bergen Church is the longest continuing congregation to meet in New Jersey. The church was established in 1660 when settlers in the village of Bergen sought a place to worship. Founded under Dutch rule, the church originally held services in a log schoolhouse. A year later, in 1661, church members developed plans to build the First Dutch Reformed Church. Through taxes, the church was able to fund the construction of a new church building in 1680. The completed building was designed and constructed by William Day. It was octagonal in shape and made of sandstone with a sloping roof.

The congregation of the church grew rapidly throughout the end of the seventeenth century and beginning of the eighteenth century. In 1773, after Dominie William Jackson became the first full-time pastor, a second church was constructed on the corner of Bergen Avenue and Vroom Street to meet the demands of the community. However, this church too would not last.

A third church was built in 1841. This church still stands today, as it is the structure known as the Old Bergen Church. The church is located on Bergen Avenue and Highland Avenue, and it stands near the location of the previous two churches. The structure is one story and is constructed in a Greek-revival style. The builders, William H. Kirk and Company and Clark and Van Nest, designed the building with a brownstone facade, allowing them to incorporate stone from the church built in 1773 into the south wall.
Sources
"Our History." The Old Bergen Church. Accessed Web, 6/29/17. http://www.oldbergenchurch.com/our-history/.

Kamoutsos, Carmela. "Old Bergen Reformed Church/Dutch Reformed Church." New Jersey City University. Accessed Web, 6/29/17. http://www.njcu.edu/programs/jchistory/Pages/O_Pages/Old_Bergen_Church.htm.


Additional Information