Barrow Mansion
Introduction
The Barrow Mansion was built in 1837 by Cornelius Van Vorst for Dr. William Barrow. The land on which it stands was part of a Dutch colony established in 1630. The Greek Revival house features five Ionic columnns and a two-story portico. It is adjacent to the St. Matthew's Evangelical Lutheran Church, which was built in 1898. Today, the mansion serves as office space and home to small businesses and non-profits, as well as the location of the Attic Ensemble Theater Company and the Jersey Children's Theater. The building was placed on the National Register of Historic Places in 1970.
Images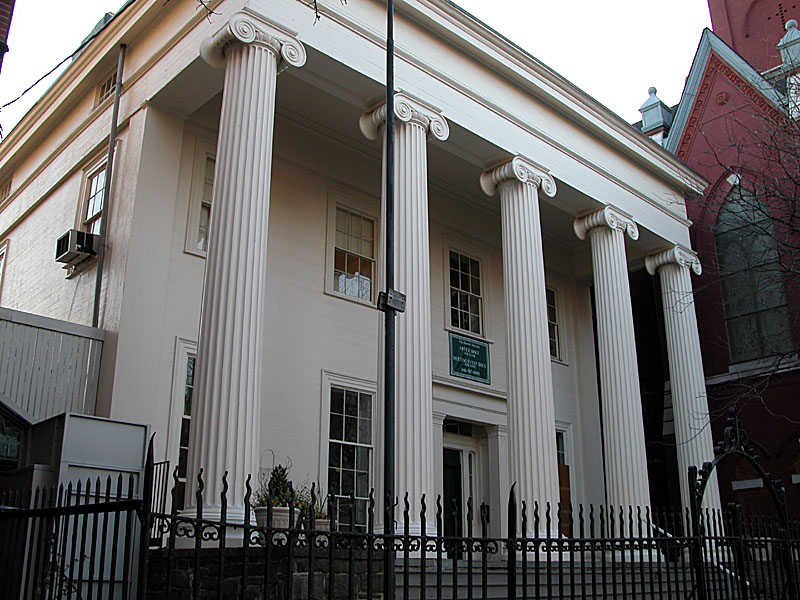 Backstory and Context
The history of the Barrow Mansion is hard to seperate from another mansion, the Van Vorst Mansion, which was built at the same time, even though the Van Vorst Mansion was later lost to time. In 1835, William Barrow bought the land to build his family mansion from Cornelius Van Vorst. The two men built their mansions in a Greek Revival style, popular among elites at the time, alongside one another. Completed in 1838, the houses were connected by a garden. Until after the Civil War, the houses served as a family compound for the Barrow family and the Vorst family, who were related to one another through two sisters, Eliza Brower Barrow and Sarah S. Brower Van Vorst.

These two mansions set a precedent for Jersey City at the time because the area was underdeveloped. Soon after they were built though, the area around them began to develop into an upscale suburb. The two families eventually sold the mansions with the Barrow Mansion leaving the family in 1868. The Barrow Mansion was occupied by another wealthy family, the Paulmiers, until it was sold to the Young Men's Christian Association (YMCA) in 1890. The YMCA made changes to the mansion by adding a gymnasium and bowling alley.

In 1897, the Barrow Mansion was purchased by its current owner, the St. Mathew's Church. The Barrow Mansion Development Corporation (BMDC) was established in 1984. Their job was to raise funds to restore the mansion. Today, the Barrow Mansion is leased by the BMDC from the St. Mathew's Church. Visitors to the mansion will find meetings, events, and art programs for their enjoyment.
Sources
"History." Barrow Mansion. Accessed Web, 6/30/17. http://www.barrowmansion.org/a-r-c-h-i-v-e-s.html.

"Barrow Mansion Development Corporation." Barrow Mansion. Accessed Web, 6/30/17. http://www.barrowmansion.org/b.m.d.c.html.


Additional Information