Washington Women Win the Vote Historic Marker
Introduction
This historic marker commemorates the actions of suffragists in the state of Washington who successfully lobbied the state legislature in the early 1900s. Here at the former state capitol, the legislature approved a measure that placed the question of women's suffrage on the ballot. Thanks to the continued efforts of progressive women and men who supported equal suffrage, the male voters of the state approved the ballot initiative on November 8, 1910.
Images
This historic marker is located in front of the former state capitol across from Sylvester Park.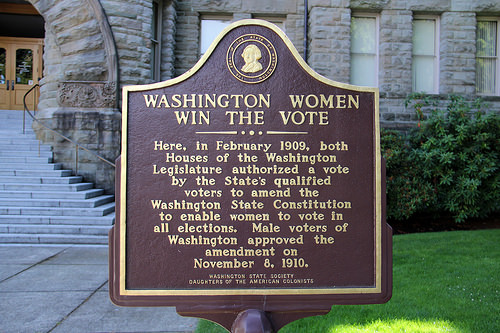 Suffragists in Seattle participate in a march in 1909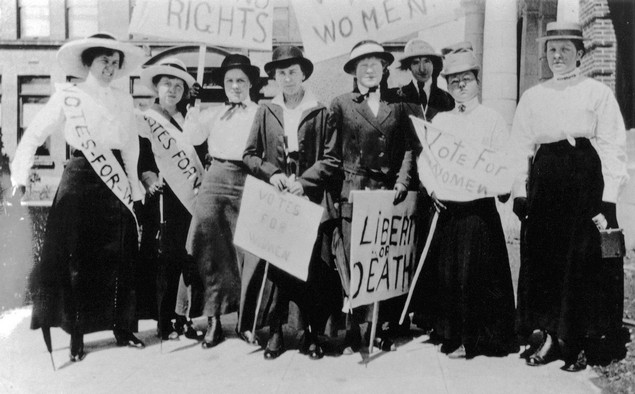 This book, linked below, features several chapters on early suffrage victories in the American West.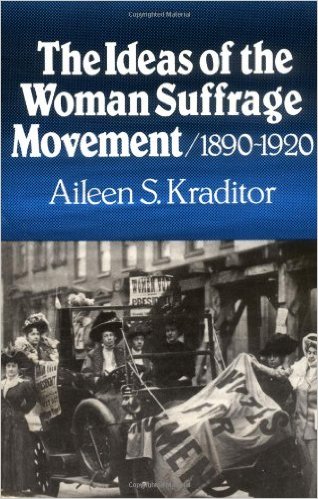 The national suffragist publication Votes for Women celebrates the victory in Washington, which appears hear as a newborn joining the "family" of other states that had approved equal suffrage.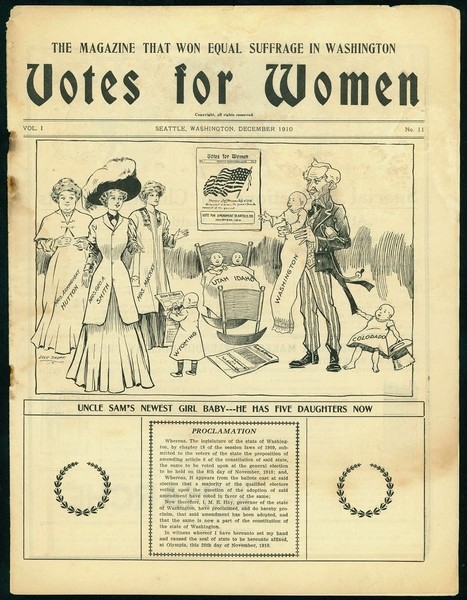 Backstory and Context
During Washington's early territorial years, women were in short supply. The ratio of males to females was nine to one, prompting both the governor and a leading legislator to organize parties of single women to come to the territory as potential teachers and brides. When the population grew and more women arrived to share in the task of building new communities on the Northwest frontier, they also participated both directly and indirectly in the development of the political process. In an attempt to crush the woman's suffrage movement, the Territorial Legislature soon after mandated that "no female shall have the right of ballot or vote.
In 1871, Susan B. Anthony and Abigail Scott Duniway led a crusade through the territories of Washington and Oregon and helped to form the Washington Woman Suffrage Association. Due to the group's constant protesting and pushing, full voting rights were given to women. in 1883 by a bill that passed through the Territorial Legislature. But in 1887, the Territorial Supreme Court overturned that law. This happened because women voters were making sales of liquor more difficult with their votes, and the state's liquor lobby had fought hard to remove their voting rights. In light of this opposition, some activists chose to emphasize the contributions of women workers to the community and finally, in 1910, the Washington State Constitution was permanently amended to grant women the right to vote.
Sources
https://www.hmdb.org/m.asp?m=83709
http://web.leg.wa.gov/WomenInTheLegislature/1854-1912.htm
https://www.lwvwa.org/our-history
https://www.cbsnews.com/news/19th-amendment-how-suffragists-finally-won-the-right-to-vote/
Additional Information