Camp Reynolds WV
Introduction
This historical marker reveals the location of a former Union military camp in what was western Virginia at the time of its creation. The 23rd Ohio Voluntary Infantry commanded by future Presidents William McKinley and Rutherford B. Hayes, used this camp to train, recuperate. The First Brigade of the Second Kanawha Division used this as a staging point. It was also a place for family members to stay and be near their fathers and husbands for periods of time during the war. The camp grew to a total of 56 cabins.
Images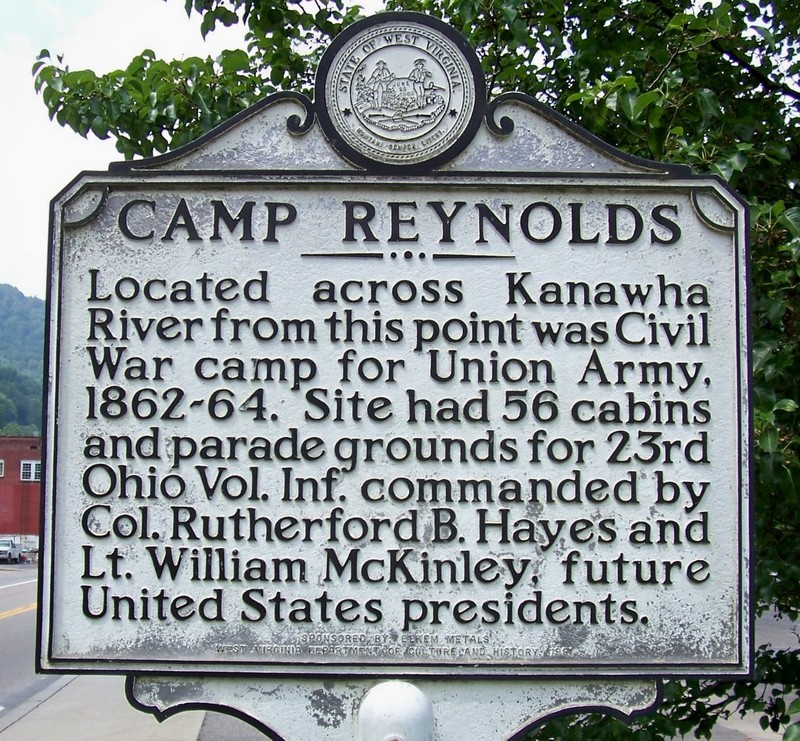 Backstory and Context
Inscription. Located across Kanawha River from this point was Civil War camp for Union Army, 1862-64. Site had 56 cabins and parade grounds for 23rd Ohio Vol. Inf. commanded by Col. Rutherford B. Hayes and Lt. William McKinley, future United States presidents.
The Glen Ferris Inn overlooks the Kanawha Falls. On the east bank of the river, across from the inn, lay the remnants of Camp Reynolds, a Union Army camp and gun embankment used in the Civil War.

Sources
http://www.hmdb.org/marker.asp?MarkerID=50397 http://www.rbhayes.org/hayes/content/files/ExcerptsLWH/excerptsch8.htm
Additional Information