Warren Easton High School
Introduction
Warren Easton Charter High school celebrated its centennial in 2013. The school can trace its origins all the way back to the organization of New Orleans' first public school for boys in 1844. The high school has seen many notable graduates, from Pete Fountain to Master P and Troy "Trombone Shorty" Andrews.
Images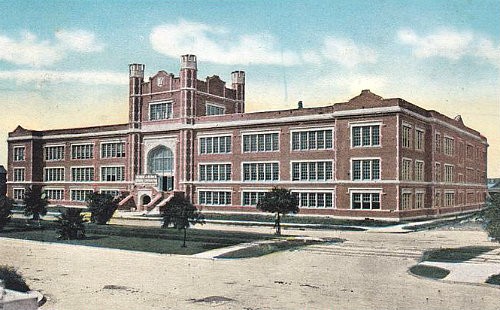 The Historical Marker in front of the school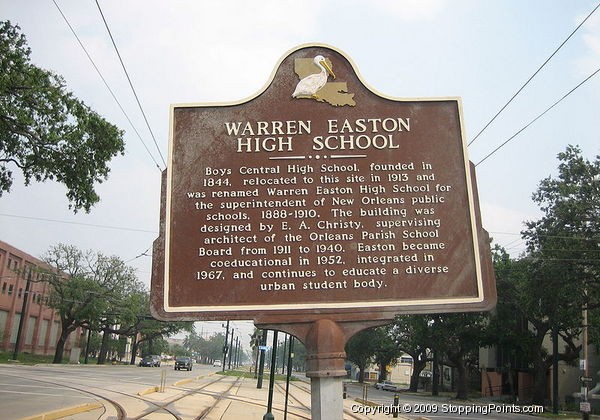 The front of Warren Easton school near the time of its centennial in 2013.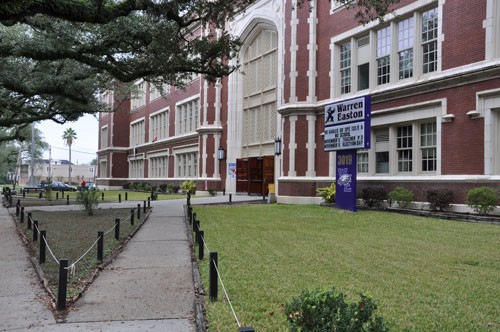 Backstory and Context
As New Orleans grew, and as the city expanded its system of public education, the system expanded from one school to four schools by the mid-1850s. These four schools later consolidated into one central location above Canal Street. A second school was established in 1864, but three years later, these two schools merged to create the Consolidated Central Boys High School at Constance and Gaienne streets.
In 1890, the school moved to 1533 Calliope Street. In 1911, construction of a new school began at 3019 Canal Street. This school opened in 1913 and was named in honor of Warren Easton, the state's first Supervisor of Education. In the next century, Warren Easton High School experienced many challenges and changes that reflect the larger history of New Orleans and public education in general.
The first of these changes occurred in 1952, when Warren Easton admitted its first female students. The next came in 1967, when the school admitted the first African American students--13 years after the Supreme Court declared that maintaining racially segregated schools was a violation of the 14th Amendment. By the time Warren Easton integrated in 1967, 22% of the Black students in the South were attending integrated schools. Just three years before, only two percent of Southern Black children were attending integrated schools.
Hurricane Katrina forced the closure of the school from 2005 to 2006, when it reopened as a charter school.
The school has also had a number of notable alumni. Peter Fountain graduated from Warren Easton in 1945, he would go on to become a very famous and successful jazz clarinetist, who performed for four presidents, Pope John Paull II and played with Louis Armstrong. Charles Foti, who served as the Louisiana State Attorney General graduated in 1953. More recently, Troy "Trombone Shorty" Andrews graduated in 2004. He went on to become a very well known trombone player, representing the city of New Orleans around the world, and performed on the Tonight Show with Jay Leno.This notable heritage caught the attention of actress Sandra Bullock, who has donated hundreds of thousands of dollars to help aid relief and rebuilding efforts for the school.The school celebrated its centennial in 2013.
This historic marker commemorates Warren Easton Charter High school. The marker reads: "Boys Central High School, founded in 1844, relocated to this site in 1913 and was renamed Warren Easton High School for the superintendent of New Orleans public schools, 1888-1910. The building was designed by E.A. Christy, supervising architect of the Orleans Parish School Board from 1911 to 1940. Easton became coeducational in 1952, integrated in 1967, and continues to educate a diverse urban student body."
Sources
"School History." Warren Easton Charter Highschool. Accessed February 22, 2016. http://www.warreneastoncharterhigh.org/m/pages/index.jsp?uREC_ID=73990&type=d. "The 1964 Civil Rights Act to the Present." Infoplease. 2012. Accessed February 22, 2016. http://www.infoplease.com/encyclopedia/history/integration-the-civil-rights-act-to-present.html. Plaisance, Stacey. "Celebrated Warren Easton High School Turns 100." Associated Press. September 11, 2013. Accessed February 22, 2016. http://bigstory.ap.org/article/celebrated-warren-easton-high-school-turns-100.
Additional Information