Old Federal Building and US Post Office
Introduction
Nestled in a district that contains some of the grandest buildings in the city, the Old Federal Building and US Post Office offers a glimpse into the optimism and pride of Boise's city boosters who constructed this building at the turn-of-the-century. The building also serves as an example of the Beaux Arts variation of the neoclassical architectural style. Preservationists have worked to restore the building, paying special attention to finishing details throughout the building such as the wrought iron gates and door frames, the terrazzo floor, and oak-paneled walls.
Images
Old Federal Building and US Post Office as it appears today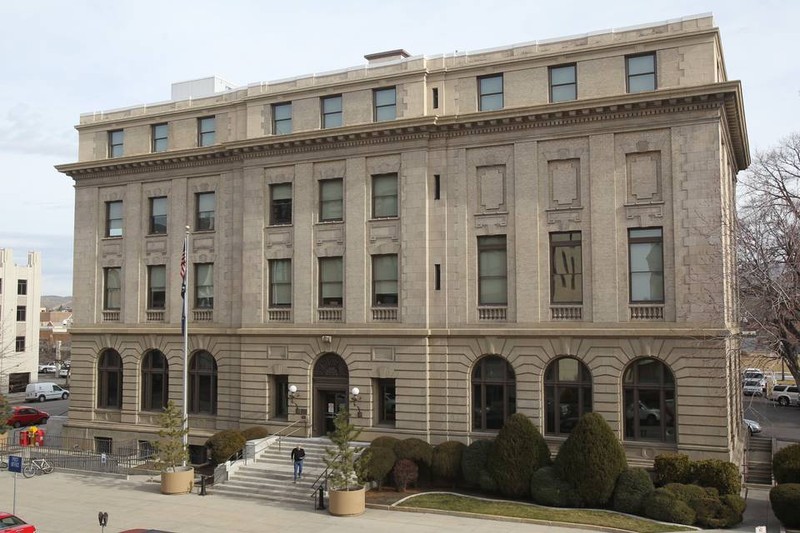 Early postcard depicting the Federal Building standing alone in the landscape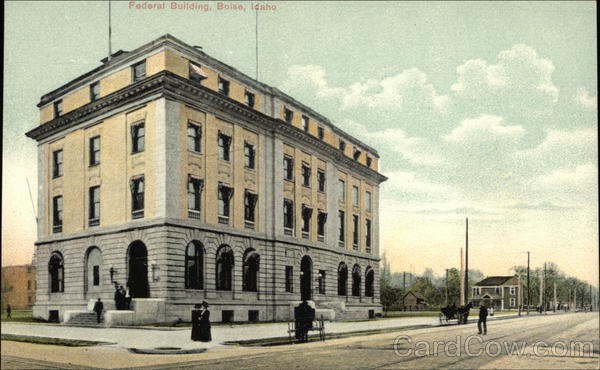 Backstory and Context
Boise became the state capital in 1864 – a year after John O'Farrell built the first building in the valley – and in 1901 construction began on a sandstone federal building on 312 North 8th Street. A Boise architect, William S. Campbell, was commissioned to design the building based on the work of the supervising architect of the U.S. Treasury Department, James L. Knox.
The similarities between Knox's U.S. Post Office in Niagara Falls, New York, and Campbell's building in Boise are striking. Construction finished in 1905, and over the next half century the building centralized a number of federal departments that had been distributed around Idaho. Beneficially located near the state Capitol Building, it contained Boise's post office and federal court, and the FBI's "Most Wanted" poster was hung in the lobby.
Despite the building's expansion in 1930, by the even 1960s more space was needed for Idaho's growing bureaucracy, and a new federal building was constructed on Fort Street in 1968. The post office moved to South 13th Street shortly afterwards. However, the building has since resumed its role as post office, and continues to be a popular destination for visitors to the city. It has even served as a film set, for the Idaho Public Television's movie, Assassination: Idaho's Trial of the Century.
Half of the four-story building was constructed with local sandstone. This was cut from the bedrock using an electric saw for the first time in the city. The rest of the structure is composed of white brick. The granite steps leading to the main entrance contain the largest slab of stone ever quarried in the region, weighing over 10,000 lb. The exterior is decorated with classically-inspired marble pilasters, decorative wrought iron door frames, a cornice with ornamental dentils, and a vaguely crenellated parapet. Inside one can admire the oak panelled walls, the bronze adornments on the elevator, and the terrazzo flooring.
Sources
http://pds.cityofboise.org/media/200922/boiselandmarks.pdf http://boisearchitecture.org/structuredetail.php?id=182 http://www.idahostatesman.com/news/special-reports/article40737960.html
Additional Information