Molly Marine
Introduction
This twelve-foot high statue of Molly Marine was dedicated on November 10, 1943, the 168th birthday of the United States Marine Corps. The first statue to honor the women who served in the United States Military, the statue of Molly was initially used to help boost recruitment numbers of women into the Second World War. Molly Marine is depicted as a Woman Reservist holding a clipboard in her left hand, and binoculars that have been placed around her neck in her right hand. She gazes upward toward the sky as if she is searching for aircraft. Engraved on the base of the statue is the Reservist's motto, "Free a Man to Fight." Molly Marine symbolizes poise, professionalism, possibility, courage, faithfulness, and sacrifice.
Images
Molly Marine at the Marine Corps Museum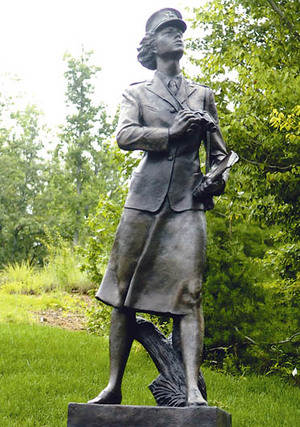 Molly Marine in New Orleans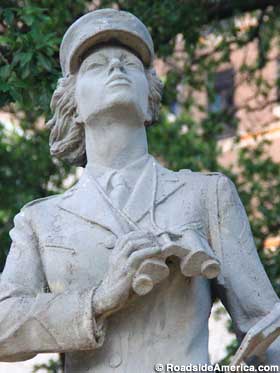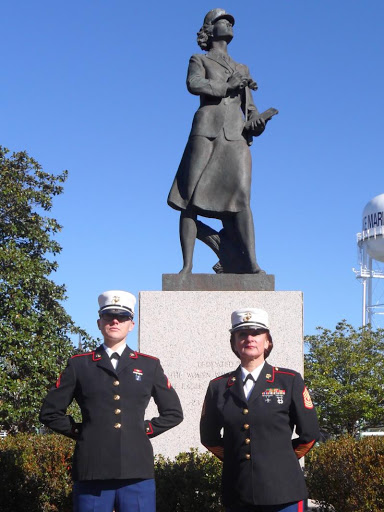 Inscription on the base of the statue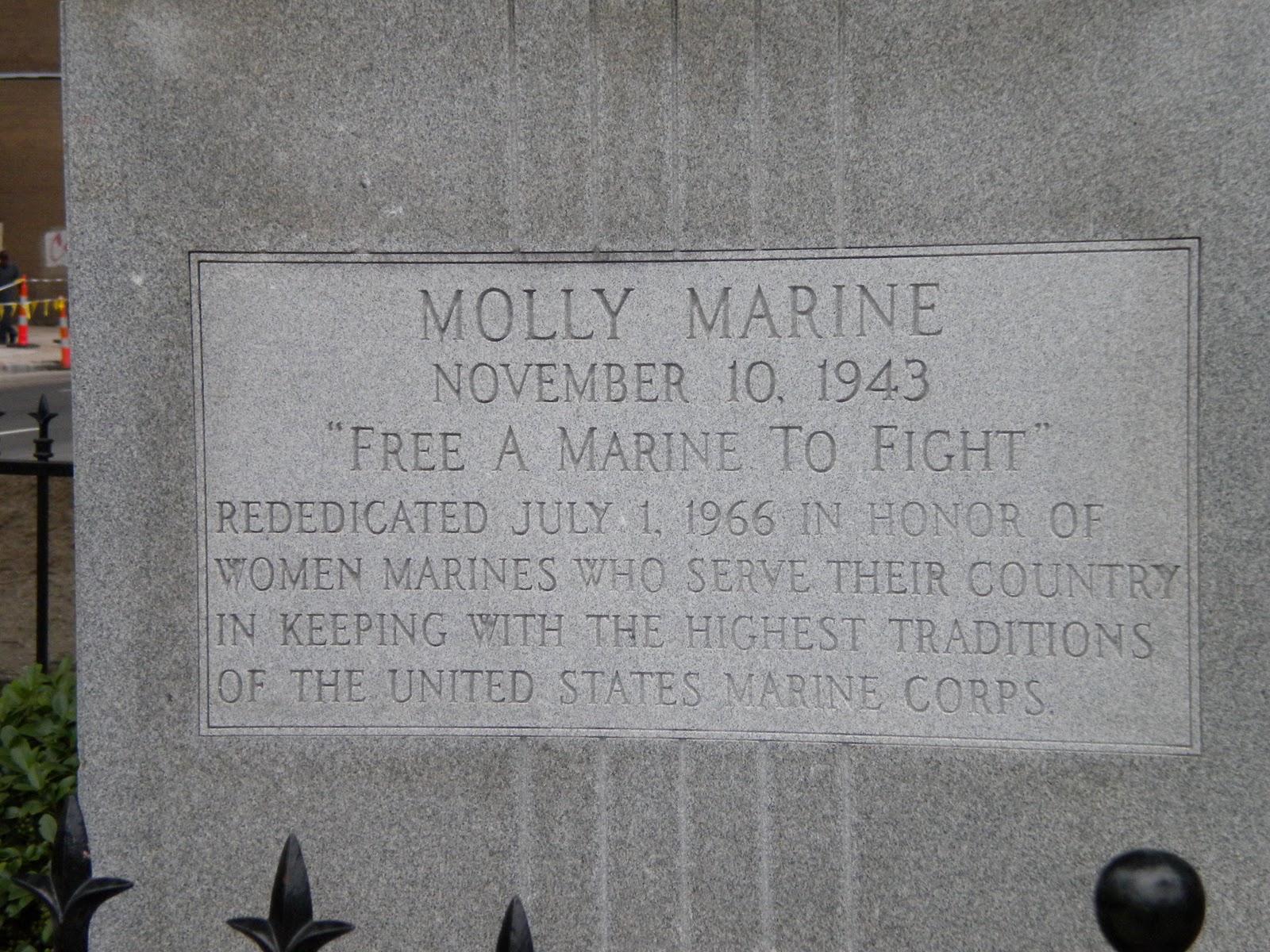 Statue of Molly at Quantico, VA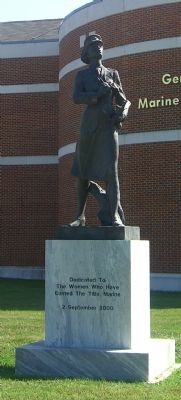 Marker that sits in front of the monument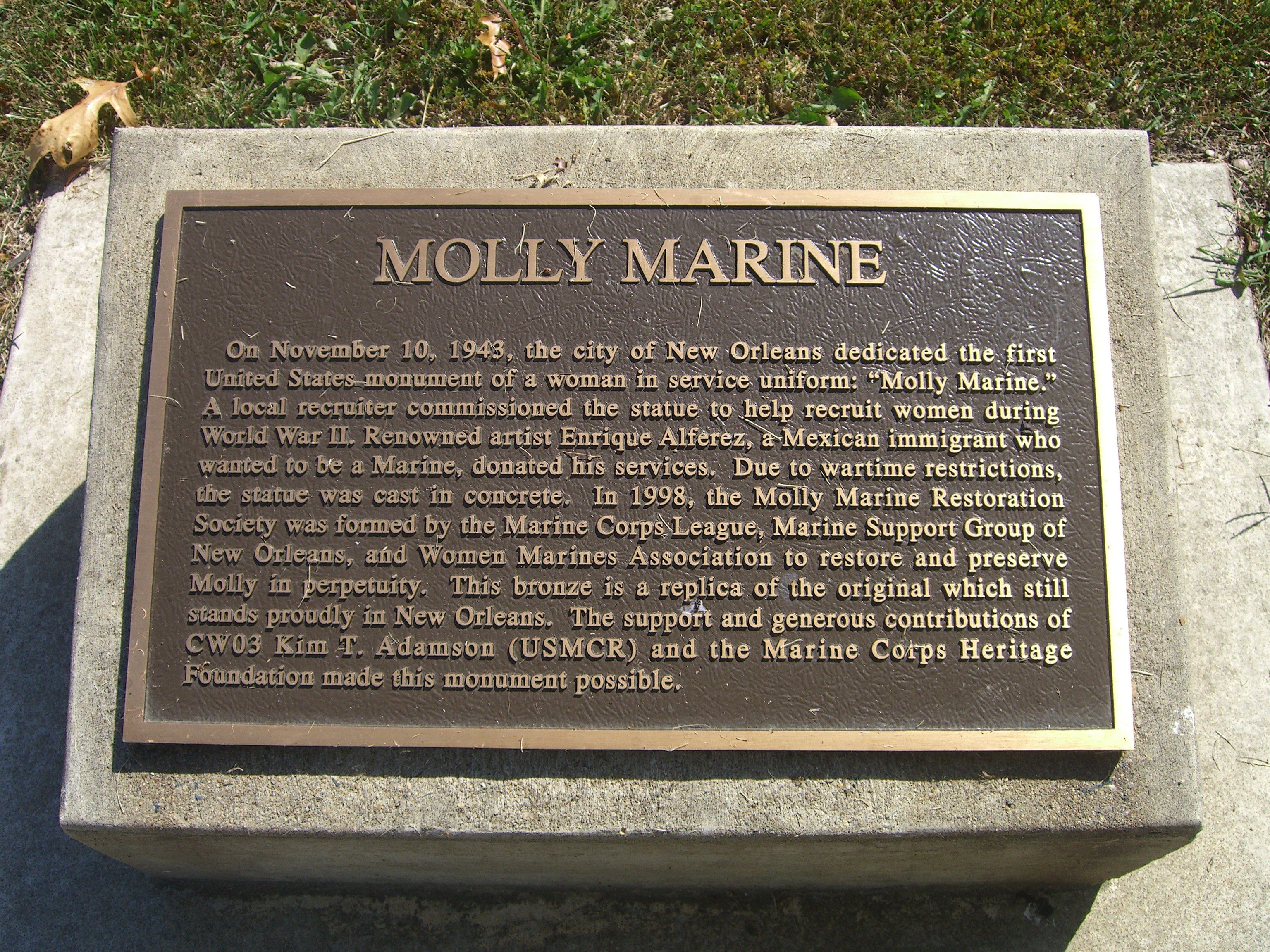 Backstory and Context
Louisiana played a vital role in contributing to the American war effort during World War II. An estimated 280,000 heroic men and women took part in the war as soldiers, while civilians at home were just as supportive by growing victory gardens, collecting scrap, and buying war bonds. Louisiana was home to more than 30 military installations, as well as over 40 prisoner of war camps. Louisiana also provided various building materials such as synthetic rubber and oil, and built ships. Women were able to join the war as soldiers in 1942, when Congress passed a bill allowing them to join. Women were officially welcomed into service in February 1943. They were only permitted to join two branches of the United States military, the Navy and the Marine Corps. The Navy called their female soldiers WAVES, Women Accepted for Volunteer Emergency Service, while the Marine Corps just called their female counterparts Women Reservists. As expected, the joining of women to the military was met with a considerable amount of criticism, and the sudden rush of women signing up for service stopped. An idea was needed to help motivate young women once again to continue joining, and to stifle criticism. Marine Technical Sergeant Charles Gresham, a Marine Corps recruiter, came up with the idea of Molly Marine, believing that showing pride and honoring these women for their service would help increase recruitment numbers.
To bring his idea to life, Sergeant Gresham appointed prominent local sculptor Enrique Alférez to create Molly. Alférez was born in 1901 and raised in Mexico, where he was forced into service for Pancho Villas' army during the Mexican Revolution at the young age of 12. He worked as a mapmaker, and once he was able to flee Villas' army, he headed to Texas and continued moving north. In 1929, on a return home, he stopped in New Orleans, where he remained for the rest of his life. Alférez worked on many prestigious projects in New Orleans from the Louisiana Capitol Building, to the façade of Charity Hospital. Alférez generously donated his time to create the Molly Marine statue, because it was always his dream to join the Marine Corps, but limitations on immigrants did not allow him to. Since Molly was constructed during the war, bronze was not a material that was available for use. Instead, Molly was created with cement made from granite and marble chips.
The finished statue of Molly Marine was unveiled on November 10, 1943 and was the only statue of a women reservist in United States. Molly's meaning of honoring female service members was taken one step further, and the Molly Marine Awards were created on February 24, 1969. There were three different Molly Marine Awards. They were honoring a single graduate from the Woman Officer Basic Course, the Woman Marine NCO Leadership Course, and every graduating platoon. The original award featured a ceramic statuette in the likeness of Molly Marine and was accompanied by a certificate of Noteworthy Achievement, signed by the National President and National Secretary. The initial design, artwork, and creation of ceramic molds was paid for by Ruth Broe. The awards for officers were eventually discontinued, the Woman NCO Leadership Course on May 5, 1972, and the Woman Officer Basic Course in 1978. Once the supply of statuettes was gone, the award would consist of a certificate, a one-term membership in the Women Marines Association, and a membership plan. Today, the award consists of a certificate, a Molly Marine photo, and a Molly Marine Commemorative coin. There is also an entry made in the Marine's record book of their selection. The current award is given to one recruit in each platoon graduating from boot camp, and once they are gathered at the base of the statue, they each select one recruit to receive the award who they believe demonstrates the "qualities of an exemplary marine." Marines visiting New Orleans leave flowers or small tokens at the statue. There were two replicas of Molly created. The first is located in at the Marine Corps Base in Quantico, Virginia and the second is at the Recruit Depot in Parris Island, South Carolina. 
Sources
Molly Marines: The History of Molly Marine, The Award and Statue, Women Marines Association. Accessed June 17th 2020. https://womenmarines.wordpress.com/molly-marine-award/.
DiCicco, Mike. Symbol of women Marines dedicated at Marine Corps Museum, Marines. July 5th 2013. Accessed June 17th 2020. https://www.quantico.marines.mil/News/News-Article-Display/Article/517937/symbol-of-women-marines-dedicated-at-marine-corps-museum/.
Louisiana Spotlight: Molly Marine, The National World War II Museum, New Orleans. April 21st 2020. Accessed June 17th 2020. https://www.nationalww2museum.org/war/articles/louisiana-molly-marine.
W, Kevin. Molly Marine, The Historical Marker Database . October 3rd 2007. Accessed June 18th 2020. https://www.hmdb.org/m.asp?m=73948.
Image Sources
https://www.insidenova.com/news/stafford/symbol-of-women-marines-dedicated-at-marine-corps-museum/article_c67b79fb-c834-5ad4-8d57-eb5b2cb26929.html

https://www.roadsideamerica.com/story/23206

http://centralcoastwomenmarines.com/molly_marine_history

http://whaleheadking.blogspot.com/2010/11/molly-marine.html

https://www.hmdb.org/m.asp?m=73948

https://www.hmdb.org/m.asp?m=73948

Additional Information